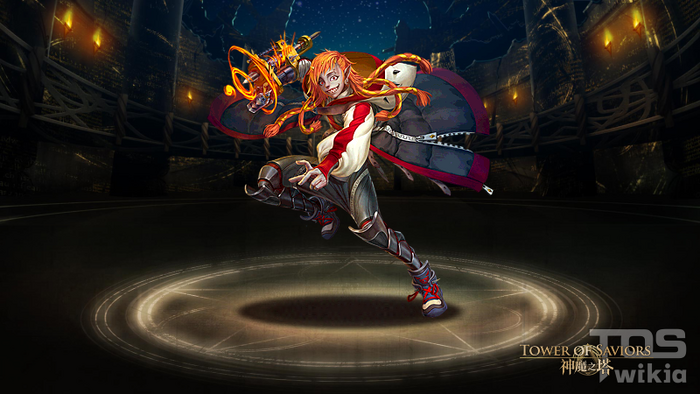 ---
Card Info
(click to show)

Name
Abadon
Attribute
Fire
Id
No. 1103
Rarity
5★
Cost
10
Race
Demon
Series
Origin of Demons
Lv Max
50
Exp
Curve
4,000,000
Max
Exp
1,000,000
Card Information
Details
【Origin of Demons】

If Monster(s) used as Level-up Material(s) shares Skill (as indicated by the Skill Name) with the target Monster, the Skill Level of the target Monster may increase:
- ID 1103 Abadon
- ID 1104 Flame of Annihilation - Abadon
- ID 1114 Dragon of Flames
Basic Properties
HP
Attack
Recovery
Total

Sacrifice Exp

Sell Value
Lv 1
444
649
37
1130
Lv 1
600
3000
Lv 50
807
1138
153
2098
Per Lv
+600
+100
Active Skill
Name
Elemental Assembly - Fire
Lv. 1
CD
21
Lv. 12
CD
10
Effect
For 1 Round, the more the types of Runestones dissolved, the higher the Fire Attack, to the max x 2.2.
Leader Skill
Name
Visual Illusions - Fire
Effect
Fire Attack x 2; the Attributive Runestones that are the most in number also possess 50% of the effect of Fire Runestones (effects can be superimposed). If Fire Runestones are the most in number, Fire Attack x 1.4 additionally (effects can be superimposed).
Amelioration
Skills

Amelioration Skill 1:
Monster's HP + 90

50

Amelioration Skill 2:
Monster's Active Skill CD - 2 after entering a Stage

150

Amelioration Skill 3:
Monster's Attack + 180

300

Amelioration Skill 4:
If 3 or more Runestones are dissolved in the column below the Monster, Team Attack +10% for that Round (Runestones dissolved when dropping would not trigger the effect).

500

Battle
Slave of the Prince
Evolve
       
Origin
Friend Point
Seal
Diamond
Seal
Others
Stages

Backstory:
        Holding Beelzebub's hand, Abadon walked towards a camp. The closer they were to the camp, the more Beelzebub tightened her grip. Abadon looked at her, only to see her face filled with fear. He could understand her feelings. In demonium, a distinct social hierarchy prevailed; born as slaves, Abadon and Beelzebub could never have a chance to meet Belial, a scion of the royal family. Belial had overwhelming power, and to the two, he was an individual not to be opposed.

        When they arrived at the entrance of the camp, Azazel was standing there before them, so Abadon was sure Belial was inside. Abadon politely extended greetings to Azazel. He then turned to Beelzebub and patted her on the head. Abadon gently said, "Beelzebub, wait for me here, okay? I'll have to talk with Venerable Belial, and will be back out soon." Although Beelzebub was worried, she nodded.

        Abadon entered the camp, and saw Belial and Samael discussing something over a simple map made of vines. As they realized Abadon's presence, the two stopped their conversation. After an exchange of glance, Samael walked out of the camp, leaving only Belial and Abadon.

        "Venerable Belial, what do you need me for?"

        "I believe this realm is suitable for our brethren to live, so I plan to take this piece of land as our dominion. But I have a slight problem that needs your help to solve."

        Belial said while tracing the area of dominion on a map with his finger, which finally stopped on a place near to a volcano: "This area is where werelizards live. If they refuse to leave, we cannot expand our territory...Do you know what I mean?"

        Abadon nodded in acknowledgment. Before he left, he suddenly reminded something, so he turned to Belial: "If we have decided to stay here, should we contact Venerable Baal?" Abadon remembered the colonization plan's proposer — Baal, also one from the Demon's royal family. Abadon felt that if they had already found a suitable place for settlement, they should immediately contact Baal.

        "I have my own plans. There is no need for you to worry. I look forward to your good news."

        Upon seeing Abadon coming out from the camp, Beelzebub hurriedly dashed forward and hugged him, her expression worried: "Abadon...Is everything okay?"

        Abadon slightly nodded: "Don't worry. Everything's fine. But we've got a mission again."

        As soon as Beelzebub heard the word "mission", a smile spread across her face, because she could travel with her brother again. However, Abadon was still contemplating over Belial's answer just now...
Monsters in Same Group
Community content is available under
CC-BY-SA
unless otherwise noted.