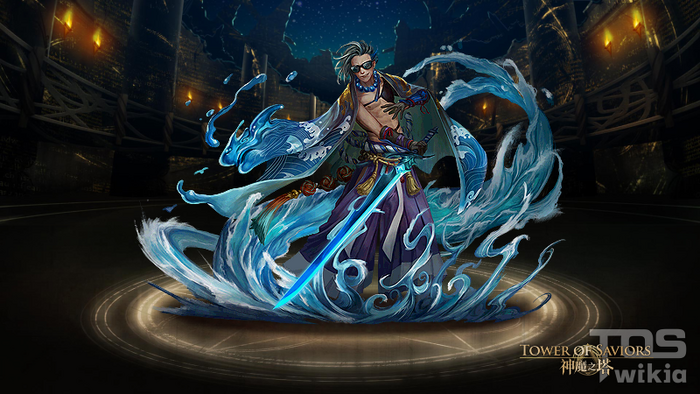 ---
Card Info
(click to show)

Name
Adventurous Traveller of Sea - Susanoo
Attribute
Water
Id
No. 1417
Rarity
6★
Cost
14
Race
God
Series
Yamato
Lv Max
99
Exp
Curve
5,000,000
Max
Exp
5,000,000
Card Information
Details
【Yamato】
Basic Properties
HP
Attack
Recovery
Total

Sacrifice Exp

Sell Value
Lv 1
1523
766
205
2494
Lv 1
5000
10000
Lv 99
3017
1416
466
4899
Per Lv
+500
+0
Active Skill
Name
Blaze Slasher - Billows of Runes
Lv. 1
CD
19
Lv. 12
CD
8
Effect
All Runestones also possess 75% effect of Water Runestones. If there are Water, Fire, Earth, Light and Dark Runestones upon Skill activation, the current Skill CD -3.
Leader Skill
Name
Howl of Billows
Effect
Water Attack x 3.5.
Amelioration
Skills

Amelioration Skill 1:
Monster's HP +100

50

Amelioration Skill 2:
If a group of 3 or more Runestones are dissolved in the column below the Monster, God Recovery +12% for that Round (Runestones dissolved when dropping would not trigger the effect).

150

Amelioration Skill 3:
Monster's Attack +135

300

Amelioration Skill 4:
If a group of 4 or more Runestones are dissolved in the column below the Monster, God Attack +12% for that Round (Runestones dissolved when dropping would not trigger the effect).

500

Battle
Susanoo's Battle
Evolve
  
Power Release
Evolution
       
   
Battle
Origin
Friend Point
Seal
Diamond
Seal
Others
Stages

Backstory:
        Susanoo went on a road of growth and practice alone. On the journey he earned his travelling expenses from spell performances and sometimes even from exorcising youkais to familiarize himself with battle skills and spells.
 
One day, Susanoo did a water spell show as usual. As everyone indulged in his magnificent performance, a girl amongst the audience pointed at Susanoo and yelled, 'Ha! I found you, youkai!' 'Youkai?' She generated a few dazzling balls, blinding him. Suddenly something pressed on his chest and pushed him onto the ground. She leaned over to take a good look at Susanoo and wondered aloud, 'Strange. A youkai without youkai energy.' 'Are you blind? I'm a human!' raged Susanoo. The audience was gone already, and so were his travelling expenses. He sighed…
 
        'It was my fault for being reckless. I'll treat you to a meal as an apology,' she scratched her head bitterly, 'My name is Kushinada. I'm an onmyoji. From exorcism to fortune telling, I know everything about onmyodo. You need anything? I'll give you a discount.' 'I'm Susanoo, an onmyoji as well, so I don't need your services.' 'Humph! That's a pity.' She was disappointed. 'I accepted a request to exorcise a youkai specializing in water spells. I heard it was hiding in this city. Your performance earlier made me think you were the youkai. 'Hm..A request…' Kushinada knew what he was thinking and explained, 'I don't need your help and I won't share any information. Don't expect to get in on the action.' Susanoo shrugged and said nothing.
 
        After finishing the meal, Susanoo pretended to walk away, but secretly followed Kushinada afterwards to a quiet place. She jerked her head. Susanoo instantly pulled back to hide himself. When he peeked again, she was already gone…'It's a trap! I missed another chance at fortune.' As Susanoo gnashed his teeth angrily, an abrupt darkness descended upon him. A gust of mist filled his surroundings. Realizing he had entered into a youkai barrier, he created a water blade with his palms while he looked for a gap to break through. A girl's scream came from the street. He quickly ran to it.
 
        He found a giant shadow man squeezing Kushinada's neck. She struggled desperately to no avail. Susanoo made sure there was no one else on the street and laughed, 'It's the perfect place for me to fight at my full potential!' He poured enormous energy into his water blade, which then grew significantly longer. He gripped the blade to slash at the shadow man and mutilated the arm holding Kushinada. He set her down in a safe spot. As he left to go back to the shadow man, she seized his hand and said, 'Fulus don't work...on him…' 'I never use fulus.' He stared at the shadow man and recalled Amaterasu's sorrowful face and Tsukuyomi's sneer. He gripped his blade even tighter and thrust at the youkai.
 
        Susanoo leapt to dodge the shadow man's attack and mutilated its other arm in the process. He kicked the wall to push himself behind the shadow man and cut off its legs. Susanoo thought he had defeated it, but suddenly a dark shadow seized his body! The shadow man regenerated his lost limbs. As the shadow squeezed Susanoo tighter, the shadow man sneered watching his face contort in pain. Susanoo burst into laughter, 'You thought that's all I'm capable of?' He created a water blade with each hand and cut off the shadow.
 
        Susanoo clutched his blades and slashed at the shadow man multiple times at the speed of light! The shadow man could not react to his attack and vanished into black dots. A golden, round, tiny youkai appeared. Susanoo walked to it and said, 'Don't do harms again, or I won't spare your life again!' It nodded and ran away. The mist lifted after it's gone. Kushinada ran to him and shouted, 'Why did you let it go? Do you have any idea what it could do?' 'I'm not dumb. I know It's a youkai!' 'It's a youkai with the ability to produce money! That's why a rich man hired me to capture it!' 'What?' exclaimed Susanoo. He would not have to worry about money anymore if he had captured it.
 
        'Dang it...Now I have to search for it again…' cried Kushinada. 'I'll help you.' 'Susanoo stepped next to her, only to be pushed away. He then stuck his shoulder to hers.. In hopes of meeting the wealth youkai again, they set on a journey together...
Monsters in Same Group
Community content is available under
CC-BY-SA
unless otherwise noted.