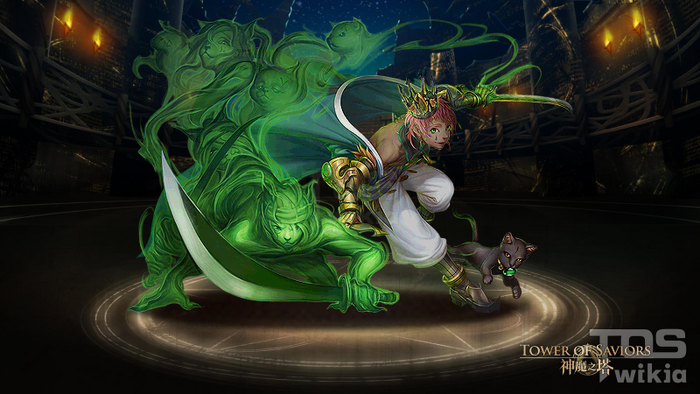 ---
Card Info
(click to show)

Name
Ali Baba the Leader of Thieves
Attribute
Earth
Id
No. 886
Rarity
6★
Cost
14
Race
Demon
Series
Fairytales Untold
Lv Max
99
Exp
Curve
4,000,000
Max
Exp
4,000,000
Card Information
Details
【Fairytales Untold】
Basic Properties
HP
Attack
Recovery
Total

Sacrifice Exp

Sell Value
Lv 1
953
1028
68
2049
Lv 1
800
300
Lv 99
1773
1842
300
3915
Per Lv
+2000
+100
Active Skill
Name
A Gang of Thieves
Lv. 1
CD
21
Lv. 12
CD
10
Effect
Team Attack x 1.5 for 1 Round; if Leader and Ally are the same, Team Attack x 2.5.
Leader Skill
Name
Childlike Promise - Earth
Effect
When Combos of odd numbers are made, Earth Attack x 2; when Combos of even numbers are made, Earth Attack x 3.5
Amelioration
Skills

Amelioration Skill 1:
Monster's HP +180

50

Amelioration Skill 2:
If a group of 3 or more Runestones are dissolved in the column below the Monster, Team Attack +10% for that Round (Runestones dissolved when dropping would not trigger the effect).

150

Amelioration Skill 3:
Monster's Attack +250

300

Amelioration Skill 4:
Monster's Active Skill CD - 2

500

Battle
Beginning of the Fairytales - Earth
Evolve
  
Power Release
Evolution
       
   
Battle
Origin
Friend Point
Seal
Diamond
Seal
Others
Stages

Backstory:
        'Forty Thieves Frequently Strike, Aristocrats Losing Tens of Millions'

        'Recently, a number of aristocratic families are struck by "the Forty Thieves", stolen goods accumulate to some seventy million dollars. It is understood that the suspects of the crimes leave a thank-you note written with "Thank You for your hospitality" and signed with "the Forty Thieves". However, officers has not found any traces of group operations and suspect that it might have been a one-man job...'

        "Heehee, they're really covering it." Looking at the news headline, Ali Baba could not help feeling content.

        "Bro, you've crossed the line. How can the rest of us scrape a living now?" The leader of another thief group complaint, standing not far from Ali Baba. Last night, the leader had sent a few of his men to examine the next target, only to find that they had been beaten to it. They searched around and found Ali Baba hiding his loot and hence followed him. Upon hearing this news, the leader, with his men in tow, decided to personally question Ali Baba.

        "First come, first serve!" Ali Baba said with a big smile on his face.

        "So you want to do this the hard way, kid!" The thief leader howled in anger and signaled to his men, who then brandished their scimitar and charged at Ali Baba!

        "Oh, so scary!" Ali Baba said, his voice still arrogant. He lightly tapped at the crown on his head. Just then, clouds of mist emerged and enveloped Ali Baba. Seeing that, the thieves halted and was concerned about a potential trap. Meows arose in the clouds and the mist gradually turned into a crowd of cats — each had a different number on their body.

        Upon witnessing the transformation, the leader understood the recent thefts: "No wonder there weren't any traces. These cats are the thieves!"

        Like he said, Ali Baba used the cats to commit the crimes. They could soundlessly sneak into houses to steal , but...

        "Yes and no. They aren't just cats!" Ali Baba snapped his fingers and the cats pounced toward the thieves! As the cats pushed off their hind legs, their body rapidly transformed. Before the thieves could react, the cats had taken human form and attacked with their scimitars.

        In the cacophony of the fight, a voice so soft that only Ali Baba could hear asked, "Will you kill them?"

        "Relax. I'm just knocking them out so I can leave. I wouldn't kill with stuff made from your magic." Ali Baba said to the magic lamp hanging from the back of his waist.
Monsters in Same Group