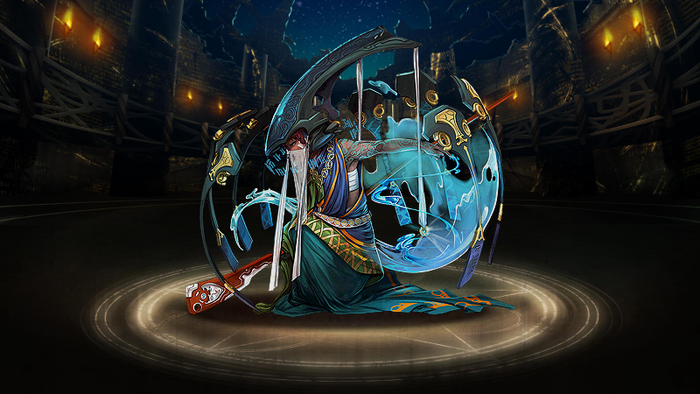 ---
Card Info
(click to show)

Name
Atrahasis the Wise Entity
Attribute
Water
Id
No. 802
Rarity
6★
Cost
15
Race
God
Series
Major Gods of Babylon
Lv Max
99
Exp
Curve
5,000,000
Max
Exp
5,000,000
Card Information
Details
【Major Gods of Babylon】

If Monster(s) used as Level-up Material(s) shares Skill (as indicated by the Skill Name) with the target Monster, the Skill Level of the target Monster may increase:
- ID 801 Atrahasis
- ID 802 Atrahasis the Wise Entity
- ID 871 Knight Iron Duckling

* The skill of this Monster will be changed after Evolve or Power Release.
Basic Properties
HP
Attack
Recovery
Total

Sacrifice Exp

Sell Value
Lv 1
1520
757
185
2462
Lv 1
1000
1000
Lv 99
3011
1399
421
4831
Per Lv
+1000
+100
Active Skill
Name
Blades of Water
Lv. 1
CD
23
Lv. 12
CD
12
Effect
Extend Runestone-moving time by 3 seconds for 1 Round; by dissolving a group of 6 or more Water Runestones, Water Attack x 1.5.

Team Skill
Effect
Team Skill:
If a group of 4 or more Runestones are dissolved in 2 or more columns, Team Attack increases additionally, to the max x 1.5 (only the first batch of Runestones dissolved will be counted).

Change the Leader Skill of "Atrahasis the Wise Entity" from "Gift from Heaven - Water" to "Gift from Heaven - Billows", with Water Attack x 3.
Condition:
Both the Leader and Ally are "Atrahasis the Wise Entity".

Team Skill:
Change the Attribute of "Erudite Edifier - Anu" into Water.

Attack of the Leader, the Ally, and the first "Erudite Edifier - Anu" from the left x 1.3 additionally.
Condition:
Both the Leader and Ally are "Atrahasis the Wise Entity", with "Erudite Edifier - Anu" as a Team Member.

Combine Skill: Blade of Fatality
For 1 Round, extend Runestone-moving time to 8 seconds; the more number and Attributes of Runestones dissolved, the higher the Team Attack, to the max x 5 for 30 Runestones of 5 different Attributes dissolved.
Condition:
There are "Atrahasis the Wise Entity" and "Pristine Preceptor - Anu" in the Team (the Monsters must reach Lv. 50 or above).
Leader Skill
Name
Gift from Heaven - Water
Effect
Water Attack x 2.5. If a group of 4 or more Runestones are dissolved in a column, 1 Water Runestone will be generated in that column (only the first batch of Runestones dissolved will be counted).
Amelioration
Skills

Amelioration Skill 1:
Monster's Recovery +30

50

Amelioration Skill 2:
If a group of 4 or more Runestones are dissolved in the column below the Monster, Team Recovery +10% for that Round (Runestones dissolved when dropping would not trigger the effect).

150

Amelioration Skill 3:
Monster's Attack +180

300

Amelioration Skill 4:
If a group of 4 or more Runestones are dissolved in the column below the Monster, Team Attack +10% for that Round (Runestones dissolved when dropping would not trigger the effect).

500

Battle
Perception of Knowledge
Evolve
  
Power Release
Evolution
       
   
Battle
Origin
Friend Point
Seal
Diamond
Seal
Others
Stages

Backstory:
        'Why did you come?'

        "To gain more knowledge."

        'What is knowledge?'

        "..." The giant's question stunned Atrahasis into silence.

        What is knowledge? Since following the giant on a journey across the realm throughout various settlements and villages, Atrahasis had learnt many skills necessary in life; this included how to allocate resources or how to prevent catastrophes. But was this the knowledge he sought? No, no; it was more than this. He had more knowledge to learn. Atrahasis could kind of sense that he was searching for something; yet, he could not voice what it was that he sought...

        'You already possess sufficient ability. Go seek out your own answers.'

        Having told Atrahasis of that, the giant started heading towards a village. This time, Atrahasis did not chase after him, because he now understood that this answer can only be found through his own effort.

        A few years later, Atrahasis again returned where he and the giant went their separate ways. Yet, the giant had left along with the other Ancient Gods.

        "May I ask, whether you were also one of Teacher Anu's students?" The thin man named Dumuzi standing before him asked.

        "Yes."

        "Teacher left instructions before leaving — if someone comes in search of him, I should ask: 'Why have you come?'"

        Hearing this question a few years later, Atrahasis did not reply without thought like he did the first time. Why have I come... Is it in search of knowledge? Is it to understand all in the world, and the guiding principles behind it? But why should I learn this? All in the world rotate throughout, but yet, are also linked throughout. Through this, they form the world. Humans are but a single link that builds the world. No matter how powerful they become, they cannot change the rotation of the entire world. Yet, as long as life continues perpetual, the body of knowledge shall as well.

        After great thought, Atrahasis replied: "It is probably the same reason you are willing to become the leader of Humans." The response stunned Dumuzi for a moment, but in an instant, he had understood what Atrahasis meant. He then invited Atrahasis to stay in the village.

        Since then, Atrahasis utilized both the knowledge he had learnt from Anu and that gained through his journeys. With it, he supported Dumuzi and his counterparts' efforts to establish and govern Human clan. Because of the vastness of his knowledge, he was honored as the "Wise Entity."
Monsters in Same Group
Community content is available under
CC-BY-SA
unless otherwise noted.