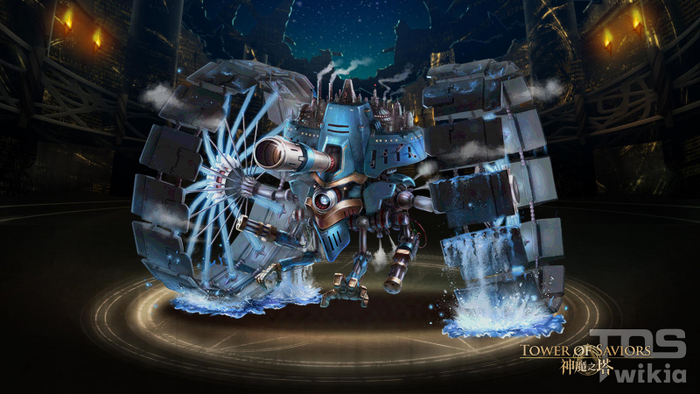 ---
Card Info
(click to show)

Name
Automated Fort - Stirling
Attribute
Water
Id
No. 880
Rarity
6★
Cost
20
Race
Machina
Series
Ultimate Lords
Lv Max
99
Exp
Curve
5,000,000
Max
Exp
5,000,000
Card Information
Details
【Ultimate Lords】
Basic Properties
HP
Attack
Recovery
Total

Sacrifice Exp

Sell Value
Lv 1
1969
760
66
2795
Lv 1
0
300
Lv 99
3790
1492
190
5472
Per Lv
+1800
+100
Active Skill
Name
Advancing Steps
Lv. 1
CD
22
Lv. 15
CD
8
Effect
For 1 Round, if <5 Combos are made, the Monster launches an extra non-Attributive attack of 25,000 (regardless of Defense); if 5-6 Combos are made, Team Attack x 1.8; if 7 or more Combos are made, Team Attack x 1.8 and the Monster launches extra 3-5 Water attacks (only the Combos made in the first batch of Runestones dissolved will be counted).
Team Skill
Effect

Team Skill:


◆ 【Machina Dynamics】
⓵ For each Runestone of the Character's Attribute dissolved in the first batch,
⇒ the Character's Fuel +2%.
⓶ For each Heart Runestone dissolved in the first batch,
⇒ the Character's Fuel +1%.
⓷ The higher the Character's Fuel,
⇒ the higher the Character's Attack,
⇒ to the max x 2 additionally.
⓸ When all Machinas in the Team have ≥ 50% Fuel,
⇒ effects of Runestones of their Attributes increase,
⇒ 10% for each Machina present in the Team,
⇒ to the max 60%.
⓹ When all Machinas in the Team have 100% Fuel,
⇒ all Machinas randomly launch 1 to 2 extra attack(s) of its own Attribute or its Counter Attribute as much as 25% of its Attack every Round.



Condition:


There are 2 or more 【Machina Dynamics】 Members in the Team.
Leader Skill
Name
Chains of Traps
Effect
The more Combos made, the higher the Team Attack, to the max x 4.5 for 10 Combos. If more than 10 Combos are made, Team Attack becomes 0. 
Power Release
Evolution
       
Battle
Origin
Friend Point
Seal
Diamond
Seal
Others
Stages
Tactical Fire Support
Fortified Air Force
LR Pass - Tactical Fire Support

Backstory:
        To protect the Ancient Dragon Power within, scholars turned ruins into a fort. However, not long after the fort's completion, a Demonic Savant raided it with his Demon army and Combatants, hoping to plunder the power. The scholars fought a bitter battle; if not for their newly developed gear, they might have long been defeated.

        To defend themselves against powerful enemies, the scholars researched and developed a gear named "Dragonary Craft". Though the gear harnessed great power within it, Midgley deemed it capable of defeating only their enemies, but not the Ancient Dragon itself. He pondered over a solution; looking upon the fort under repair, Midgley had an idea flashed across his mind...

        After much effort from the scholars, the fort had been restored to its previous appearance, and they themselves continued their research on Ancient Dragon Power. Just as the scholars were immersing in their research, the fort's alarm suddenly screeched! They hastily dropped the documents in hand and hurried to the control room.

        "Is it another raid?" Gretchen nervously asked as she opened the door.

        "No! It's something more important..." Agnesi pointed at the Ancient Dragon tracker. On it, they could see a red light not far from their location. Agnesi continued excitedly: "Our efforts are not in vain. We are finally on the Ancient Dragon's trail!"

        The answer to the enigma was about to reveal itself. The scholars were all excited, but in her heart, Gretchen was worried...

        "According to the ancient manuscript, the Ancient Dragon is powerful and gigantic. Even if we find it, how are we going to study it? We might even frighten it off..." Gretchen's words left the scholars in silence. If they really fail, who knows how much time they need to track it down again.

        Suddenly, Lisa and Midgley laughed together.

        "I've expected such a situation, so Lisa and I have added something to the fort during the repairs..." Even as he was speaking, his fingers danced across the control panel; the fort shook vigorously — the sides of the fort transformed into two giant wheels; two enormous metallic hands and two machine guns protruded from its bottom; and a cannon had also been installed in the middle of the fort.

        "The fort itself has the power to rival that of the Ancient Dragon! Only by capturing the Ancient Dragon can we study it thoroughly." Midgley's smile gradually grew, as he knew the source of the immense power he had yearned for was nearing...
Monsters in Same Group