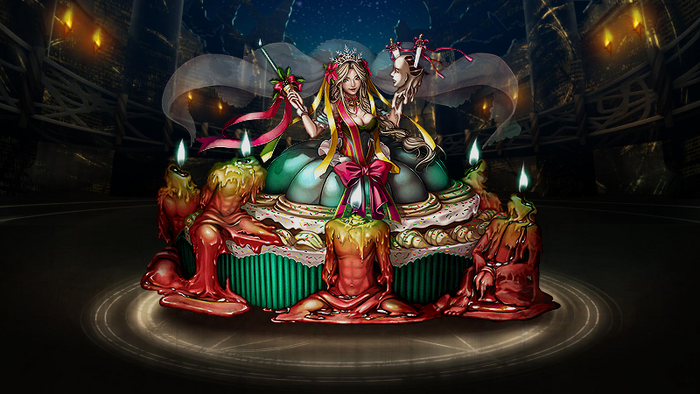 ---
Card Info
(click to show)

Name
Belle the Amorous Soulmate
Attribute
Earth
Id
No. 713
Rarity
7★
Cost
20
Race
Demon
Series
Crimson Grace
Lv Max
99
Exp
Curve
6,500,000
Max
Exp
6,500,000
Card Information
Details
【Crimson Grace - Power Release】

If Monster(s) used as Level-up Material(s) shares Skill (as indicated by the Skill Name) with the target Monster, the Skill Level of the target Monster may increase:
- ID 466 Elizabeth the Noble
- ID 467 Elizabeth the Blood Countess
- ID 470 Engaged Belle
- ID 471 Belle the Poppy Bride
- ID 472 Jack the Gentleman
- ID 473 Jack the Ripper
- ID 568 Bull-horned Cleric Duckling
- ID 711 Gory Aristocrat Elizabeth
- ID 712 Jackie the Holocaust Igniter
- ID 713 Belle the Amorous Soulmate
- ID 714 Death Artist Jack
- ID 715 Spirit Gourmand Todd
- ID 971 Brian the Missionary
Basic Properties
HP
Attack
Recovery
Total

Sacrifice Exp

Sell Value
Lv 1
839
1115
75
2029
Lv 1
7000
1000
Lv 99
1691
2165
376
4232
Per Lv
+800
+100
Active Skill
Name
Truculence of Killer
Lv. 1
CD
23
Lv. 12
CD
12
Effect
Team Attack x 1.5. The no. of enemies defeated in the Round of activation becomes the number of Round the Skill stays in play (enemies defeated by Active Skills excluded).

Team Skill
Effect
Team Skill:
Change the Leader Skill of Belle the Amorous Soulmate from "Truculence Inundation - Earth" to "Truculence Eruption - Earth". Basic multiplier set at 2. If Earth, Water and Heart Runestones are dissolved in the same Round, Earth Attack x 3 additionally in the Round (no superimposing); the multiplier decreases by 1 next Round (bottom out at 2).
Condition:
Both the Leader and Ally are "Belle the Amorous Soulmate".

Team Skill:
Change the Attribute of "Curse of Immortality - Robert" into Earth.

Active Skill CD of the first "Curse of Immortality - Robert" from the left -4.

Change the Leader Skill of "Belle the Amorous Soulmate" to "Crimson Terror - Earth". Basic multiplier for Earth Attack set at 2.5, to the max x 4.5. (The effect "by dissolving 3 specific kinds of Runestones, Attack increases additionally and the multiplier decreases next Round" will be nullified.)
Condition:
Both the Leader and Ally are "Belle the Amorous Soulmate", with "Curse of Immortality - Robert" as a Team Member.

Combine Skill: Crimson Oath
If 3 types of Runestones are dissolved in the same Round, Team Attack x 3 for that Round. Also, the no. of enemies defeated in the Round of activation becomes the number of Rounds the following effect stays in play: Team Attack x 2. As long as you can defeat an enemy in the subsequent Rounds, the number of Rounds with "Team Attack x 2" will not reduce.
Condition:
There are "Curse of Immortality - Robert" and "Belle the Amorous Soulmate" in the Team (the Monsters must reach Lv. 50 or above).
Leader Skill
Name
Truculence Inundation - Earth
Effect
Every time Earth Runestones are dissolved, Earth Attack increases. If no Earth Runestones are dissolved for 2 consecutive Rounds, Attack decreases. When Attack reaches the max x 3.5, Attack decreases if no Earth Runestones are dissolved for 1 Round 
Amelioration
Skills

Amelioration Skill 1:
Monster's Attack +120
Monster's HP +170

50

Amelioration Skill 2:
If a group of 3 or more Runestones are dissolved in the column below the Monster, Team Attack +10% for that Round (Runestones dissolved when dropping would not trigger the effect).

150

Amelioration Skill 3:
Increase the drop rate of Earth Runestones in the column below the Monster to 25% (the effect will not override those of Active Skills).

300

Amelioration Skill 4:
Monster's Active Skill CD - 4

500

Battle
Psychotic Passion
Power Release
  
Virtual Rebirth
Evolution
       
   
   
   
   
Battle
Obsession and the Pride
Origin
Friend Point
Seal
Diamond
Seal
Others
Stages

Backstory:
        A tall and muscular man was walking down the street alone. As he passed by an alley, he heard a soft woman's whisper: "Sir, are you alone?" He looked around the corner, spotting a brunette woman in a long green dress.

        The woman had an attractive figure, and the man could not resist the temptation and approached her, saying: "It is so dark. It is dangerous for you to be here alone." The woman did not answer, and instead, waved at the man to enter the alley. His heart and mind already drawn in, he went without further thought.

        The woman stood in the shadowed corner clutching a bottle of wine in her hand, which she passed to the man. Although hesitant, he gulped down the drink anyways. But as he reached towards the woman, a sudden rush of pain surged from his heart. His hands immediately leaped to his chest as he slowly collapsed onto the ground.

        Since Jackson's death, Belle seemed to have lost her soul. She closed her restaurant, and never left her home again. Her old customers and neighbors were both left worrying at her action, and therefore, thought of various excuses to come to her home. Yet, Belle never answered the door. One night, smoke and flames arose from Belle's home. The neighbors broke down the door only to see Belle wearing a wedding gown, kneeling upon a giant cake. She was flanked by humanoid wax figures.

        "Miss Belle! Its dangerous here! You have to escape!"

        Yet, Belle seemed not to hear them. She simply kissed the wax head she held, smiling as she said: "Jackson...we can finally be together, and never be apart..." The house was slowly collapsing under the heat of the fire, forcing the neighbors to leave Belle and run for their lives. As they were escaping, the final scene they saw was one they could never forget.

        Later, people found much shattered and charred human remains in her home. It was only then that Belle's murders were discovered...

        "The wax figures flanking her...The wax melted from the fire; because of that, we could see that the figures had been made of people! But still, that was not the most disgusting part. It was..." The man who lived beside Belle shuddered before continuing: "The expression in her eye. It was as if she was finally happy, since she could spend the rest of her life with her beloved..."
Monsters in Same Group
Community content is available under
CC-BY-SA
unless otherwise noted.