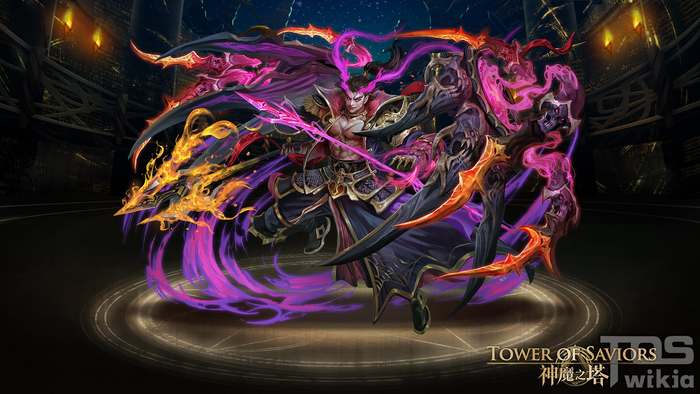 ---
Card Info
(click to show)

Name
Belligerent Mania - Lü Bu
Attribute
Dark
Id
No. 2266
Rarity
7★
Cost
20
Race
Human
Series
Imperial Warlords
Lv Max
99
Exp
Curve
6,500,000
Max
Exp
6,500,000
Card Information
Details
【Imperial Warlords - Power Release】
Basic Properties
HP
Attack
Recovery
Total

Sacrifice Exp

Sell Value
Lv 1
1533
1014
215
2762
Lv 1
1200
6000
Lv 99
3008
1992
483
5483
Per Lv
+1000
+100
Active Skill
Name
Overwhelming Flow of Darkness - EX
Lv. 1
CD
16
Lv. 12
CD
5
Effect
I. Turn Light and Heart Runestones into Enchanted Dark Human Runestones.

II. For 1 Round, the more the Dark Runestones dissolved in a group in the first batch, the more the Combo count increases, to the max Combo count +10 for a group of 10 Dark Runestones dissolved.

Team Skill
Effect
Team Skill:
The more the Runestones dissolved in a group, the higher the Team Attack, to the max x 2.5 additionally for a group of 10 Runestones dissolved.
Condition:
Both the Leader and Ally are Monsters of "Rebels".

Team Skill:
Turn the bottom row of Runestones into Dark Runestones at the end of each Round (Dissolving Runestones is necessary).

Condition:
Both the Leader and Ally are "Belligerent Mania - Lü Bu", with "Love of Fidelity - Diaochan" as a Team Member.

Team Skill:

I.Active Skill CDs of "Rebel Army" Members -2 after entering a Stage.
II. Damage of "Rebel Army" Members will be dealt regardless of Defense.
Condition:
The Leader is a 7* Monster of "Rebel Army".
There are 3 or more Members of "Rebel Army" in the Team.

Combine Skill: Captivating Beauty - Massacre
I. Turn Runestones into Enchanted Dark Human Runestones and Enchanted Heart Human Runestones of fixed numbers and fixed positions.
For 1 Round:
II. Team Attack x 3.
III. The more the Dark Runestones dissolved in a group in the first batch, the more the Combo count increases, to the max Combo count +15 for a group of 15 Dark Runestones dissolved.
IV. Love of Fidelity - Diaochan's current Skill CD -4 upon the activation of its Active Skill.
Condition:
There are "Belligerent Mania - Lü Bu" and "Love of Fidelity - Diaochan" in the Team (the Monsters must reach Lv. 50 or above).
Leader Skill
Name
Slaughter of Roaring Tiger
Effect
I. Dark Attack x 5.
II. Dark Human HP & Recovery x 1.4.
III. Single Attack becomes Full Attack.
IV. Extend Runestone-moving time regardlessly by 1 second.
V. By dissolving a group of 5 or more Runestones,
⇒ Dark Attack increases additionally, to the max x 2.8 for 3 groups.
Amelioration
Skills

Amelioration Skill 1:
Monster's HP +150

50

Amelioration Skill 2:
If a group of 3 or more Runestones are dissolved in the column below the Monster, Team Recovery +10% for that Round (Runestones dissolved when dropping would not trigger the effect).

150

Amelioration Skill 3:
Monster's Attack +120
Monster's Recovery +60

300

Amelioration Skill 4:
Increase the drop rate of Dark Runestones in the column below the Monster to 40% (the effect will not override those of Active Skills).

500

Battle
Lü Bu's Amelioration
Power Release
  
Origin
Friend Point
Seal
Diamond
Seal
Others
Stages

Backstory:
Imperial Heroes - The Finishing Battle Ch.7

        "Come on. I'll return all the humiliation you did to me double!"

        Inside the grand hall, Yuan Shao trampled on Lü Bu's head with a domineering laugh.

        "Damn! If they hadn't held Diao Chan hostage, I would've butchered them into pieces!" Experiencing the greatest humiliation in his life, Lü Bu bit his lip to bleed in order to stop himself from doing anything reckless.

        Invited by Sun Quan, Lü Bu attended a meeting in Kingdom Wu to discuss the alliance arrangement with Liu Bei the revolution leader. Despite a minor quarrel during the meeting, the alliance was settled in peace eventually. When Lü Bu and Diao Chan returned to the city, Yuan Shao was the only one who greeted him.

        Suspecting at first, Lü Bu followed Yuan Shao's lead to the grand hall anyway, but in fact he was walking into a trap set up by Cao Cao. Turned out that Yuan Shao had been conspiring with Cao Cao, who infiltrated the city during his visit to Kingdom Wu. Inside the grand hall, Diao Chan was held hostage by Xiahou Dun, a woman with a single eye patch.

        Lü Bu had no choice but to put up with Yuan Shao's insult in order to keep Diao Chan safe.

        "I won't give up. I can turn the tide. I just need one shot to break the status quo!" Despite the current disadvantage, Lü Bu was still holding hope, protecting himself while waiting for a chance.

        The shot Lü Bu had hoped for soon came true——a razor-sharp arrow was shot at Xiahou Dun, forcing her to let go of Diao Chan. Next second, someone barged into the grand hall through a window.

        "Lü Bu, Liu Bei came with backup!" Huang Zhong shouted while fighting against Xiahou Dun, so as to keep her away from Lü Bu.

        "Haha, thanks," said Lü Bu with a smirk.

        Although his head was under someone's feet, Lü Bu sneered with a high spirit and killing intention; Yuan Shao felt intimidated just by listening to his voice.

        "This..This is bad. I gotta kill him now!" The panicked Yuan Shao raised the sword in an attempt to decapitate Lü Bu, but it was blocked——by Lü Bu's bare hand, grasping the blade!

        The sharp edge cut Lü Bu's palm to bleed, but he still kept pushing as if he felt nothing. Yuan Shao, even with the upper hand, was no match for Lü Bu.

        "Hmm!" Lü Bu growled to exert the maximum force, pushing Yuan Shao to few feet away.

        While Yuan Shao fell on the floor, Lü Bu stood back up and slowly approached him.

        "S-Stop right there...I-I have a sword here…" Yuan Shao pointed a sword at Lü Bu, but his trembling voice couldn't even speak properly.

        "Humph. I don't need a weapon to finish a piece of crap like you," Lü Bu sneered, leaping towards Yuan Shao in no time.

        In a split second, Lü Bu precisely gripped Yuan Shao at his neck, lifting him up single-handedly. As Lü Bu squeezed harder, Yuan Shao started feeling suffocated.

        "I...am...sorry...Forgive...me…"

        "Forgive?"

        Lü Bu grinned as he stared at the purpled face of Yuan Shao.

        "You're dead when you stepped on my head!"

        After the death announcement, Lü Bu then threw Yuan Shao onto the ground, which was powerful enough to break the floor into pieces. Lying dead, the blood of Yuan Shao drew a horrifying crimson blossom.

        Claps sounded from the throne, which was from Cao Cao. The tyrant praised Lü Bu with a grin, "impressive. Killing a man with bare hands——"

        Whoosh! A silver gleam flashed next to Cao Cao. Next second, a strand of hair was cut off, followed by a sword pinned on the throne.

        "Cut your crap!"

        Retrieving his halberd kicked aside by Yuan Shao earlier, Lü Bu pointed the weapon at Cao Cao.

        "Cao Cao! Bring on the fight we left off last time!"

        "Sure!" Cao Cao drew his sword towards Lü Bu, accepting his battle request. A raging spirit was burning high between the two men; the atmosphere became intensified as if the air stopped moving. Next second, the clashes ignited——
Monsters in Same Group
Community content is available under
CC-BY-SA
unless otherwise noted.