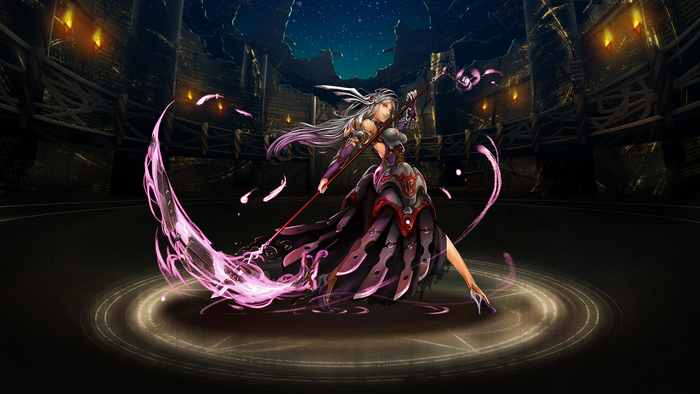 ---
Card Info
(click to show)

Name
Brynhildr the Scythe Warrior
Attribute
Dark
Id
No. 485
Rarity
6★
Cost
14
Race
God
Series
The Norns
Lv Max
99
Exp
Curve
4,000,000
Max
Exp
4,000,000
Card Information
Details
【The Norns - Power Release】
Basic Properties
HP
Attack
Recovery
Total

Sacrifice Exp

Sell Value
Lv 1
1015
732
257
2004
Lv 1
10000
800
Lv 99
2510
1354
585
4449
Per Lv
+900
+100
Active Skill
Name
Cut Through
Lv. 1
CD
21
Lv. 12
CD
10
Effect
Team Attack x 1.5 for 1 Round. Release all locked Skills; nullify all Controlling Skills on all enemies. This Skill will not be locked. If all enemies in the Wave are defeated in the Round of activation, Team Attack x 2.5 in the next Round.

Team Skill
Effect
Team Skill:
Attack basic value of specific Monsters of "The Norns" increases additionally, to the max x 1.5.
Condition:
There are 3 or more Monsters of "the Norns" of the same Rarity but different Attributes in the Team.

Team Skill:
Heart Runestones also possess some effects of all Attributive Runestones. The effect bonus is calculated based on the Attributes of specific Monsters of "The Norns", 10% for each Attribute present in the Team, to the max 50%.
Condition:
The Leader is "Moonlight Immortal Changxi", with 2 or more 6* Monsters of "The Norns" of different Attributes as Team Members.

Team Skill:
Heart Runestones also possess some effects of all Attributive Runestones. The effect bonus is calculated based on the Attributes of specific Monsters of "The Norns", 25% for each Attribute present in the Team, to the max 100%.
Condition:
The Leader is "Immortal Lady of Moon Palace - Chang'e", with "Moonlight Immortal Changxi" and 5* or 6* Monsters of "The Norns" of different Attributes as Team Members.

Team Skill:

I. For the first "Bloodborn Dragonslayer - Sigurd" from the left,
⇒ HP basic value x 2;

II. For the first "Brynhildr the Scythe Warrior" from the left,
⇒ Attack & Recovery basic value x 1.5 additionally.
Condition:
There are "Bloodborn Dragonslayer - Sigurd" and "Brynhildr the Scythe Warrior" in the Team.
Leader Skill
Name
Ultimate Soul Reaping
Effect
When enemy's HP <40%
⇒ launch 1 extra attack of as much as 6x the Monster's Attack each Round regardless of Attribute and Defense
Amelioration
Skills

Amelioration Skill 1:
Monster's Attack +90

50

Amelioration Skill 2:
If a group of 3 or more Runestones are dissolved in the column below the Monster, Team Recovery +10% for that Round (Runestones dissolved when dropping would not trigger the effect).

100

Amelioration Skill 3:
Monster's Recovery +60

200

Amelioration Skill 4:
If a group of 4 or more Runestones are dissolved in the column below the Monster, Team Attack +10% for that Round (Runestones dissolved when dropping would not trigger the effect).

400

Battle
The Slaughterer's Nurture
Power Release
  
Dragonware
      
Origin
Friend Point
Seal
Diamond
Seal
Others
Stages

Backstory:
        Lying on a ruined carriage in the fire, Valkyrie saw a sword cutting through the flames as a warrior approached, his armor badly burnt. He stepped over the corpses and walked towards Valkyrie. She tried hard to suppress her agitation while shoring up herself in pain.

        "You idiot! Don't you know it's a trap?" In the smoke, she berated.

        "We all do, servant of Valhalla. Therefore none of the troops is willing to come but me."

        "There is no way a man injured like you can get me out of here!"

        "It is difficult, therefore I came with blessings."

        The warrior carried Valkyrie in his arms. She had already lost all her strength to resist. He ran past the fiery wall and the warmth eventually relaxed Valkyrie. Before falling asleep, she said, "I've never heard of any kind of blessings that could free one from pain."

        "Indeed, there isn't."

        She fell asleep with her mind put at ease. She swore that she would love him forever, as long as he was honest and willing to sacrifice, and as long as his blade remained as sharp as his courage.

        The Northern Kingdoms had been threatened by the Demons. The father of Princess Brynhildr could hardly fight back, he could only forfeit his land and join Odin's alliance. The little princess, who had lost her homeland, was then raised as a servant in Valhalla. She inherited the preference for strength of the North and asked for the spirits' guidance of her own will. After she grew, she received from Odin the name of Valkyrie and the power to guide souls. She had to pick heroes on battlefields and lead their souls into the Hall.

        Later, she came across a hero of the North. They partnered on the battlefields and got engaged. Her betrothed, however, always had different ideas from Odin when it came to the strategy combating the Demons — neither he nor any of his people joined Odin's army. In a battle, Odin broke the hero's sword by throwing a spear from afar. He was forced to fight with the broken sword and eventually lost his life on the battlefield. When the news of his death reached Brynhildr, it was too late for her to look for his soul. She kept his broken sword with her, along with the grudge against Odin, yet she could not blame him anyhow. All she could do was giving vent to her anger by rampaging among various wars, in an attempt to perish on the battlefield like her betrothed did.

        Odin then gave her even more power. "For your justice and your disbelief on me, I entrust all of you with the task." Odin requested the Valkyries, "When I am lost in the power, you must stop me with your blades." From the day she was given the mission, Brynhildr's smile returned to her face. Valkyries, the takers of souls, kept on searching for souls of the brave. When the horn was blown and the souls lost their way in power, Valkyries would wield their blades and put an end to the heroic spirits' lives.
Monsters in Same Group