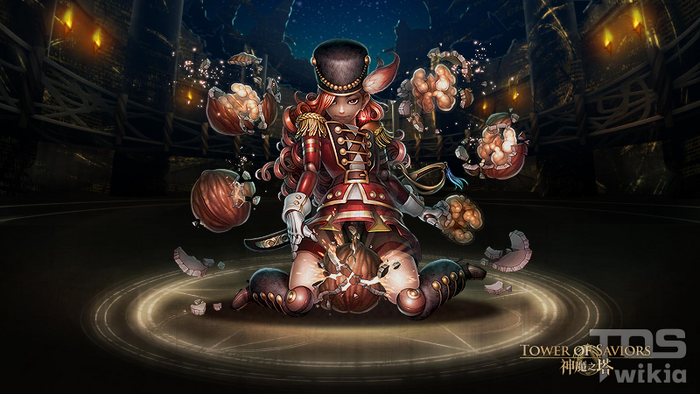 ---
Card Info
(click to show)

Name
Clara the Nutcracker
Attribute
Fire
Id
No. 864
Rarity
6★
Cost
14
Race
Elf
Series
Toy Pixies
Lv Max
99
Exp
Curve
3,500,000
Max
Exp
3,500,000
Card Information
Details
【Toy Pixies】

* The skill of this Monster will be changed after Evolve or Power Release.

If Monster(s) used as Level-up Material(s) shares Skill (as indicated by the Skill Name) with the target Monster, the Skill Level of the target Monster may increase:
- ID 863 Clara
- ID 864 Clara the Nutcracker
Basic Properties
HP
Attack
Recovery
Total

Sacrifice Exp

Sell Value
Lv 1
839
538
275
1652
Lv 1
1100
600
Lv 99
1601
1027
622
3250
Per Lv
+1500
+100
Active Skill
Name
Haven in Impasse
Lv. 1
CD
21
Lv. 12
CD
10
Effect
For 1 Round, the lower the HP, the higher the Recovery, to the max x 3.5.

Team Skill
Effect
Team Skill:
Recovery surplus will become a Full Attack, the largest Damage that could be dealt is 5 times of the Recovery surplus.
Condition:
The Leader is "Diablo, Manipulator of Elements", with 3 or more 5* Monsters of "Sprites", 6* or 7* Monsters of "Toy Pixies" or "Elf Summoner - Princess Woodbury" as Team Members (identical Monsters will only be counted as one).

Team Skill:
Recovery surplus will become a Full Attack, the largest Damage that could be dealt is 10 times of the Recovery surplus.
Condition:
The Leader is "Diablo, Nightmare Guttler of Elements", with 3 or more 5* or 6* Monsters of "Sprites", 6* or 7* Monsters of "Toy Pixies", "Elf Summoner - Princess Woodbury" or 6* Monsters of "Elfish Perennials" as Team Members (identical Monsters will only be counted as one).

Combine Skill: Rune Excitation - Heart
Explode all non-Heart Runestones to recover HP and generate Enchanted Runestones.
Condition:
There are "Elf Summoner - Princess Woodbury" and "Clara the Nutcracker" in the Team (the Monsters must reach Lv. 50 or above).
Leader Skill
Name
Light Steps of Elves
Effect
Elf Attack x 2; Recovery x 1.5
Amelioration
Skills

Amelioration Skill 1:
Monster's Recovery +50

50

Amelioration Skill 2:
If a group of 3 or more Runestones are dissolved in the column below the Monster, Team Recovery +10% for that Round (Runestones dissolved when dropping would not trigger the effect).

100

Amelioration Skill 3:
Monster's Recovery +100

200

Amelioration Skill 4:
Monster's Active Skill CD - 2

400

Battle
Fulfillment of the Wish
Evolve
  
Power Release
Evolution
       
   
Battle
Origin
Friend Point
Seal
Diamond
Seal
Others
Stages

Backstory:
        "Your country has abandoned you all." The little girl said airily.

        "No, it had not! A country would never abandon its soldiers!" Clara denied in disbelief.

        "Your king, your father, and your brothers have all deserted you." The little girl's indifferent eyes did not show even the slightest change.

        "I thank you for saving me. But I do not believe that they would do this!" Clara's voice began to calm.

        "Then let me take you back, and you can see for yourself." The little girl said with a smile.

        With a wave of her hand, Clara was in the little girl's arms. Their figures began to fade and in a moment, the two were now in a grand hall. There, Clara saw her father and the king having a conversation with a few officials. No one noticed the girls' presence and it was as if they had blended with the air.

        "Starre, how long can our frontline hold?" The king asked.

        "Your Majesty, it can only hold on about two more days..." Grand Marshal Starre, Clara's father, replied.

        "What do we do then, Grand Marshal?" Officials asked nervously.

        "Use frontline soldiers as bait. When enemy soldiers gather in retaliation, we eliminate them with a large-scale magic assault." Starre replied.

        "What? Wouldn't our men..." The officials were appalled.

        "When the enemies finish the last of our soldiers, they will need time to catch their breath. Then, we launch direct magic attacks at them!"

        "Starre, is that the only way out?" The king asked sternly.

        "Yes, I am afraid so." Starre nodded.

        Upon hearing this, Clara was left dumbstruck. She had never thought her father would do this. What was worse, her brothers did not reject his suggestion. Clara cried for the first time, not from pain, but from sadness. The little girl put her on the floor.

        "Do you believe it now?"

        Clara did not answer; she merely sat on her knees like a real toy.

        "I can grant you a wish."

        "Clara, go and fulfill your wish. After that, come and help me."

        A black light shot into her. The tiny Clara began to grow and her limbs started to lengthen, before she returned to her original appearance. If not for the mechanical joints on her limbs, she was a true beauty. Clara scanned across her own body, her eyes blazing with rage at the kingdom's officials...
Monsters in Same Group