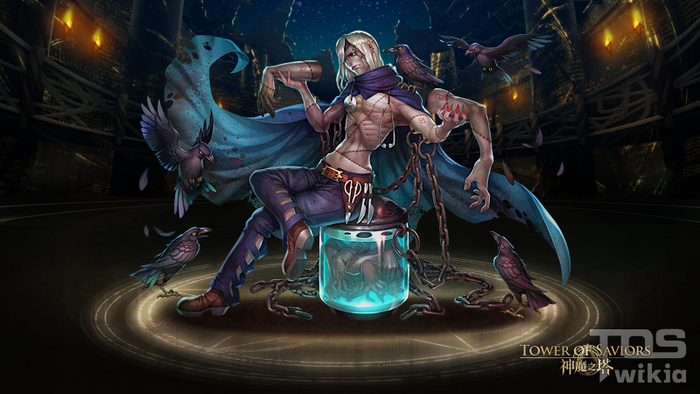 ---
Card Info
(click to show)

Name
Curse of Immortality - Robert
Attribute
Water
Id
No. 1020
Rarity
6★
Cost
20
Race
Demon
Series
Ultimate Lords
Lv Max
99
Exp
Curve
6,000,000
Max
Exp
6,000,000
Card Information
Details
【Ultimate Lords】
Basic Properties
HP
Attack
Recovery
Total

Sacrifice Exp

Sell Value
Lv 1
1142
1056
88
2286
Lv 1
10000
800
Lv 99
2124
1893
386
4403
Per Lv
+900
+100
Active Skill
Name
Crimson Linkage
Lv. 1
CD
19
Lv. 12
CD
8
Effect
If 3 types of Runestones are dissolved in the Round, Team Attack x 3 for that Round.

Team Skill
Effect
Team Skill:
Attribute of "Curse of Immortality - Robert" will synchronize with that of the Leader.

Active Skill CD of the first "Curse of Immortality - Robert" from the left -4.
Condition:
Both the Leader and Ally are 7* Monsters of "Crimson Grace - Power Release" of the same Attribute, with "Curse of Immortality - Robert" as a Team Member.

Team Skill:
Change the Leader Skill of the Leader and Ally from "Truculence Inundation" or "Truculence Eruption" to "Crimson Terror". Basic multiplier for Attack set at 2.5, to the max x 4.5. (The effect "by dissolving 3 specific kinds of Runestones, Attack increases additionally and the multiplier decreases next Round" will be nullified.)
Condition:
Both the Leader and Ally are 7* Monsters of "Crimson Grace - Power Release" of the same Attribute (Water, Fire, or Earth), with "Curse of Immortality - Robert" as a Team Member.

Combine Skill:
Crimson Oath
If 3 types of Runestones are dissolved in the same Round, Team Attack x 3 for that Round. Also, the no. of enemies defeated in the Round of activation becomes the number of Rounds the following effect stays in play: Team Attack x 2. As long as you can defeat an enemy in the subsequent Rounds, the number of Rounds with "Team Attack x 2" will not reduce.
Condition:
There are "Curse of Immortality - Robert" and a 7* Monster of "Crimson Grace - Power Releases" in the Team (the Monsters must reach Lv. 50 or above).
Leader Skill
Name
Fury of Water
Effect
Water Attack x 2.5
Power Release
Evolution
       
Battle
Origin
Friend Point
Seal
Diamond
Seal
Others
Stages
Distorted Immortality
LR Pass - Distorted Immortality

Backstory:
        Robert was a famous coroner in the city; his sewing technique was superb and his logic was sharp. Myriad crimes were solved through his search for clues from dead bodies. Gradually, he earned a high reputation bringing with it success and honor.

        Yet, sharp pain always lingered in his liver. At first, he assumed it was the result of irregular work hours, but was proven wrong by his doctor: "You liver has died. If there is no suitable liver for transplantation, you have about a month left."

        "Please help me! I will do anything!"

        After a long wait, there was finally a suitable organ. The doctor informed him his surgery was successful, and that his body will heal soon. However, just as he was rejoicing about his new life, a peculiar God told him, "You will die soon!" Robert visited the doctor again for a thorough examination before the doctor hesitatingly said:

        "I am sorry...The sceptic blood had already circulated throughout your body. There is nothing we can do anymore. I had originally thought that it would get better, but..."

        "Shut it, you quack!"

        He angrily left the clinic, still unable to accept his fate. He sought every famous doctor in the city, but was to no avail.

        'My road to success has just begun! How can I die now? I mustn't let that freaky God find me!'

        No matter where he hid, the God was able to locate him. One day, he saw that peculiar God again, pursuing a strange person interfering with souls of the deceased. He dashed out to help without thinking, hoping to use his aid as a token for mercy from the God. Though Robert failed to capture the person, the God granted him more time out of sympathy, so he could have the chance to bid his family farewell. However, it was not what he had wanted.

        Feeling lost, Robert staggered along the street. Just then, an eerie voice rang...

        "Hey, aren't you the guy who just played hide-and-seek with me? I smell death in you..."

        Robert turned to the direction of the voice. It was the peculiar person whom the God was pursuing.

        "Oh, look at your pitiful face! Do all Humans hate death so much? Is it because it's going to take everything from you? You're a famous coroner in the city, and you're dying despite your recent transplant. That is kind of depressing, isn't it? But still, there is hope."

        Robert looked at him in bemusement.

        "I can let you live, but your body and organs will still decay as time passes by..." The person said while reaching out his hand.

        Robert struggled. Who can be sure that this strange person can actually cure him? But he had less than a day; if he did not wish to give up everything he worked for — fame and money — he had no choice. Therefore, he gradually stretched out his hand, taking in it the man's...

        Robert feared that death would take away everything from him, so he became a Demon Savant's test subject, and through this, attained an immortal body. To avoid suspicion arising from his decayed organs, he had to regularly replace them. And the source of such organs came from the bodies sent to morgue...
Monsters in Same Group