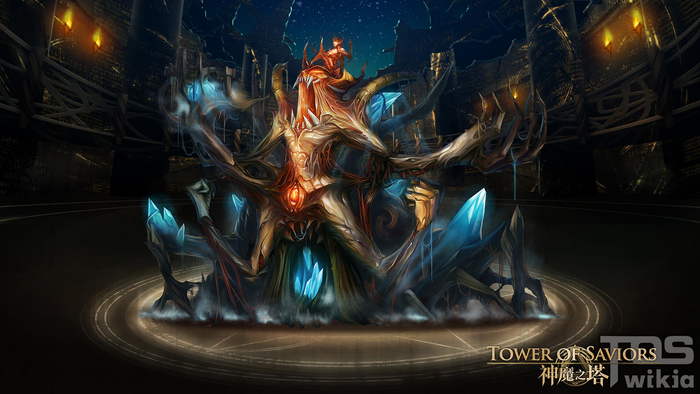 ---
Card Info
(click to show)

Name
Diablo, Insatiable Guttler of Elements
Attribute
Fire
Id
No. 2214
Rarity
8★
Cost
36
Race
Elf
Series
Sealed Lords
Lv Max
99
Exp
Curve
7,500,000
Max
Exp
7,500,000
Card Information
Details
【Sealed Lords】
Basic Properties
HP
Attack
Recovery
Total

Sacrifice Exp

Sell Value
Lv 1
1499
799
535
2833
Lv 1
6000
10000
Lv 99
2859
1525
1209
5593
Per Lv
+500
+0
Active Skill
Name
Baneful Replacement of Spirits
Lv. 1
CD
20
Lv. 15
CD
6
Effect
I. Randomly change Attributes of all Runestones:
⇒ Occurrence rate of Heart Runestones increases.
⇒ Heart Runestones will become Enchanted Elf Runestones.
II. When all Members have the same Recovery basic value,
⇒ all Attributive Runestones also possess 50% effect of Heart Runestones.
Name
Plunder of Life - EX
Lv. 1
CD
22
Lv. 15
CD
8
Effect
For 3 Rounds:
I. Convert 30% Damage dealt on the enemies to HP Recovery.
II. If Team Recovery is 0 at the end of the Round, the number of Rounds with the Skill staying in play will not reduce.
Team Skill
Effect
Team Skill:
I. Elf Attack & Recovery x 10 additionally.

II. By dissolving Runestones of 5 Attributes,
⇒ Damage of Elves will be dealt regardless of Combo Shield.
Condition:
Both the Leader and Ally are "Diablo, Insatiable Guttler of Elements".

Team Skill:
I. When HP is full, the next Damage received will not lead to your defeat (one activation each Round).

II. 6x Recovery surplus will become a Full Attack, regardless of Enchanted Runestone Shield.
The more the Attributes in the Team, the higher the Attack, to the max x18 for 5 Attributes.
Condition:
Both the Leader and Ally are "Diablo, Insatiable Guttler of Elements", and the Team consists of only Elves.
Leader Skill
Name
Retribution for Sins
Effect
I. Elf Attack x 3.
II. Damage received x 2.
III. Launch an Attribute-effective Counterattack as much as 5x Damage received, regardless of Enchanted Runestone Shield.
Virtual Rebirth
  
Origin
Friend Point
Seal
Diamond
Seal
Others
Stages

Backstory:
Diablo, sealed in the Enochian Tower, had been waiting for Summoners' challenge, yet only very few made it to its door. Manipulating elements was the only thing he could do to kill time. While elements were intertwining, a vision took over its consciousness…

Inside the forest of elves shrouded in darkness, a figure was lurking somewhere, waiting for a chance. All of a sudden, the figure caught an almost undetectable noise. It took action and moved to where the noise sounded in a split second——an elf.

"So it's a cute elf. What kind of ability do you have...I'm excited."

Diablo the Guttler of Elements gulfed the elf before it had a chance to escape.

At first, Diablo felt joyful as the energy flowed through its veins; yet an even greater emptiness took over when the joy faded.

"Why...Why am I not satisfied…"

While Diablo was stuck in this idea, he found a flower next to its feet.

"This flower wasn't supposed to be here...Did I create it when I unleash the energy?"

Plucking the flower, Diablo was carried away by its vibrant yellow.

"Such a beautiful thing was born because of me...Will I be able to make more of them if I want to…"

Diablo decided to turn its thought into action. As it intertwined the branches into an arm, it summoned the power to flash crimson on its palm. Next second, the flash turned into a scarlet flower.

"So I can create...Mmm, what's this feeling...Satisfaction? Happiness? Joy? No! It's something deeper...Maybe I can figure it out by creating more lives."

Since then, Diablo, obsessed with creation, had stopped hunting intruders and put all its effort into making lives. At first, flowers were the only thing it could make, and withering broke its heart; Diablo then started making trees, but felt sadder for trees couldn't interact with it; after pulling a round of effort, Diablo created something——a swallow.

"Chirp!"

The newborn wiggled its head, rubbing against Diablo as if it recognised its own creator. At this moment, Diablo was filled with warmth.

When Diablo stroked the swallow with branch, the emptiness was filled miraculously and it felt complete.

Living a live with the swallow made Diablo long for waking up every day, for the swallow always searched for interesting things for Diablo while it was asleep.

In the meantime, darkness had stopped occupying the forest of elves. Diablo's creations gave lives to the forest, yet the richness also drew to greed…

Waking up, Diablo couldn't find the swallow and its gift. Its disappearance didn't alert Diablo at first, for it thought the swallow was still having fun in the forest; Diablo started to worry when the swallow was still missing in the evening.

"Does its missing have anything to do with accident…I need to find it."

Diablo searched around the forest for the missing swallow. At last, a body covered in blood was all he found…

"Wake up...Please wake up...Don't leave me behind…" Diablo mumbled as it held the swallow. Right now, the only thing it felt was a deadly cold, and the warmth it used to know would never return.

"Why are you dead…"

Diablo could tell the knife wound on its body at first glance.

"Who...who killed you," Diablo murmured in hatred.

The question was answered very soon——two farmers carrying two baskets of herbs.

"I knew that there were rare herbs in this forest! We're gonna become very rich as soon as we sell these!"

"Everyone said that there is a murdering elf in the forest, and the only thing trying to stop us was just a swallow. It only took me one hit to kill it!"

The thrilled farmer babbled while waving his knife, making his friend laugh.

Every single word they had said had been heard by Diablo, who was trembling with boiling fury. Meanwhile, an ominous wind made the calm forest unsettling.

"You...You took away my precious...Unforgivable...Unforgivable!"

The furious Diablo surged its power, igniting raging flame on its body.

"I'm going to slaughter you...Rest its soul with your agony!" Diablo announced in front of the farmers with its face twisted by hatred.

That night, screams never stopped in the forest of elves. When the land was shrouded by darkness again, Diablo stared at the blood-stained land and pondered.

"It tears me apart when the life I created comes to its end. I fear loss. I fear this incurable pain. I'm better off to be a snatcher."
Monsters in Same Group
Community content is available under
CC-BY-SA
unless otherwise noted.