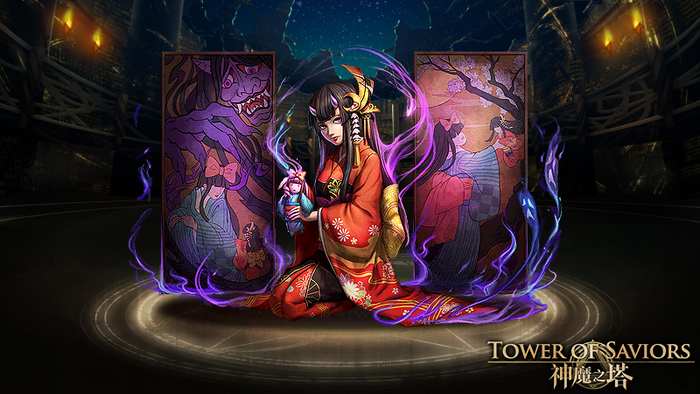 ---
Card Info
(click to show)

Name
Doll of Child's Play
Attribute
Dark
Id
No. 1260
Rarity
6★
Cost
12
Race
Demon
Series
Haunted Objects
Lv Max
99
Exp
Curve
4,000,000
Max
Exp
4,000,000
Card Information
Details
【Haunted Objects】
Basic Properties


HP
Attack
Recovery
Total

Sacrifice Exp

Sell Value
Lv 1
721
1044
64
1829
Lv 1
900
800
Lv 99


1342


+180

1871


+280

280


+30

3493


+490

Per Lv
+1000
+100
Active Skill
Name
Possessive Promise
Lv. 1
CD
19
Lv. 12
CD
8
Effect
Team Attack x 1.5; deduct 20% of current HP each Round. The effects stay in play until receiving Damage twice from enemies' attacks.
Leader Skill
Name
Fury of Demons
Effect
Demon Attack x 2.5
Origin
Friend Point
Seal
Diamond
Seal
Others
Stages
Possession of Dark Matters - Dark

Backstory:
        "What a delicate doll!" Shiori softly touched the doll's hair, then the lapel, waistband, and furisode. With blue and red flower embroidery with golden thread, the doll was the latest version. Shiori was so fond of it that she couldn't take her eyes off the doll, but her friend, who was smiling, took the doll back.

        "Ask your parents to buy one for you." The friend proudly said, knowing that Shiori's family couldn't afford the doll. Shiori was thirteen. Her parents, who thought she could take care of herself, were busy earning money and would often leave Shiori alone at home. Shiori had never gotten a delicate toy like that, so it's not surprising that she couldn't forget the doll after seeing it

        "It was so cute...If only I have enough money to buy it..." Shiori, who was completely lost in her own world, kept murmuring to herself as she walked home. Before long, she saw a big tree and something glittering under it. Filled with curiosity, she walked to it. It was the doll! No way! It was the doll she longed for, almost identical to her friend's except for the style of the kimono—with lucky patterned embroidery with silver and golden thread, it was even more delicate than her friend's. "Who put it here…?" Shiori looked around. It was sunset and everything was peaceful with farmers returning home. She sneakily took the doll, immediately hid it under her sleeve, and rushed home.

        That night, Shiori stayed at home alone as usual, but she was more happy than ever before. While cleaning the doll's face, she exclaimed: "The Gods heard me! Although its clothing are a bit old, I can make a new one!" It was a quiet night. Shiori was alone with her doll and a dim lamp. She kept talking to the doll: "My dear new friend! My parents are never home. You are my only companion!" She gazed at her new friend, whose deep dark eyes seem to conceal humanlike emotions. At that moment, the doll bat its eyelids one or twice.

        "It...mo..moved?" Shiori shook her head and lightly slapped herself on the face, thinking that it was merely an illusion. All of a sudden, the idea of playing hide-and-seek with her new friend came to mind, and therefore said to the doll: "So, just you and me. Let's play a game: I will hide somewhere in this house, and you're gonna find me, alright?" Then she place the doll on the floor and hid in the closet.

        She thought the idea was both crazy and silly. "How desperate am I." She thought. In the closet, Shiori was surrounded by quilts and coats. As she recalled memories of sleeping and cuddling with her mom and dad, she sighed. "Clop, clop"... Right at that moment, footsteps approached the closet. Shiori shivered and didn't dare to make a noise.

        "Could it be..." Now she couldn't help but tremble and pray for morning to come. "Could it really be...the doll..."Suddenly, a small shadow loomed on the paper door of the closet. Shiori held the door shut with all her strength to keep the doll-like shadow out. Suddenly, the paper door was smashed into pieces, unveiling the shadow behind—it was the doll.

        "Game. Over." the hoarse voice of a woman hissed through the doll. Shiori was frightened and could only pray for her parents to come home and save her from this scary nightmare. She gathered her courage and tried to kick the doll away, but the doll suddenly dashed towards her like a spider, grabbing Shiori's lapel and said: "Play. With. Me. Again…" Hearing this, Shiori felt the whole world spin, as if her head was flying and her body was being occupied by the doll...

        "Where are we..." Darkness was everywhere. Several kids passed by, but they floated instead of walking. "Where is this place?"

        "Shhh! She's gonna find us! Hide now!" One of them whispered.

        All the kids scattered into the darkness, leaving Shiori alone.

        The "clop, clop" sound approached her again. she turned around, only to see the doll approaching her. Upon seeing that, Shiori's face turned pale. Suddenly, the doll's voice echoed in her ear again,
        "I. Found. You..."
        "Play. With. Me. Again..."
        "We. Will. Be. Happy. Forever."
Monsters in Same Group
Community content is available under
CC-BY-SA
unless otherwise noted.