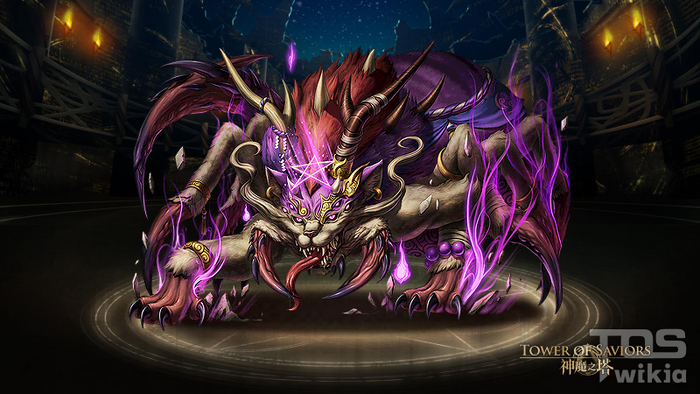 ---
Card Info
(click to show)

Name
Five Elements of Onmyō - Tuchigumo
Attribute
Dark
Id
No. 1130
Rarity
7★
Cost
20
Race
Demon
Series
Hyakki Yagyō - Curse
Lv Max
99
Exp
Curve
5,000,000
Max
Exp
5,000,000
Card Information
Details
【Hyakki Yagyō - Curse (Power Release)】
Basic Properties
HP
Attack
Recovery
Total

Sacrifice Exp

Sell Value
Lv 1
935
1292
88
2315
Lv 1
1000
1000
Lv 99


1740


2013

2315


2744

386


424

4441


5181

Per Lv
+1200
+100
Active Skill
Name
Violence of Killer - EX
Lv. 1
CD
21
Lv. 12
CD
10
Effect
Demon Attack x 1.8 until receiving Damage from enemies' attacks.
Leader Skill
Name
Outrage of Demon - Gloom EX
Effect
Dark Demon Attack x 3.5. For every group of Dark Runestones dissolved, the Attack multiplier +0.5 additionally, to the max x 5 for 3 groups of Dark Runestones dissolved.
Amelioration
Skills

Amelioration Skill 1:
Monster's HP +90

50

Amelioration Skill 2:
Monster's Active Skill CD - 4 after entering a Stage

150

Amelioration Skill 3:
Monster's Attack +180

300

Amelioration Skill 4:
If a group of 4 or more Runestones are dissolved in the column below the Monster, Demon Attack +15% for that Round (Runestones dissolved when dropping would not trigger the effect).

500

Battle
Heart that No Longer Feels Alone
Awakening Recall
Skill

The Character's Skill CD -6 after entering a Stage.
If the Team has only Demons, Attack basic value of all members +500.

Battle
Miracle of Spider Web - Elite
Power Release
  
Origin
Friend Point
Seal
Diamond
Seal
Others
Stages

Notes
50% Bonus Experience when used to level

Youkai

cards

Backstory:
        After tearing off the masks of the fake ascetics, Tuchigumo was welcomed by the villagers, and became the guardian of both the village and the shrine. Since then, together with Shigeharu and Fubuki, they defeated many demonic creatures, bringing peace to the villagers. It seemed that as long as they were there, the village would not be attacked anymore. One day, Shigeharu and Fubuki had to be away from the village for some time…

        "Protect the shrine and the villagers while we are away."

        'Leave it to me! You two be careful.'

         Anxiety aroused among the villagers as they watched Shigeharu and Fubuki leave; while Tuchigumo was confident in itself that it must be able to keep its promise with Shigeharu.

        One day, when Tuchigumo was dealing with the daily affairs in the shrine, screams of the villagers came from outside. Tuchigumo immediately rushed out to protect them, only to see the fake ascetics with a group of youkais attacking the village, attempting to seek revenge on Tuchigumo and the two Onmyō practitioners. Standing in front of the villagers, Tuchigumo signaled them to leave and charged up its youkai pneuma…

        'Darned rats! Leave immediately!'

        "Where did the two ascetics go? Only this monster's left here? Alright, I'll fix you to vent my anger anyway!"

        Facing Tuchigumo, the ascetics drew a strange magic circle. Not paying much attention to it, Tuchigumo charged directly towards the ascetics and youkais. Yet it fell into the ascetics' trap, and was paralyzed by the magic circle! The more it struggled, the tighter the magic circle entangled it... The ascetics and youkai pounced on it, punching and kicking. Seeing Tuchigumo being unable to protect them, the villagers fled helter-skelter.

        'Shigeharu... I'm sorry... I failed to protect everyone...'

        'Don't you think it's a bit early to give up?'

        'You are...?'

        An Onmyōji with a fox tail approached Tuchigumo with light steps. No one could see the weird Onmyōji except Tuchigumo. He put his hand on its head, and Tuchigumo felt a power similar to Shigeharu's streaming into its body. The Onmyōji then disappeared like mist. Feeling its power greatly enhanced, Tuchigumo charged up its youkai pneuma again, and in a lash of its leg, Tuchigumo got rid of the tangle.

        Upon seeing this, the ascetics and youkais fled in fear. The villagers walked out and cheered for Tuchigumo, who was exhausted after the battle. Finding that Tuchigumo was already asleep upon his return to the shrine, Shigeharu said with a smile, "You must be very tired, Octie. Take a good rest."

        As if it could hear what Shigeharu had just said, even in dreams, Tuchigumo smiled softly with joy.
Monsters in Same Group