| | | | | | | | | | | |
| --- | --- | --- | --- | --- | --- | --- | --- | --- | --- | --- |
| | | | | | | | | | | |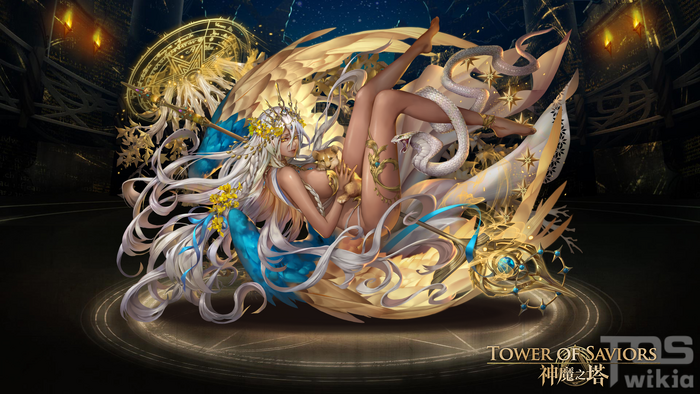 ---
Card Info
(click to show)

Name
Glaring Moonlight - Inanna
Attribute
Light
Id
No. 2734
Rarity
8★
Cost
25
Race
God
Series
Major Gods of Babylon
Lv Max
99
Exp
Curve
9,000,000
Max
Exp
9,000,000
Card Information
Details
【Major Gods of Babylon - Supreme Reckoning】
Basic Properties
HP
Attack
Recovery
Total

Sacrifice Exp

Sell Value
Lv 1
2087
903
219
3209
Lv 1
1000
1000
Lv 99
4133
1669
498
6300
Per Lv
+1200
+100
Active Skill
Name
Blade of Manipulation - Light EX
Lv. 1
CD
18
Lv. 12
CD
7
Effect
For 1 Round:
I. Extend Runestone-moving time to 12 seconds.
II. Unlimited Runestone movement without dissolving.
III. Light Attack x 2.2.
IV. For every 6 Runestones dissolved,
⇒ each Light God launches an extra attack,
⇒ to the max 5 extra attacks.
Name
Diffusion of Light Spirits - EX
Lv. 1
CD
17
Lv. 12
CD
6
Effect
I. Explode Frozen Runestones and the columns below the Character and neighboring Members to generate Enchanted Light God Runestones and Enchanted Heart God Runestones.
For 1 Round:
II. If a neighboring Member is a Light God:
⇒ Attack of the Character and that Member x 3.
Team Skill
Effect
Team Skill:

SR Skill:

I. Clear the negative state of Boss Skill "Runestones in Disguise".
For 1 Round:
II. Turn all Runestones into Enchanted God Runestones.
III. Modify all Runestones to become God Runestones at the end of the Round.

The SR Skill can be activated at the beginning of the Round by tapping the fully charged Craft Apparatus at the expense of 100% of the power gathered.
Condition:
Both the Leader and Ally are Characters of "Major Gods of Babylon - Supreme Reckoning" of the same Attribute.

Team Skill:

I. Extend Runestone-moving time regardlessly by 5 seconds.
II. Other Attributive Runestones also possess the effect of Runestones of the Leader's Attribute.
III. Runestones of the Leader's Attribute also possess the effect of Heart Runestones.
IV. If a group of ≥5 Runestones is dissolved in a column in the first batch,
⇒ 2 Enchanted God Runestones of the Leader's Attribute will be generated in that column.
(Active Skills "Magical Stage - Beam" and "Magical Stage - Gloom" cannot be activated)
V. If ≥4 Runestones are dissolved in ≥2 columns in the first batch,
⇒ Team Attack increases, to the max x 2.
Condition:
Both the Leader and Ally are Characters of "Major Gods of Babylon - Supreme Reckoning" of the same Attribute.

Team Skill:

I. Boss Skills "Burning" (excluding "Hellfire") and "Sticky" will be nullified.
Condition:
Both the Leader and Ally are Characters of "Major Gods of Babylon - Supreme Reckoning" of the same Attribute.

Team Skill:

The Attribute of "Enlightened Mentor - Anu" will synchronize with that of the Leader.
Condition:
Both the Leader and Ally are Characters of "Major Gods of Babylon - Supreme Reckoning" of the same Attribute.

Team Skill:

The Leader, Ally and the first "Enlightened Mentor - Anu" from the left:
⓵ Attack & Recovery basic value x 1.5.
⓶ Skill CDs -2.
Condition:
Both the Leader and Ally are Characters of "Major Gods of Babylon - Supreme Reckoning" of the same Attribute, with "Enlightened Mentor - Anu" in the Team.

Team Skill:

HP basic value of "Major Gods of Babylon - Supreme Reckoning" x 2.
Condition:
There is a Character of "Major Gods of Babylon - Supreme Reckoning" with only Gods of the same Attribute in the Team.

Combine Skill: Ultimate Blade of Fatality - EX

I. Turn all Runestones into all types of Enchanted God Runestones of fixed numbers and fixed positions.
For 1 Round:
II. Other Runestones also possess the effect of Runestones of the Monster's Attribute.
III. The more the number and Attributes of Runestones dissolved,
⇒ the higher the Team Attack,
⇒ to the max x 6 for 30 Runestones of 5 different Attributes dissolved.
Condition:

There are "Glaring Moonlight - Inanna" and "Enlightened Mentor - Anu" in the Team (the Monsters must reach Lv. 50 or above).
Leader Skill
Name
Grace of Heaven - Beam EX
Effect
I. Light Attack x 7; HP & Recovery x 1.4.
II. If a group of ≥4 Runestones are dissolved in a column in the first batch,
⇒ 1 Enchanted Light God Runestone will be generated in that column.
III. By dissolving a group of ≥5 Light Runestones,
⇒ Light Attack x 2.5 additionally.
IV. By dissolving Enchanted Runestones,
⇒ Light Attack x 1.8 additionally.
Amelioration
Skills

Amelioration Skill 1:
Monster's Recovery +75

50

Amelioration Skill 2:
If a group of 4 or more Runestones are dissolved in the column below the Monster, Team Attack +10% for that Round (Runestones dissolved when dropping would not trigger the effect).

150

Amelioration Skill 3:
Monster's Attack +140
Monster's HP +180

300

Amelioration Skill 4:
If a group of 4 or more Runestones are dissolved in the column below the Monster, God Attack +15% for that Round (Runestones dissolved when dropping would not trigger the effect).

500

Supreme Reckoning
  
Origin
Friend Point
Seal
Diamond
Seal
Others
Stages

Backstory:
        While Inanna was walking home with the sleeping Mesopotamia on her back, she saw a young man and a lady in front of her, talking and laughing.

        "Ah, so sweet, just like me and Dumuzi back in the days." She recalled the time when she and Dumuzi studied together with Teacher Anu. At that time, the two were just like this, walking and laughing, sometimes chasing each other, like a pair of innocent, naughty children.

        "We can't do that now."

        Since they became the King and the Queen, they had been bearing the safety and happiness of the entire tribe, not to mention the responsibility of raising a child. These were all heavy burdens. Therefore, they could no longer be carefree like before.

        "Sigh, why bother to think of it?" Inanna shook her head. "I said clearly. No matter how hard it is, I'm happy as long as Dumuzi and I are together."

        "Ahhh! A mouse!" The lady ahead screamed, hiding into the young man's arms. "It's scary!"

        "It's ok. The mouse is gone." The young man wiped away her tears while patting her head. "You really love to act like a baby, don't you? But this is also the cutest part of you."

        "She makes me envious…" Inanna heaved a sigh. "I wanna do that to Dumuzi too."

        She made up her mind.

        "Anyways a feminine play won't give the King any trouble. Let me try!"

        Next day, Inanna and Dumuzi went to inspect the farmland together. They were discussing the harvest conditions on the way. All of a sudden, Inanna screamed. "M-mouse!"

        Dumuzi found it baffling because she was never scared by a mouse. Plus, her cry did not sound like she was frightened at all.

        "Oh, I saw it too. So?" Then he figured. "Ah, are you worrying that the mouse will eat the crop? That's truly a seriou issue. Well done."

        "Em...right."

        Despite the embarrassment, Inanna did not feel discouraged at all. She decided to try again.

        Walking to another section——

        "Dumuzi, s-snake!" Inanna did her best to fake a scream of terror, but failed again.

        "Well, then the snake can eat the mouse. Problem solved."

        "AH! Leave me alone!" She strode forward in anger.

        "Humph, anyway, I'm too old to act cutesy now. It's just a waste of time!" Inanna grumbled bitterly, unaware of Dumuzi who came behind to hug her up.

        "Wh-what are you doing?"

        Dumuzi whispered gently with a smile. "Just want to say you're adorable."

        "You——put me down already!" A blush came into her cheeks.

        "No."

        "Dumuzi is such an idiot!"

        "You look pretty cute too even when you're angry though."

        Dumuzi stretched out his hand to stroke Inanna's face and looked at her affectionately. Unable to resist the indulgence in love, Inanna could not help waiting for a kiss on the lips...
Monsters in Same Group