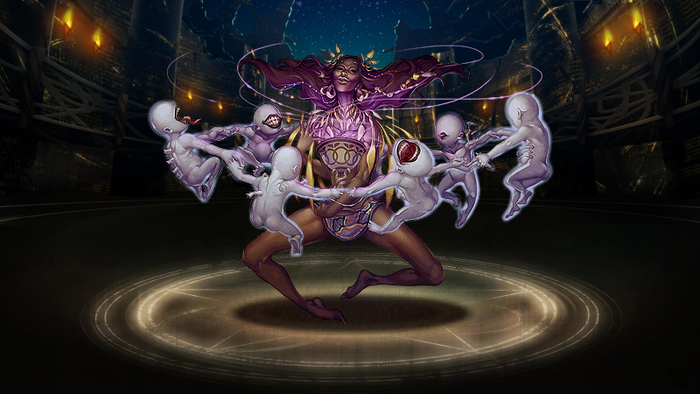 ---
Card Info
(click to show)

Name
God of Pestilence - Namtar
Attribute
Dark
Id
No. 810
Rarity
6★
Cost
15
Race
God
Series
Major Gods of Babylon
Lv Max
99
Exp
Curve
5,000,000
Max
Exp
5,000,000
Card Information
Details
【Major Gods of Babylon】
Basic Properties
HP
Attack
Recovery
Total

Sacrifice Exp

Sell Value
Lv 1
1488
831
171
2490
Lv 1
1000
1000
Lv 99
2948
1537
390
4875
Per Lv
+1000
+100
Active Skill
Name
Blades of Phantom
Lv. 1
CD
23
Lv. 12
CD
12
Effect
Extend Runestone-moving time by 3 seconds for 1 Round; by dissolving Heart, Light and Dark Runestones in the same Round, Dark Attack x 1.5.

Team Skill
Effect
Team Skill:
If a group of 4 or more Runestones are dissolved in 2 or more columns, Team Attack increases additionally, to the max x 1.5 (only the first batch of Runestones dissolved will be counted).

Change the Leader Skill of "God of Pestilence - Namtar" from "Gift from Heaven - Dark" to "Gift from Heaven - Gloom", with Dark Attack x 3.
Condition:
Both the Leader and Ally are "God of Pestilence - Namtar".

Team Skill:
Change the Attribute of "Erudite Edifier - Anu" into Dark.

Attack basic value of the Leader, the Ally, and the first "Erudite Edifier - Anu" from the left x 1.3 additionally.
Condition:
Both the Leader and Ally are "God of Pestilence - Namtar", with "Erudite Edifier - Anu" as a Team Member.

Combine Skill: Blade of Fatality
For 1 Round, extend Runestone-moving time to 8 seconds; the more number and Attributes of Runestones dissolved, the higher the Team Attack, to the max x 5 for 30 Runestones of 5 different Attributes dissolved.
Condition:
There are "God of Pestilence - Namtar" and "Pristine Preceptor - Anu" in the Team (the Monsters must reach Lv. 50 or above).
Leader Skill
Name
Gift from Heaven - Dark
Effect
Dark Attack x 2.5. If a group of 4 or more Runestones are dissolved in a column, 1 Dark Runestone will be generated in that column (only the first batch of Runestones dissolved will be counted).
Amelioration
Skills

Amelioration Skill 1:
Monster's Recovery +30

50

Amelioration Skill 2:
If a group of 4 or more Runestones are dissolved in the column below the Monster, Team Recovery +10% for that Round (Runestones dissolved when dropping would not trigger the effect).

150

Amelioration Skill 3:
Monster's Attack +180

300

Amelioration Skill 4:
If a group of 4 or more Runestones are dissolved in the column below the Monster, Team Attack +10% for that Round (Runestones dissolved when dropping would not trigger the effect).

500

Battle
Perception of Fate
Evolve
  
Power Release
Evolution
       
   
Battle
Origin
Friend Point
Seal
Diamond
Seal
Others
Stages

Backstory:
        "Namtar, Humans need you," Dumizi's desperation was just audible in his voice.

        "Fate consumes the lives of Human. I have said that in the past..." Namtar said with a shake of his head.

        "I beg you, Namtar. I am sorry," Dumuzi bowed as he implored for help.

        "Dumuzi, I am not refusing to return because of what you did to me. The reason for this is because everything is predestined. Fate wants this calamity for mankind," Namtar answered indifferently.

        Even before Dumuzi and Ninurta found Namtar, Dumuzi had known that Namtar would not easily agree to return. He had thought of many possible ways to bring him back. The first was to abandon his social status; then, he would implore Namtar for his return and apologize for his previous actions. Unfortunately, Namtar remained resolute against returning.

        "Namtar, if this is the case, then we shall use force!" At this moment, Ninurta suddenly struck out.

        Dumuzi's second approach was to have Ninurta capture him and bring him back.

        "If you defeat me, that would also be the will of fate," Namtar's expression remained unemotional.

        Just as Ninurta's huge hands were about to grab him, a purple barrier stopped his hand. The barrier enveloped the huge hand which actually started rusting. Ninurta immediately pulled his hand back, but the huge hand had already been corroded into rust. A wave of purple mist gathered in Namtar's hands.

        "My brothers, fate had once driven me to help you, but in the help, fate changed its mind."

        "No one can control fate, while the fate of humanity is to have its life consumed by the pestilence in my hands."

        Dumuzi suddenly grabbed Namtar's hands.

        "You are wrong. Everyone can control fate, Namtar. Fate is not everything."

        "Teacher told me that I did not understand fate. What is wrong with me following it?"

        "You have truly never understood fate. All you do is blindly following its will. Namtar, if you come back to me, then, you can truly understand fate. Ninurta had brought back the Tome of Fate. Namtar, I ask you, do you wish to understand fate?"

        "You possess the Tome of Fate? Yes! I want to understand fate! I will return with you!"

        Dumuzi's final approach was to tempt Namtar with the Tome of Fate. This approach's effectiveness was palpable. As someone who claimed to follow fate, Namtar would obviously be drawn by the Tome of Fate.


        Seeing Namtar acquiesce, Dumuzi's biggest worry was resolved. Yet, he had an ominous premonition. He looked over at where Humans lived...
Monsters in Same Group