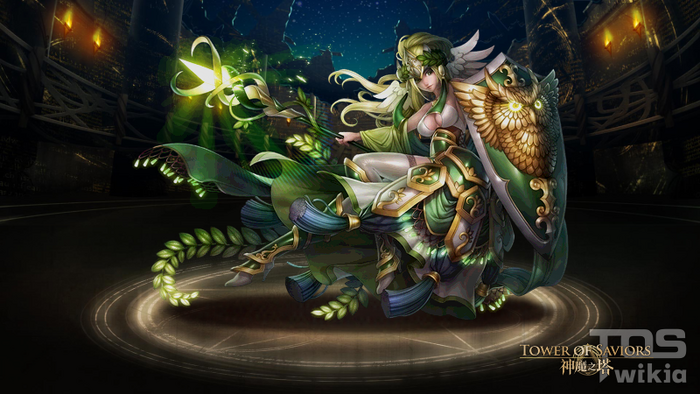 ---
Card Info
(click to show)

Name
Goddess of Haughtiness - Athena
Attribute
Earth
Id
No. 1360
Rarity
7★
Cost
22
Race
God
Series
Greek Gods
Lv Max
99
Exp
Curve
6,500,000
Max
Exp
6,500,000
Card Information
Details
【Greek Gods Reborn - Refinement】
Basic Properties
HP
Attack
Recovery
Total

Sacrifice Exp

Sell Value
Lv 1
1866
896
181
2943
Lv 1
900
1000
Lv 99
3697
1656
412
5765
Per Lv
+1000
+100
Active Skill
Name
Trace of Notion - Spring Leaves
Lv. 1
CD
19
Lv. 12
CD
8
Effect
Earth Attack continues to increase until no groups of 5 or more Earth Runestones are dissolved (only the first batch of Runestones dissolved will be counted). For every 20 Runestones dissolved, increase of Earth Attack speeds up. The Attack multiplier resets every Wave.

Team Skill
Effect
Team Skill:
For the first 10 Combos, 1 Ex. Combo count for each Combo made. After that, there is a 70% chance to gain 1 Ex. Combo count for each Combo made.

3 Earth God Runestones will be generated for each Attribute of Runestones dissolved, to the max 15 Runestones to be generated.
Condition:
Both the Leader and Ally are "Goddess of Haughtiness - Athena".

Team Skill:
Change the Attribute of "Sombre Void - Zeus" into Earth.
Condition:
Both the Leader and Ally are "Goddess of Haughtiness - Athena", with "Sombre Void - Zeus" as a Team Member.

Team Skill:
Change the Attribute of "Supreme Divine Overlord - Zeus" into Earth.
Condition:
Both the Leader and Ally are "Goddess of Haughtiness - Athena", with "Supreme Divine Overlord - Zeus" as a Team Member.

Combine Skill: Imprint of Earth - Coronation
All dropping Earth Runestones will be adjacent for 1 Round. If Earth Trace is in play, the Attack multiplier will be at the maximum. Turn the column of Runestones below the Monster into Enchanted Earth Runestones at the end of the Round.
Condition:
There are "Supreme Divine Overlord - Zeus" and "Goddess of Haughtiness - Athena" in the Team (the Monsters must reach Lv. 50 or above).
Leader Skill
Name
Motion of Vines
Effect
For every group of Runestones dissolved, 1 Earth Runestone will be generated (only the first batch of Runestones dissolved will be counted). For every 3 Earth Runestones dissolved, 1 Enchanted Earth Runestone will be generated
Amelioration
Skills

Amelioration Skill 1:
Monster's Attack +90

50

Amelioration Skill 2:
If a group of 4 or more Runestones are dissolved in the column below the Monster, Team Attack +10% for that Round (Runestones dissolved when dropping would not trigger the effect).

150

Amelioration Skill 3:
Monster's HP +340

300

Amelioration Skill 4:
Increase the drop rate of Earth Runestones in the column below the Monster to 40% (the effect will not override those of Active Skills).

500

Battle
Unexpected Riots - Earth
Virtual Rebirth
  
Supreme Reckoning
       
Origin
Friend Point
Seal
Diamond
Seal
Others
Stages

Backstory:
        Up in the heavens, the Gods, the Zodiac, and the Summoner had a fierce battle. To acquire stronger power, Athena went to the Divine Tree and gently touched its trunk. Emerald light began to radiate as a wave of earth elemental power surged into Athena's body. The light then became brighter and brighter, illuminating the whole Divine Woodland. As earth elemental power emerged endlessly, Athena saw a vision within the flowing element, which showed her an alternative life when she made other choices…

        Athena had a fortuitous encounter with Atlantis who possessed extraordinary wisdom and knowledge. Athena found him very interesting, but she was well aware of the difference between Humans and Gods. Therefore, she incarnated as a mortal, named "Atna", to spend time with him. Atlantis and her had a wonderful time together. However, when he realized Athena's true identity, he could no longer treat her the way he used to. Atlantis even thought he had been deceived by Athena and that they shouldn't have met at all, let alone get to know each other.
        Athena was reluctant to give up. Everyday, She came to Atlantis's residence, but he simply gave her the cold shoulder. Afterwards, Atlantis moved away from town. Athena was heartbroken and decided to return to where they first met.
        Everything remained the same, from the breeze to the emerald grass, all except for the presence of his azure-blue figure. Their past memories interlaced with the present as she remembered how they took a walk through this meadow; how they rested here; and how they had a picnic here...All these things remained vivid to her. Athena's vision blurred with tears. She had never cried since she became a god, but at this moment, she wailed because of her broken heart. Athena had made up her mind. She passed through the clouds and returned to heaven.

        Back in heaven, Athena beelined to the temple. She pushed away the god soldiers in her way and walked towards Zeus.
        "Athena? Why are you in such a rush? What's the matter?"
        Athena kneeled down on one knee, bowed her head down and said: "I've never begged for anything from you, but right know I only ask for one thing. Take my powers away! I give up my identity as a God and wish to become human."
        "...all for that boy? It is worth it?" Zeus was already aware of the relationship between Athena and Atlantis, but he never expected his proud daughter to make such a decision.
        "Yes, it is." Athena answered without any hesitation. She was clear to her that without Atlantis, it did not matter if she was a God or not.
        "Oh dear...even my daughter is like this…" Zeus sighed, "remember, once you lose your powers, it won't be easy for you to return to the realm of Humans from here. You might get yourself killed."
        "I've made up my mind."
        Zeus put his hand on Athena's head. Both of them began to shine with light. Athena's emerald luminescence turned into countless spots of light, which were then absorbed by Zeus. Although the process was painful, she endured it. Afterwards, a dazzling light appeared in the temple. Zeus's light became faint while Athena's had already faded. Her spear and shield had changed into vines that coiled the temple. She looked at her hands and sensed the absence of power.
        "Go! Back to the realm of Humans." Zeus turned away, refusing to look back at Athena. After showing her gratitude towards Zeus's upbringing, Athena left the heavens and went back to the realm of Humans.
         The way back to the realm of Humans was extremely difficult. First, she needed to pass through a torrid road which covered her feet with blisters, but Athena did not stop. The pain made her aware that she was no longer a god, and that made her even stronger.
        After the blazing road, she came to the rapids. Athena stepped on the gravel and passed the river with caution. Every step was agonizing due to her wounded feet. She almost fell into the water, but fortunately, she was agile enough to gain a firm foothold though she bruised herself in the process.
        Passing the dangerous rapids, Athena arrived at the dark woods. The dense trees and leaves obscured the light from the sky, creating a somber atmosphere. Athena was not afraid but rather excited. As long as she got through the woods, she could return to the realm of Humans. However, this place was like a maze and it was easy to get lost. She had to figure out her directions and find a way out before she's trapped in here forever…
        "What if I climb up a tree and overlook the woods? I might be able to find my way out!"
        In the past, Athena could fly at will. It was not until she had to rely on her own strength did she realize how hard it is for a human to survive. Without any experience, she failed to climb up the tree. Even though she was scratched by bark, she did not give up.
        Athena suddenly recalled a leveraging method Atlantis once mentioned that might help her in this situation. Therefore, she tore off her hem and used the cloth to tie one end around her right hand. She then wrapped the cloth around the tree's trunk, gripped the other end with her left hand, and slowly climbed up the tree. Athena didn't know how long she was climbing for, but her muscles ached. With her perseverance, she finally made it to the top. It was already dusk. Athena saw the exit of the woods under the sun, and then carefully made her way down the tree.

        Atlantis's words helped Athena pass through the murky woods and returned to the realm of Humans. Her journey made her exhausted and left her black and blue all over. Falling flat to the ground, Athena was unable to move. At this moment, someone walked up to her. However, by the time she realized who the person was, she fell unconscious…
        When she woke up, she found herself in a strange place, but the fragrance in the air smelled familiar——
        "...Atlantis created this scent for me !"
        As Athena tried to get up, the door opened and a familiar figure appeared——
        "Hm? You woke up. Why are you so weak everytime I meet you?"
        "Atl...Atlantis!"
        Athena immediately cried tears of joy. She never expected Atlantis, the one she longed for, to be the person to save her. She could not wait to share all her adventures with Atlantis.
        "How did you get these scars and wounds? Why didn't you heal yourself with your divine power?"
        "...I gave it up. Now I'm just a mortal."
        Atlantis was stunned by what she said. Even though she experienced so much hardship, Athena still sincerely smiled. The wounds all over her body proved she was no longer a god; Atlantis felt sorry and quickly held her tight in his arms. He was touched by what she did, looking into her eyes with love.
        "How foolish of you…"
        "As long as I can be with you, it doesn't matter anymore..."
        "We'll be together forever, until death do us part."
        Atlantis felt nervous as he kissed Athena.
They hugged each other tightly before Athena began explaining how she returned to the realm of Humans after giving up her powers; Atlantis innocently smiled and patiently listened to her story. With their finger crossed, they felt a warm and intimate connection deep inside their hearts...

         "I'm born to be a God, a symbol of wisdom and war, which is a supremacy that no one can defy! As a God, I shouldn't fall in love with humans…"
Monsters in Same Group
Community content is available under
CC-BY-SA
unless otherwise noted.