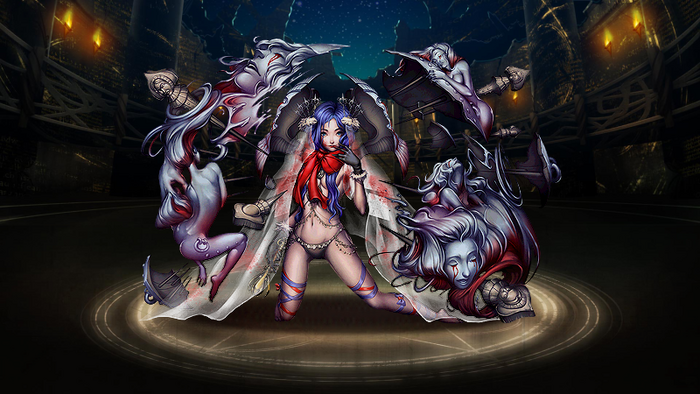 ---
Card Info
(click to show)

Name
Gory Aristocrat Elizabeth
Attribute
Water
Id
No. 711
Rarity
7★
Cost
20
Race
Demon
Series
Crimson Grace
Lv Max
99
Exp
Curve
6,500,000
Max
Exp
6,500,000
Card Information
Details
【Crimson Grace - Power Release】
Basic Properties
HP
Attack
Recovery
Total

Sacrifice Exp

Sell Value
Lv 1
725
1188
80
1993
Lv 1
7000
1000
Lv 99
1475
2249
390
4114
Per Lv
+800
+100
Active Skill
Name
Truculence of Killer
Lv. 1
CD
23
Lv. 12
CD
12
Effect
Team Attack x 1.5. The no. of enemies defeated in the Round of activation becomes the number of Round the Skill stays in play (enemies defeated by Active Skills excluded).

Team Skill
Effect
Team Skill:
Change the Leader Skill of Gory Aristocrat Elizabeth from "Truculence Inundation - Water" to "Truculence Eruption - Water". Basic multiplier set at 2. If Water, Fire and Heart Runestones are dissolved in the same Round, Water Attack x 3 additionally in the Round (no superimposing); the multiplier decreases by 1 next Round (bottom out at 2).
Condition:
Both the Leader and Ally are "Gory Aristocrat Elizabeth".

Team Skill:
Active Skill CD of the first "Curse of Immortality - Robert" from the left -4.

Change the Leader Skill of "Gory Aristocrat Elizabeth" to "Crimson Terror - Water". Basic multiplier for Water Attack set at 2.5, to the max x 4.5. (The effect "by dissolving 3 specific kinds of Runestones, Attack increases additionally and the multiplier decreases next Round" will be nullified.)
Condition:
Both the Leader and Ally are "Gory Aristocrat Elizabeth", with "Curse of Immortality - Robert" as a Team Member.

Team Skill:
Demon HP & Attack basic value x 1.5 additionally.
Condition:
Both the Leader and Ally are "Gory Aristocrat Elizabeth", with "Flute of Magic Power" as a Team Member.

Combine Skill: Crimson Oath
If 3 types of Runestones are dissolved in the same Round, Team Attack x 3 for that Round. Also, the no. of enemies defeated in the Round of activation becomes the number of Rounds the following effect stays in play: Team Attack x 2. As long as you can defeat an enemy in the subsequent Rounds, the number of Rounds with "Team Attack x 2" will not reduce.
Condition:
There are "Curse of Immortality - Robert" and "Gory Aristocrat Elizabeth" in the Team (the Monsters must reach Lv. 50 or above).
Leader Skill
Name
Truculence Inundation - Water
Effect
Every time Water Runestones are dissolved, Water Attack increases. If no Water Runestones are dissolved for 2 consecutive Rounds, Attack decreases. When Attack reaches the max x 3.5, Attack decreases if no Water Runestones are dissolved for 1 Round 
Amelioration
Skills

Amelioration Skill 1:
Monster's Attack +120
Monster's HP +170

50

Amelioration Skill 2:
If a group of 3 or more Runestones are dissolved in the column below the Monster, Team Attack +10% for that Round (Runestones dissolved when dropping would not trigger the effect).

150

Amelioration Skill 3:
Increase the drop rate of Water Runestones in the column below the Monster to 25% (the effect will not override those of Active Skills).

300

Amelioration Skill 4:
Monster's Active Skill CD - 4

500

Battle
Bloodstained Royalty
Power Release
  
Virtual Rebirth
Evolution
       
   
   
   
   
Battle
Immortality and the Price
Origin
Friend Point
Seal
Diamond
Seal
Others
Stages

Backstory:
        "In the mirror, the corner of the lips of Elizabeth tilted into a smile, creepy and devilish, enhancing Elizabeth's usual seductiveness. Looking at her image in the mirror, Elizabeth knows that this is her true self. She understand what she desires; what she craves. Blood shall be her subsistence, and serve as an elixir that halts the footsteps of death."

        'Is that really what you want?'

        Hearing the voice, Elizabeth woke up and saw her reflection in the mirror — a haggard appearance with messy hair. The mirror reflected the room she was in. It was nearly empty, except the mirror and a pale yellow coffin. Elizabeth struggled towards the coffin, each step a strain. Lying in the coffin was Jack.

        "My dear, please come back!" "Come back and stay by my side!"

        Facing the silent Jack, Elizabeth kept murmuring those words. These two sentences were all she had been saying for some time. Suddenly, the door was opened. It was Ed with the Pumpkin Trio carrying wine glasses on dinner plates.

        "Lady Elizabeth, have some food please!" Ed said frustratingly.

        But Elizabeth just kept repeating her words without paying any attention to Ed. Ed could not help but anger. He knew he must take good care of Elizabeth, as Jack would expect him to do so.

        "My brother has gone! Elizabeth, you must eat! Pumpkin Trio, go!"

        Pumpkin Trio forced her mouth open, and poured the blood from the wine glasses into her mouth. Like a puppet, Elizabeth did not resist, simply allowing the blood to flow down her throat. But one of the Pumpkin Trio, Dracula, tipped over a glass, splashing Jack's suit.

        "Aargh!"

        Elizabeth screamed. With agony on her face, she kept saying "sorry" to Jack. Streams of blood gushed out from her body, knocking the Pumpkin Trio away. Frenziedly and violently, Elizabeth shot out countless magic spheres of blood. Ed took out his bone rapier, getting ready to stop her. But then, he sensed a surge of familiar power that was stronger than ever before. A man appeared in front of Elizabeth seemingly out of nowhere. The bloody spheres struck him non-stop. But the man remained calm, the attack having no effect on him. Gently, he pulled Elizabeth into an embrace...

        "Immortality or death are not important anymore. The only thing I want is him by my side." — Gory Aristocrat Elizabeth.
Monsters in Same Group