| | | | | | | | | | | |
| --- | --- | --- | --- | --- | --- | --- | --- | --- | --- | --- |
| | | | | | | | | | | |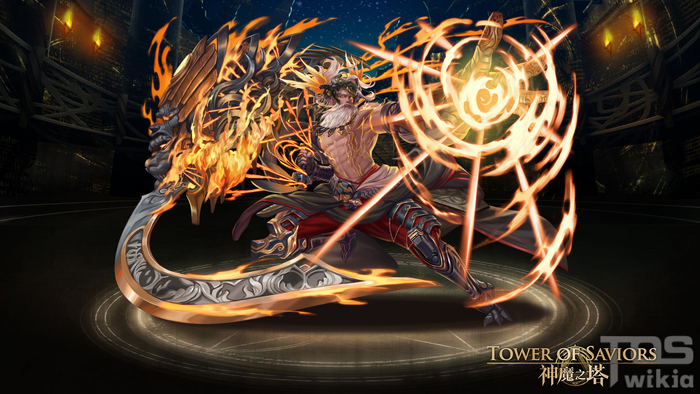 ---
Card Info
(click to show)

Name
Guardian General - Ninurta
Attribute
Fire
Id
No. 2732
Rarity
8★
Cost
25
Race
God
Series
Major Gods of Babylon
Lv Max
99
Exp
Curve
9,000,000
Max
Exp
9,000,000
Card Information
Details
【Major Gods of Babylon - Supreme Reckoning】
Basic Properties
HP
Attack
Recovery
Total

Sacrifice Exp

Sell Value
Lv 1
2019
1024
177
3220
Lv 1
1000
1000
Lv 99
3998
1893
403
6294
Per Lv
+1200
+100
Active Skill
Name
Blade of Manipulation - Fire EX
Lv. 1
CD
18
Lv. 12
CD
7
Effect
For 1 Round:
I. Extend Runestone-moving time to 12 seconds.
II. Unlimited Runestone movement without dissolving.
III. Fire Attack x 2.2.
IV. For every 6 Runestones dissolved,
⇒ each Fire God launches an extra attack,
⇒ to the max 5 extra attacks.
Name
Diffusion of Fire Spirits - EX
Lv. 1
CD
17
Lv. 12
CD
6
Effect
I. Explode Frozen Runestones and the columns below the Character and neighboring Members to generate Enchanted Fire God Runestones and Enchanted Heart God Runestones.
For 1 Round:
II. If a neighboring Member is a Fire God:
⇒ Attack of the Character and that Member x 3.
Team Skill
Effect
Team Skill:

SR Skill:

I. Clear the negative state of Boss Skill "Runestones in Disguise".
For 1 Round:
II. Turn all Runestones into Enchanted God Runestones.
III. Modify all Runestones to become God Runestones at the end of the Round.

The SR Skill can be activated at the beginning of the Round by tapping the fully charged Craft Apparatus at the expense of 100% of the power gathered.
Condition:
Both the Leader and Ally are Characters of "Major Gods of Babylon - Supreme Reckoning" of the same Attribute.

Team Skill:

I. Extend Runestone-moving time regardlessly by 5 seconds.
II. Other Attributive Runestones also possess the effect of Runestones of the Leader's Attribute.
III. Runestones of the Leader's Attribute also possess the effect of Heart Runestones.
IV. If a group of ≥5 Runestones is dissolved in a column in the first batch,
⇒ 2 Enchanted God Runestones of the Leader's Attribute will be generated in that column.
(Active Skills "Magical Stage - Beam" and "Magical Stage - Gloom" cannot be activated)
V. If ≥4 Runestones are dissolved in ≥2 columns in the first batch,
⇒ Team Attack increases, to the max x 2.
Condition:
Both the Leader and Ally are Characters of "Major Gods of Babylon - Supreme Reckoning" of the same Attribute.

Team Skill:

I. Boss Skills "Burning" (excluding "Hellfire") and "Sticky" will be nullified.
Condition:
Both the Leader and Ally are Characters of "Major Gods of Babylon - Supreme Reckoning" of the same Attribute.

Team Skill:

The Attribute of "Enlightened Mentor - Anu" will synchronize with that of the Leader.
Condition:
Both the Leader and Ally are Characters of "Major Gods of Babylon - Supreme Reckoning" of the same Attribute.

Team Skill:

The Leader, Ally and the first "Enlightened Mentor - Anu" from the left:
⓵ Attack & Recovery basic value x 1.5.
⓶ Skill CDs -2.
Condition:
Both the Leader and Ally are Characters of "Major Gods of Babylon - Supreme Reckoning" of the same Attribute, with "Enlightened Mentor - Anu" in the Team.

Team Skill:

HP basic value of "Major Gods of Babylon - Supreme Reckoning" x 2.
Condition:
There is a Character of "Major Gods of Babylon - Supreme Reckoning" with only Gods of the same Attribute in the Team.

Combine Skill: Ultimate Blade of Fatality - EX

I. Turn all Runestones into all types of Enchanted God Runestones of fixed numbers and fixed positions.
For 1 Round:
II. Other Runestones also possess the effect of Runestones of the Monster's Attribute.
III. The more the number and Attributes of Runestones dissolved,
⇒ the higher the Team Attack,
⇒ to the max x 6 for 30 Runestones of 5 different Attributes dissolved.
Condition:

There are "Guardian General - Ninurta" and "Enlightened Mentor - Anu" in the Team (the Monsters must reach Lv. 50 or above).
Leader Skill
Name
Grace of Heaven - Blaze EX
Effect
I. Fire Attack x 7; HP & Recovery x 1.4.
II. If a group of ≥4 Runestones are dissolved in a column in the first batch,
⇒ 1 Enchanted Fire God Runestone will be generated in that column.
III. By dissolving a group of ≥5 Fire Runestones,
⇒ Fire Attack x 2.5 additionally.
IV. By dissolving Enchanted Runestones,
⇒ Fire Attack x 1.8 additionally.
Amelioration
Skills

Amelioration Skill 1:
Monster's Recovery +75

50

Amelioration Skill 2:
If a group of 4 or more Runestones are dissolved in the column below the Monster, Team Attack +10% for that Round (Runestones dissolved when dropping would not trigger the effect).

150

Amelioration Skill 3:
Monster's Attack +140
Monster's HP +180

300

Amelioration Skill 4:
If a group of 4 or more Runestones are dissolved in the column below the Monster, God Attack +15% for that Round (Runestones dissolved when dropping would not trigger the effect).

500

Supreme Reckoning
  
Origin
Friend Point
Seal
Diamond
Seal
Others
Stages

Backstory:
        With a swing of the sickle, the sinister Imdugud was beheaded, with blood splashing all over his body.

        "Won...I won! I can bring the old man's book back!" When Ninurta picked up the Tome of Fate and Imdugud's head to leave, chirps of woe came into his ears.

        "These three fluffy...are the birdlings of Imdugud?" The birdlings snuggled together, crying for the death of their mother.

        "Well well, your mother was slaughtered by me, and no one will take care of you in the future. You three are going to starve to death for sure. Alright then, I'll take you home. Hey! Stop pecking at me!" Back in the city, Ninurta began to nurse the young birds.

        "Come, it's supper time. I've got you some fresh meat."

        "Chirp!"

        "Why don't you eat? Why staring at me with that look? Oh, you mean you're not gonna eat anything given by the murderer right? Okay, suit yourself. No one will avenge your mother if you starve to death. And I'm perfectly fine with that. Ha, never expected the children of Imdugud to be that useless. Hilarious, isn't it?"

        "Chirp, Chirp, Chirp!"

        Oops! Now you want the food, don't you? Then stop pecking at me and eat already!" The birdlings gulped their meat and grew up well. Their feathers gradually plumped. It was finally time to learn to fly.

        However, it somehow racked Ninurta's brain.

        "Bloody hell, I'm not a bird after all. How can I possibly teach you? Forget it. I'll jump from the city wall. You follow. Then you'll learn how to fly at the verge of death!"

        Ninurta enlarged his body and jumped off the city wall easily, but the young birds were hesitating. "Hurry up to jump, or I'll just call you all cowards," he yelled.

        "Chirp, Chirp, Chirp!" The birds jumped down angrily, caught by Ninurta before they broke their necks. After a few tries…

        "Wonderful, you got it! It seems you're not that stupid...Ah! Stop flying and pecking at me! That's not fair!" The birds hovered over the town every day, flying down from time to time to steal food from Ninurta.

        "Hey, you thieves! Ouch! Peck and run!" Ninurta grumbled with a smile.

        Atrahasis came for him.

        "Ninurta, I helped you make this huge bird cage. Put them inside. They'll feel comfy."

        "Are you joking? They're sacred birds! They should be free in the sky, but not in this cage."

        "People have been threatened by the sacred bird before, and you killed it to save everyone. But now you've adopted three of them. How can you make the people feel at ease?"

        "Imdugud attacked people to protect its birdlings...Sigh, don't worry. I didn't intend to keep them forever." Ninurta took the three to the mountain far from the town.

        "Go, you all can live on your own now. Birds are supposed to fly freely in the sky. No one can trap you in a cage. But do remember, if you attack humans, I'll definitely chop your heads off, understand? Next time when we meet, we're enemies!" The three sacred birds came over silently, pecked at Ninurta once and flew away.

        Ninurta gazed at the sky, until they were completely gone.

        So long. I wish you all the best, and I wish we would never see each other again.
Monsters in Same Group