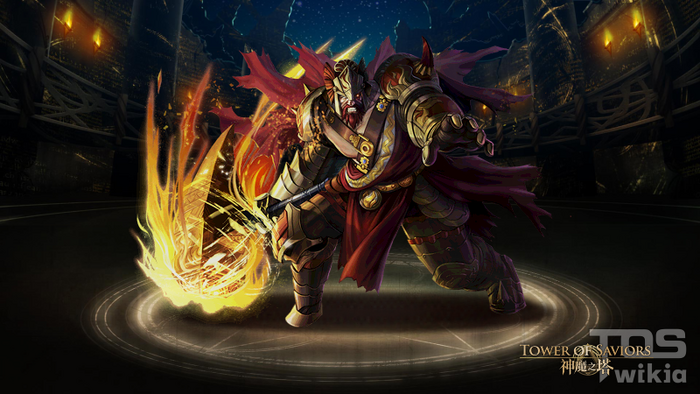 ---
Card Info
(click to show)

Name
Hephaestus, God of Pure Flames
Attribute
Fire
Id
No. 942
Rarity
7★
Cost
20
Race
God
Series
Greek Gods
Lv Max
99
Exp
Curve
5,500,000
Max
Exp
5,500,000
Card Information
Details
【Greek Gods - Power Release】
Basic Properties
HP
Attack
Recovery
Total

Sacrifice Exp

Sell Value
Lv 1
1555
952
157
2664
Lv 1
900
1000
Lv 99
3080
1760
358
5198
Per Lv
+1000
+100
Active Skill
Name
Trace of Notion - Fire
Lv. 1
CD
21
Lv. 12
CD
10
Effect
Fire Attack continues to increase until no groups of 5 or more Fire Runestones are dissolved (only the first batch of Runestones dissolved will be counted). For every 20 Fire Runestones dissolved, increase of Fire Attack speeds up. The Attack multiplier resets every Wave. 

Team Skill
Effect
Team Skill:
Change the Attribute of "Thunderous Supremacy - Zeus" and "Supreme Divine Overlord - Zeus" into Fire.
Condition:
Both the Leader and Ally are "Hephaestus, God of Fire", with "Thunderous Supremacy - Zeus" or "Supreme Divine Overlord - Zeus" as a Team Member.

Team Skill:
There is a 70% chance to gain 1 Ex. Combo count for each Combo made.
Condition:
Both the Leader and Ally are "Hephaestus, God of Fire".
Both the Leader and Ally are "Hephaestus, God of Pure Flames".

Team Skill:
For every 5 groups of Runestones dissolved, 2 Fire Runestones will be generated (Active Skill "Attribute Transference - Light" cannot be activated).
Condition:
Both the Leader and Ally are "Hephaestus, God of Pure Flames".

Team Skill:
Change the Attribute of "Sombre Void - Zeus" into Fire.
Condition:
Both the Leader and Ally are "Hephaestus, God of Pure Flames", with "Sombre Void - Zeus" as a Team Member.

Combine Skill: Imprint of Fire
All dropping Fire Runestones will be adjacent for 1 Round. If Fire Trace is in play, the Attack multiplier will be at the maximum.
Condition:
There are "Thunderous Supremacy - Zeus" and "Hephaestus, God of Pure Flames" in the Team (the Monsters must reach Lv. 50 or above).

Combine Skill: Imprint of Fire - EX
All dropping Fire Runestones will be adjacent for 1 Round. If Fire Trace is in play, the Attack multiplier will be at the maximum. Turn the column of Runestones below the Monster into Fire Runestones at the end of the Round.
Condition:
There are "Supreme Divine Overlord - Zeus" and "Hephaestus, God of Pure Flames" in the Team (the Monsters must reach Lv. 50 or above).
Leader Skill
Name
Motion of Fire
Effect
For every 3 Fire Runestones dissolved
⇒ 1 Enchanted Fire Runestone will be generated
Amelioration
Skills

Amelioration Skill 1:
Monster's Attack +90

50

Amelioration Skill 2:
If a group of 4 or more Runestones are dissolved in the column below the Monster, Team Attack +10% for that Round (Runestones dissolved when dropping would not trigger the effect).

150

Amelioration Skill 3:
Monster's HP +340

300

Amelioration Skill 4:
Increase the drop rate of Fire Runestones in the column below the Monster to 40% (the effect will not override those of Active Skills).

500

Battle
Unexpected Riots - Fire
Power Release
  
Virtual Rebirth
Evolution
       
   
   
   
   
Battle
Talent of God of Fire
Origin
Friend Point
Seal
Diamond
Seal
Others
Stages

Backstory:
        "Time for this to end."

        Athena stood over the fallen Galio with her pronged spear raised high. Summoning elemental power, she prepared to deliver the strike that would bring victory. The thought of revenge against the Courts of Zodiacs, who had humiliated them, brought cheers to Athena's lips.

        "Galio, you disappointed me! You were once one of our soldiers!"

        Athena fiercely swung her spear at Galio; yet, a massive hammer dropped from the skies, knocking the spear away. Athena was shocked. From the hammer alone, she could identify the culprit. However, she could not comprehend his actions at that moment.

        "Hephaestus! What are you...?" Athena angrily asked Hephaestus. He had interrupted her joy. The humiliation she had so resented again appeared in her mind.

        Hephaestus picked up his massive hammer, and stood between Athena and Galio. With a stern expression on his face, he answered: "Do you feel there is nothing at all wrong about everything we have built? Not even a little bit?"

        "This is survival. The strong devours the weak. Only the fit survives."

        Hephaestus fell into a silence. He had not expected this from Athena. With her sights set directly at Hephaestus, she lifted her spear and ordered: "Get out of the way. Stop helping these future-less people!"

        "Whether they have a future or not remains unknown..." Hephaestus struck the earth with his massive hammer, sending the soil erupting into the air. The strength of his blow was so powerful that the surroundings have become clouded, impossible to see through. When Athena looked in Hephaestus' direction again, she could no longer find any trace of him or Galio.

        "Hephaestus, I shall never forgive you!" Athena bellowed with rage.

        At the same time, Hephaestus carried the severely wounded Galio back to his forge, and took careful care of him. Hephaestus realized that in this war, the Courts of Zodiacs' power is indispensable.
Monsters in Same Group