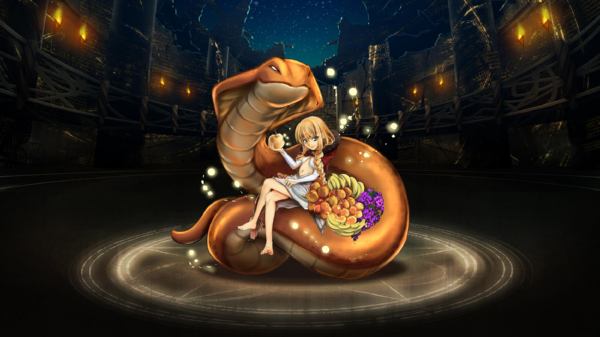 ---
Card Info
(click to show)

Name
Idun, Granter of Eternal Life
Attribute
Light
Id
No. 127
Rarity
5★
Cost
10
Race
God
Series
The Norns
Lv Max
99
Exp
Curve
3,000,000
Max
Exp
3,000,000
Card Information
Details
【The Norns】

* The skill of this Monster will be changed after Evolve or Power Release.

If Monster(s) used as Level-up Material(s) shares Skill (as indicated by the Skill Name) with the target Monster, the Skill Level of the target Monster may increase:
- ID 125 Idun
- ID 126 Idun, the Sacred Fruit Picker
- ID 127 Idun, Granter of Eternal Life
Basic Properties
HP
Attack
Recovery
Total

Sacrifice Exp

Sell Value
Lv 1
943
599
336
1878
Lv 1
1900
600
Lv 99
1684
1084
588
3356
Per Lv
+2700
+100
Active Skill
Name
Sacred Saint
Lv. 1
CD
24
Lv. 10
CD
15
Effect
Massive HP Recovery for 5 Rounds.

Team Skill
Effect
Team Skill:
Attack of specific Monsters of "The Norns" increases additionally, to the max x 1.5.
Condition:
There are 3 or more Monsters of "the Norns" of the same Rarity but different Attributes in the Team.

Team Skill:
Heart Runestones also possess some effects of all Attributive Runestones. The effect bonus is calculated based on the Attributes of specific Monsters of "The Norns", 10% for each Attribute present in the Team, to the max 50%.
Condition:
The Leader is "Moonlight Immortal Changxi", with 2 or more 5* Monsters of "The Norns" of different Attributes as Team Members.

Team Skill:
Heart Runestones also possess some effects of all Attributive Runestones. The effect bonus is calculated based on the Attributes of specific Monsters of "The Norns", 25% for each Attribute present in the Team, to the max 100%.
Condition:
The Leader is "Immortal Lady of Moon Palace - Chang'e", with "Moonlight Immortal Changxi" and 5* or 6* Monsters of "The Norns" of different Attributes as Team Members.
Leader Skill
Name
Healing Heart
Effect
Recover HP as much as 3x the Monster's Recovery each Round (dissolving Runestones is necessary)
Amelioration
Skills

Amelioration Skill 1:
Monster's Attack +90

50

Amelioration Skill 2:
If a group of 3 or more Runestones are dissolved in the column below the Monster, Team Recovery +10% for that Round (Runestones dissolved when dropping would not trigger the effect).

100

Amelioration Skill 3:
Monster's Recovery +60

200

Amelioration Skill 4:
If a group of 4 or more Runestones are dissolved in the column below the Monster, Team Attack +10% for that Round (Runestones dissolved when dropping would not trigger the effect).

400

Battle
The Holy Tree's Eternity
Evolve
  
Power Release
Evolution
       
   
Battle
Origin
Friend Point
Seal
Diamond
Seal
Others
Stages

Backstory:
        Idun had finished packing. She had to use two strong ropes to tie up all the luggage. While Loki went to fetch the donkey, Idun asked her companion, "Angrboda, how come you never give up?"

        A gentle female voice pretending to be an elderly answered, "When one is devoting oneself to others, one is always noble." The bright lady continued with her bright laughters, "You don't want to be attacked by Demons either, do you? Besides..." Climbing onto the donkey carriage, she said, "At least for now, nothing else deserves our devotion."

        "There's no way you will say that after you're married…" Idun murmured, yet her words still reached the sharp-eared woman.

        "I certainly will!" She reached out her hand to Idun,"I couldn't have gone this far without your help. Besides, you are always my family, aren't you?"
 
        Idun timidly grabbed the woman's hand. Angrboda's hand was so large that it almost completely wrapped Idun's hand. The woman pulled Idun onto the carriage.

        "If you still can't find it this time, just give up. You're someone's betrothed."

        She pulled Idun close and gave her a big hug: "Thank you, Idun."

        However, they were attacked on the journey by Demons in the rotten woods. Angrboda was cursed during the battle. Loki, her betrothed, took her back for treatment, while Idun inherited Angrboda's research, seeking the power of the Divine Tree to heal her companion.

        In the past, the orphaned Idun had been learning after Angrboda. The two sought ancient power together, hoping to protect their clanspeople from war. They had been traveling, until her companion was wounded and had to stay behind. Idun, who had grown at the time, continued the journey alone. With the data they had collected from their research, Idun finally found the golden apple from the Divine Tree. However, by the time she returned, the war between Gods and Demons had already spread to their clan. Angrboda and Loki were nowhere to be found.

        Idun saved her clansmen by healing their wounds and injuries with the help of the golden apple. Later, Idun reunited with Loki, but he brought her the distressing news: Angrboda had died in the war; their daughter was suffering from the same curse as her mother, and would lose her life any moment. Persuaded by Loki, Idun used herself as a medium to conduct the power of the golden apple into the girl. The force of life awakened the girl, yet the triggered golden apple turned Idun back into a child. Idun had to extract the power from herself to prevent being overwhelmed by the force of eternal life. She conducted her power into numerous fruits, sharing them with the commanders, which enabled the warriors to protect their people forever.

        "'Immortal servants plow the lands'. That's our responsibility." Idun said with a smile.
Monsters in Same Group