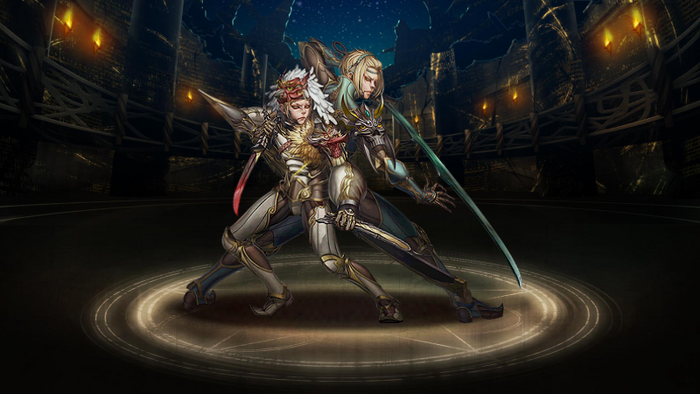 ---
Card Info
(click to show)

Name
Imanotsurugi & Usumidori
Attribute
Light
Id
No. 719
Rarity
5★
Cost
14
Race
Demon
Series
Minds of the Fray
Lv Max
99
Exp
Curve
3,500,000
Max
Exp
3,500,000
Card Information
Details
【Minds of the Fray】
Basic Properties
HP
Attack
Recovery
Total

Sacrifice Exp

Sell Value
Lv 1
606
820
87
1513
Lv 1
500
500
Lv 99
1512
1861
464
3837
Per Lv
+600
+100
Active Skill
Name
Last Trick
Lv. 1
CD
21
Lv. 12
CD
10
Effect
15% of total HP will be deducted each round for 2 Rounds; inactivate all enemies for 2 Rounds. The effect will cancel when HP becomes 15% or lower.

Team Skill
Effect
Team Skill:
After entering a stage, Active Skill CD of the first "Imanotsurugi & Usumidori" from the left -4.
Condition:
There are "Minamoto no Yoshitsune" and "Imanotsurugi & Usumidori" in the Team.
Leader Skill
Name
Anger of Demons
Effect
Demon Attack x 2
Amelioration
Skills

Amelioration Skill 1:
Monster's Recovery +20

50

Amelioration Skill 2:
If a group of 4 or more Runestones are dissolved in the column below the Monster, Team Attack +10% for that Round (Runestones dissolved when dropping would not trigger the effect).

150

Amelioration Skill 3:
Monster's Attack +150

300

Amelioration Skill 4:
If a group of 4 or more Runestones are dissolved in the column below the Monster, Team Attack +10% for that Round (Runestones dissolved when dropping would not trigger the effect).

500

Battle
Fixation with Killing
Power Release
Evolution
       
   
Battle
Combination
   
Effect
When Minamoto no Yoshitsune and Imanotsurugi & Usumidori are adjacent to each other, they could combine into a new Monster. In the first Round of attacking after combination, Attack of the extra attack x 1.5.
Origin
Friend Point
Seal
Diamond
Seal
Others
Stages

Backstory:
        Two people stood back to back, staring at the soldiers standing before them.

        "Usumidori, we'll take half each?" asked the one with tanto.

        "Imanotsurugi, I'll take them all," the one with katana answered.

        With that, the two darted forward. The olive green blade sang whistles of death, reflecting lustrous emerald light as it sliced through the air. Soldiers did not dare face him head on. They were either dodging to avoid the strikes, or launching disorganized and feeble thrusts with their spears. While Usumidori was in the heat of battle, Imanotsurugi turned his gaze on the shogun at the back. The shogun was angered by Imanotsurugi's disdainful look, but besides fury, he also felt a piercing chill... Flashing across the soldiers with his scarlet tanto, Imanotsurugi took out the soldiers one by one as he moved along, leaving behind a crimson trail—

        "Hey! Your shogun is dead!"

        Looking back, the soldiers were horrified by the sight of Imanotsurugi holding the decapitated head of the samurai. Then, they started fleeing in every direction.

        "Did I say you can go?"

        The two of them slaughtered the escaping soldiers. Screams of fear and cries for mercy were heard all around the battlefield. After a long struggle, the stench of blood filled the air. Usumidori caught the remaining soldier, withdrew his blade which had been plunged in the body before dropping the corpse back down without a second thought. Suddenly, the duo's expression changed, their stares turned fierce as they spotted the goddess radiating soft beams of light.

        "What a disturbing pneuma! Eostre!" said Imanotsurugi, looking at the goddess with annoyance.

        "Imanotsurugi, Usumidori, you have to come back with me!" ordered Eostre.

        Usumidori replied, "You know it's impossible. If you would take our freedom, why not just kill us."

        "You have been too bloodthirsty. I must bring you two back to the Zodiac Courts."

        "Is that so? We feel very happy though." Imanotsurugi and Usumidori dashed towards Eostre.

        Suddenly they felt a tug and realized that they were being entangled by a dazzling chain. No matter how hard they tried they could not break it. A winged man in golden armor was flying to them from a far distance.

        "Such evil creatures should be banished to hell for eternity,"

        "Michael, you promised you wouldn't kill them."

        "Court of Virgo, you are too lenient. Alright, since you two kill for fun, I shall turn you into the swords you are using."

        The duo chained up were transformed into beams of light and then were absorbed by their own swords. All that left behind was their resentful howls...

        "The one who releases us shall be our master!" — Impulsion - Imanotsurugi & Usumidori
Monsters in Same Group
Community content is available under
CC-BY-SA
unless otherwise noted.