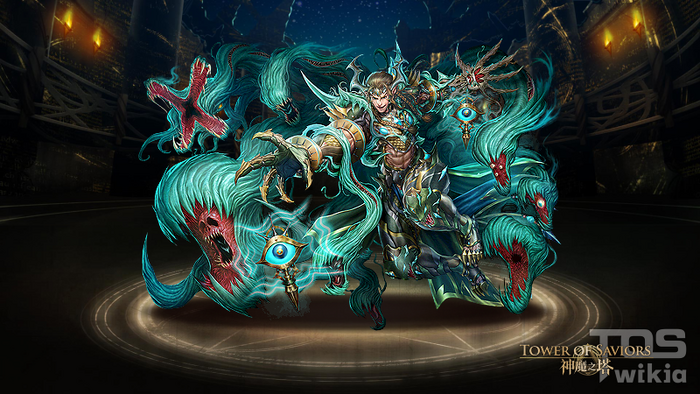 ---
Card Info
(click to show)

Name
Incurable Addiction - Samle
Attribute
Earth
Id
No. 2088
Rarity
7★
Cost
22
Race
Demon
Series
The Fallen Halos
Lv Max
99
Exp
Curve
6,500,000
Max
Exp
6,500,000
Card Information
Details
【The Fallen Halos - Power Release】
Basic Properties
HP
Attack
Recovery
Total

Sacrifice Exp

Sell Value
Lv 1
1037
1228
100
2365
Lv 1
1200
6000
Lv 99
1929
2202
440
4571
Per Lv
+1000
+100
Active Skill
Name
Powerful Influence of Demons - EX
Lv. 1
CD
17
Lv. 12
CD
6
Effect
For 1 Round, Demon Attack & Recovery x 1.6; if neighboring Members are also Earth Monsters, their Attack x 1.5 additionally.

Team Skill
Effect
Team Skill:
When 7* Monster of "The Fallen Halos - Power Release" attacks and Heart Runestones are not dissolved, impose a Mark on an enemy for 3 Rounds (only the first batch of Runestones dissolved will be counted) (dissovling Runestones is necessary).
For each enemy with the Mark defeated, Active Skill CD(s) of 7* Monsters of "The Fallen Halos - Power Release" -1.
Condition:
Both the Leader and Ally are "Incurable Addiction - Samle".

Team Skill:
Demon HP x 1.5 additionally.
Condition:
There is "Vision of Desires - Samle" or "Incurable Addiction - Samle" in the Team (Ally excluded), with only Demons as Team Members.
Leader Skill
Name
Jungle of Power & Desire - Demon
Effect
I. Earth Attack x 3.5; Earth Demon Attack x 5.
II. If all present Earth Runestones are dissolved, Earth Attack x 1.5 additionally (only the first batch of Runestones dissolved will be counted).
Amelioration
Skills

Amelioration Skill 1:
Monster's Attack +100

50

Amelioration Skill 2:
If a group of 3 or more Runestones are dissolved in the column below the Monster, Team Recovery +10% for that Round (Runestones dissolved when dropping would not trigger the effect).

150

Amelioration Skill 3:
Monster's HP +100

300

Amelioration Skill 4:
If a group of 4 or more Runestones are dissolved in the column below the Monster, Team Attack +10% for that Round (Runestones dissolved when dropping would not trigger the effect).

500

Battle
Fallen Angel of Desire
Power Release
  
Origin
Friend Point
Seal
Diamond
Seal
Others
Stages

Backstory:
        When Samle blinded the people in an ancient city with illusions, he unleashed their desires and made them betray their creeds. No more love and care were left in human ties. Once the desire of mankind was unleashed, there would be no more turning back. After Samle's departure, the city went into mayhem. The glorious ancient city eventually became vice, and the people had fallen into a sinister life.

        "The god's desire is horrible. If the mortals see that, they must be freaked out," Samle thought. As he was walking alone, he couldn't help but replay the hypocritic faces of the followers; It irritated him when he heard them saying "blessings from gods", "miracle", "happiness", and…All he had on his mind was, "if the gods really bless humans, why do they leave me unblessed? My good will only brought me misery in return. What kind of bullcrap is this?"

        Samle had the same thought whenever he accomplished a task assigned by Belial. He did enjoy watching people killing each other for their desire; Yet when the pleasure ended, he only felt the haunting emptiness but not the satisfaction he had longed for.

        "The next target is a military base at the border...This one's even easier than the city. Those soldiers got stronger desire than anyone else, for they all long for going home," Samle plotted in his mind. Complying Belial's instruction, he headed towards the military base at the south. "Blend into the supply transportation; Then cast illusions to the soldiers. Same strategy as always…"

        This strategy had been used by Samle over and over countless times. At first he could still get a sense of satisfaction; But it had gradually gone meaningless when this plan was proven to be worked every time. Desire of mankind was way beyond his imagination. Those were the souls who were trapped in illusions, unable to differentiate between reality and illusion, and woke up finding themselves in the brutal reality. As his mind was drifting, the transportation had already entered the military base's perimeter.

        "Thanks so much," a soldier said with a smile as he took a bag of supply from Samle. Samle giggled and said, "we're workers. Just ignore us and save your fake smile." He pointed at the soldier to cast illusion; But what he found in the soldier's illusion was the scene of family dinner, instead of beating the crap out of Samle.

        It wasn't a surprise to Samle that they all longed for family reunion; It was the dining scene that surprised him. His mind flashed back to his last family dinner, and he started imagining the vision of going home...Yet everything had gone out of reach already.

        "That image...You're the demon that flipped the ancient city upside down!" The soldier attacked as soon as he realised the true identity of Samle. It was a miss as Samle pulled himself out of the flashback in time and dodged the incoming spear.

        "If you wanna kill me, then I won't stop you!" Samle pointed at the soldiers again, trapping them in illusions. Some of them saw the image of family reunion; Some saw the image of meeting their lovers; and some saw the image of a peaceful world…These soldiers were tortured by wars for too long that their desire had been worn out to minimal. All they had been longing for was just the simplest, little happiness…

        Samle envied the soldiers, for they were all immersed in beautiful and delightful illusions. Despite the fact that he was a hopeless demon, he still had his desire. He had been missing his wife and child; He still had so many things to tell them...

        "Just once. Just once…" Samle eventually pointed at himself. Next second, his dream went into his sight——his wife and child walking towards while waving at him. The excited Samle dashed towards them…

        "Take down this demon!" The commander arrived at the scene and ordered, bringing all soldiers back to reality except Samle. Curling at the ground, Samle burst into tears holding himself. Not even slaying would make him feel a thing, for he was stuck too deep into his illusion. All he knew was the virtual family living in his illusion...
Monsters in Same Group
Community content is available under
CC-BY-SA
unless otherwise noted.