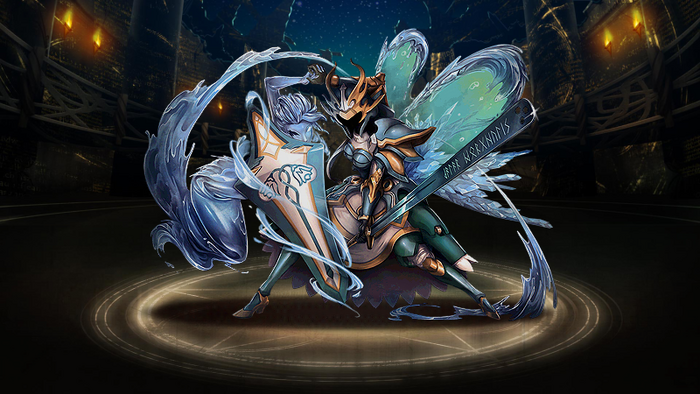 ---
Card Info
(click to show)

Name
Inheritance - Paladin Queen of Water
Attribute
Water
Id
No. 686
Rarity
6★
Cost
15
Race
Human
Series
Paladins
Lv Max
99
Exp
Curve
5,000,000
Max
Exp
5,000,000
Card Information
Details
【Paladins - Power Release】
Basic Properties
HP
Attack
Recovery
Total

Sacrifice Exp

Sell Value
Lv 1
1263
787
214
2264
Lv 1
1500
3000
Lv 99
2479
1473
481
4433
Per Lv
+1000
+300
Active Skill
Name
Iron Will
Lv. 1
CD
24
Lv. 10
CD
15
Effect
Damage received -60% for 5 Rounds. The next Damage received will not lead to your defeat.

Team Skill
Effect
Team Skill:
Each Round, Attack of specific Monsters of "Paladins" may x 2 additionally by chance. The chance is 25% to the max.
Condition:
There are 3 or more Monsters of "Paladins" of the same Rarity but different Attributes in the Team.

Team Skill:
There is a 50% chance that Attack of specific Monsters of "Paladins" x 2 additionally.
Condition:
The Leader is "Inheritance - Paladin Prime of Faith" with 6* "PaladinsMonsters of all 5 Attributes in the Team.

Team Skill:
For 1 round, if the Active Skill of any members is activated, Team Attack x 1.5 (one activation each Round).
Condition:
The Leader is "Inheritance - Paladin Prime of Faith" with 6* "PaladinsMonsters of all 5 Attributes in the Team.
Leader Skill
Name
Unbeatable Counter - Water
Effect
I. When HP >50%
⇒ the next Damage received will not lead to your defeat
II. The Damage relieved by this Skill will be dealt to the attacking enemies as a Water Counterattack (one activation each Round)
Amelioration
Skills

Amelioration Skill 1:
Monster's Attack +60

50

Amelioration Skill 2:
If a group of 3 or more Runestones are dissolved in the column below the Monster, Team Attack +10% for that Round (Runestones dissolved when dropping would not trigger the effect).

100

Amelioration Skill 3:
Monster's HP +300

200

Amelioration Skill 4:
If a group of 4 or more Runestones are dissolved in the column below the Monster, Team Attack +10% for that Round (Runestones dissolved when dropping would not trigger the effect).

400

Battle
Road to Freedom - Water
Power Release
  
Dragonware
Origin
Friend Point
Seal
Diamond
Seal
Others
Stages

Backstory:
        "I'll be fine! Run!"

        To alleviate the warrior's burden, the maiden secreted herself inside ruins. There she found only an armor in blue with a giant shield and a sword. Covered with dust, they may have been left here for a long time. The maiden bore a grudge against her incompetence and was fed up with her feebleness. She no longer wanted to be the one to be protected...

        Her determination urged her to fit herself into the armor and pick up the shield and sword in her hand, though with difficulty. When she was about to step out of the ruins, the weight on her was so heavy that she collapsed onto the ground. Resentfully kneeling, she shed tears: "I don't want to be his burden anymore... Why can't I just do something that contributes..."

        A stream of water suddenly flowed out from underground and slowly took the shape of a lady. She stretched out her hand to help the maiden up...

        'Do not give up that easily if you would like to be strong. Stand up. I will help you.'

        "These are too heavy for me..."

        The lady held the maiden's hand firmly and guided her...

        'Shape your armor with water. Forge your sword with your will. Mold your shield with your heart.' As the maiden began to meditate upon the lady's words, water spurted from all around and surrounded her.

        "I want to be stronger!"

        The warrior, busy with the enemy in front of him, was raided by a gnome at his back. Just as he was about to be slashed, the maiden landed on the ground with her gigantic shield, defending him from the attack.

        "Albion! Are you alright?"

        "Grace...? What happened? The armor...?"

        "I found it in ruins. I can feel the power circulating within me when I'm wearing it. I can finally fight together with you."

        The maiden turned to the warrior, gazed into his eyes and said determinedly, "While you are protecting the others, I will be the one protecting you!"

        The warrior was stunned by the maiden's words; he never knew that she hated to be someone that could only seek protection from others. And so he smiled — he had never expected that someday, he would be the one to be protected.

        "Then, please watch my back."

        Turning their backs against each other, they stared at those gnomes encircling them. The maiden suddenly found the lady she saw in the ruins standing beside her. The lady held the giant shield for the maiden and said, 'I will fight together with you, until you have learned everything I know.' With their fingers interlocked, the maiden wielded her sword and fought by manipulating water elements under the lady's instruction...

        "Water is shapeless. Depending on your will, it can become gentle water, mystic fog, or solid ice." — Inheritance - Paladin Queen of Water
Monsters in Same Group
Community content is available under
CC-BY-SA
unless otherwise noted.