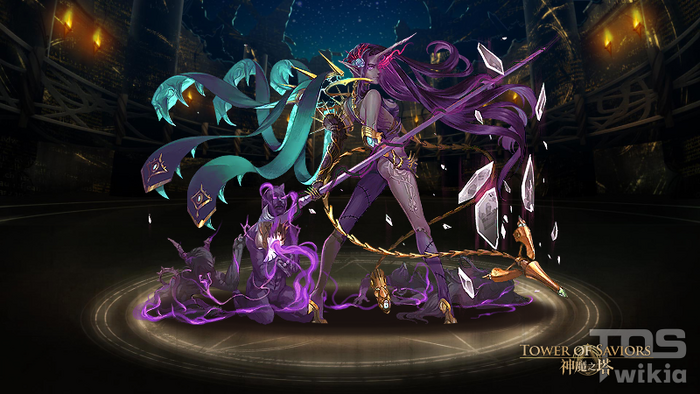 ---
Card Info
(click to show)

Name
Insidious Scourge - Mastema
Attribute
Dark
Id
No. 1355
Rarity
7★
Cost
22
Race
Demon
Series
Origin of Demons
Lv Max
99
Exp
Curve
6,000,000
Max
Exp
6,000,000
Card Information
Details
【Origin of Demons - Power Release】
Basic Properties
HP
Attack
Recovery
Total

Sacrifice Exp

Sell Value
Lv 1
896
1469
74
2439
Lv 1
1200
6000
Lv 99
1668
2633
326
4627
Per Lv
+1000
+100
Active Skill
Name
Enchanted Magical Stage - Gloom
Lv. 1
CD
23
Lv. 12
CD
12
Effect
For 1 Round, if a group of 4 or more Runestones is dissolved in a column, 2 Enchanted Dark Runestones will be generated in that column (only the first batch of Runestones dissolved will be counted).
Team Skill
Effect

Team Skill:


◆ Change the Attribute of "Vengeful Prince of Demons - Belial" into Dark.

◆ Attack basic value of Leader, Ally and the first "Vengeful Prince of Demons - Belial" from the left x 1..3



Condition:


Both the Leader and Ally are , with in the Team.

---

Team Skill:


◆ For each group of 5 or more Dark Runestones dissolved, turn 2 random Runestones into Enchanted Dark Runestones at the beginning of next Round, to the max 6 Runestones. For each group of 5 or more non-Dark Runestones dissolved, turn 1 random Runestone into Dark Runestone at the beginning of next Round, to the max 3 Runestones.



Condition:


Both the Leader and Ally are .

---

Team Skill:


◆ HP basic value of the first "Insidious Scourge - Mastema" and "Forest Wraith - Slender" from the left x 1.8 additionally.



Condition:


There are and in the Team.
Leader Skill
Name
Full Circle of Gloom - EX
Effect
I. Dark Attack x 6.
II. Extend Runestone-moving time regardlessly by 1 second.
III. By dissolving a group of ≥5 Dark Runestones, Dark Attack x 2 additionally.
Amelioration
Skills

Amelioration Skill 1:
Monster's HP +90

50

Amelioration Skill 2:
If a group of 4 or more Runestones are dissolved in the column below the Character, Team Attack +10% for that Round (Runestones dissolved when dropping would not trigger the effect).

150

Amelioration Skill 3:
Monster's Attack +180

300

Amelioration Skill 4:
If a group of 5 or more Runestones are dissolved in the column below the Character, Character's Skill CD -1 (Runestones dissolved when dropping would not trigger the effect).

500

Battle
Traitor of the Prince
Power Release
  
Supreme Reckoning
       
Origin
Friend Point
Seal
Diamond
Seal
Others
Stages

Backstory:
        After Samael was expelled, and Abadon and Beelzebub left, Azazel was the only one sent by Belial to investigate the feasibility of expanding the territory of Demons to the sea. Mastema knew her chance had finally come. Since then, she volunteered to help with territory expansion and racial elimination for Belial...
        "Master Belial, I'll handle the task of the werewolf tribe." Mastema said to Belial confidently.
        Belial paused before responding. "You've performed well so far. The task is yours, but don't do anything stupid."
        "Sure." She turned slowly and left, with a cunning smile on face. She knew, from the very beginning, Belial would definitely give this task to her as he had no one else left. Everyone else had been driven away by Belial himself. Mastema was sure that her power would become stronger and stronger.
        Within a half day, Mastema had smashed the entire werewolf tribe with her troop. She trapped all the werewolves in a magic circle. Then Mastema brought their leader in front of it. She took out her weapon and cut the leader's head off without saying a word!
        All the werewolves were frightened and they became silent. Mastema stepped on the body of the werewolf leader, with her blood-dripping blade pointed at the trapped werewolves, and said, "If you don't want to die like this, you must obey! Is it clear?"
        The werewolves were not sure what to do. Now that their leader was dead, they had no choice but to accept Mastema's conditions to survive. So, they all succumbed to Mastema. She smiled and with a flick of her finger, the magic circle trapping the werewolves was vanished.
        The werewolves did whatever Mastema ordered them to. Mastema felt incomparable joy of the power she possessed. She had expanded her force capitalizing on Belial's tasks and gradually gained his trust on her, such that her scheme could go smoothly without any suspicion. At the thought of reaching her goal soon, she trembled with excitement...
        One day, Belial suddenly summoned Mastema and said: "I want to visit the werewolf tribe."
        "Sure! I'll go get ready." Mastema covered her excitement. This may be her long-awaited moment. She gave a hidden hint to her follower with a glance and commanded him to instruct werewolves' action in the their tribe beforehand.
        Belial saw the werewolves were chained when he came to the tribe, so he was very satisfied with Mastema's capability. As Belial came to the centre of the tribe, there was suddenly an explosion underneath him!
        Although Belial had created a shield of roots and blocked it in time, the smoke and dust arising from the explosion made it so that he could barely see anything, but he could vaguely make out someone trying to attack him in the smoke, as if he was surrounded by enemies. No matter how hard he dodged, there would be weapons attacking him… As the smoke vanished, he was surprised to be surrounded by the werewolves. They pointed spears at Belial's neck to prevent his resistance.
        At the moment, Mastema's laughter came from behind the werewolves. She commanded them to tie Belial up and force to kneel on the ground. Then, she stepped towards him and said:
        "I bet you never thought this day would come right? Come and beg for my mercy!"
        "Humph! I really didn't expect you to be behind all this...Kill me if you dare."
        "I'll fulfill your wish then!" Mastema stood up and slowly took out her blade from her waist. At the thought of becoming the leader of Demons soon, she could no longer contain her amusement.
        She raised the blade with a grin and said: "I'll rule the world!"
        Then, Mastema swung her blade at Belial's neck viciously...
Monsters in Same Group