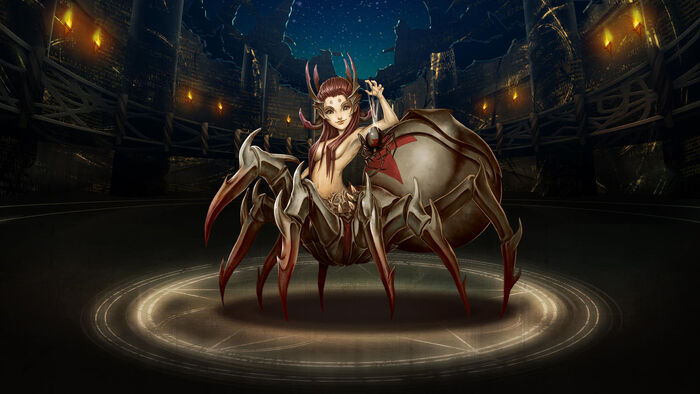 ---
Card Info
(click to show)

Name
Isabel the Black Widow
Attribute
Dark
Id
No. 308
Rarity
5★
Cost
13
Race
Elf
Series
Sprites
Lv Max
99
Exp
Curve
3,000,000
Max
Exp
3,000,000
Card Information
Details
【Sprites】

If Monster(s) used as Level-up Material(s) shares Skill (as indicated by the Skill Name) with the target Monster, the Skill Level of the target Monster may increase:
- ID 306 The Dark Sac
- ID 307 Isabel
- ID 308 Isabel the Black Widow

* The skill of this Monster will be changed after Evolve or Power Release.
Basic Properties
HP
Attack
Recovery
Total

Sacrifice Exp

Sell Value
Lv 1
604
626
166
1396
Lv 1
1900
900
Lv 99
1086
900
480
2466
Per Lv
+2700
+100
Active Skill
Name
Bewitchment
Lv. 1
CD
24
Lv. 10
CD
15
Effect
Enemies attack themselves or each other once for 3 Rounds.

Team Skill
Effect
Team Skill:
Recovery surplus will become a Full Attack, the largest Damage that could be dealt is 5 times of the Recovery surplus.
Condition:
The Leader is "Diablo, Manipulator of Elements", with 3 or more 5* Monsters of "Sprites", 6* or 7* Monsters of "Toy Pixies" or "Elf Summoner - Princess Woodbury" as Team Members (identical Monsters will only be counted as one).

Team Skill:
Recovery surplus will become a Full Attack, the largest Damage that could be dealt is 10 times of the Recovery surplus.
Condition:
The Leader is "Diablo, Nightmare Guttler of Elements", with 3 or more 5* or 6* Monsters of "Sprites", 6* or 7* Monsters of "Toy Pixies", "Elf Summoner - Princess Woodbury" or 6* Monsters of "Elfish Perennials" as Team Members (identical Monsters will only be counted as one).

Combine Skill: Curing Runestones - EX
All Attributive Runestones also possess 50% effect of Heart Runestones for 2 Rounds.
Condition:
There are "Diablo, Manipulator of Elements" and "Isabel the Black Widow" in the Team (the Monsters must reach Lv. 50 or above).

Combine Skill: Source of Life
For 2 Rounds, drop rate of Heart Runestone increases; all Attributive Runestones also possess the effect of Heart Runestones.
Condition:
There are "Diablo, Nightmare Guttler of Elements" and "Isabel the Black Widow" in the Team (the Monsters must reach Lv. 50 or above).
Leader Skill
Name
Anger of Elves
Effect
Elf Attack x 2
Amelioration
Skills

Amelioration Skill 1:
Monster's Recovery +50

50

Amelioration Skill 2:
If a group of 3 or more Runestones are dissolved in the column below the Monster, Team Recovery +10% for that Round (Runestones dissolved when dropping would not trigger the effect).

100

Amelioration Skill 3:
Monster's Recovery +100

200

Amelioration Skill 4:
Monster's Active Skill CD - 3 after entering a Stage

400

Battle
Destiny of Sprite
Evolve
  
Power Release
Evolution
       
   
Battle
Origin
Friend Point
Seal
Diamond
Seal
Others
Stages

Backstory:
        A boy was looking for information in library with his friends. All of them dreamed of being an adventurer. Suddenly the boy yelled, "Come!" The others in the library were dismayed by his yelling and scowled at him. The boy could only bow to apologize. His friends came towards him after they have heard him...

        "What have you found?" asked Vitus.

        "Don't shout like this next time!" Samuel blamed him for the noise.

        "What kind of myth have you found?" James could not wait to hear George's reply.

        George took out a book, flipping it over and told his friends excitedly, "It is said that deep in the forest there was a huge spider with an upper body of a beautiful woman. but no one knows if she ever exists... Fascinating, isn't it?"

        "So there's no prove, is it..." Samuel murmured thoughtfully.

        James and Vitus spoke in unison, "If we can find her, we will be famous adventurers!"

        "Right. Let's meet at the gate tomorrow!"

        The four boys were treading along the forest, heading to the deepest part of it. At first, everyone was full of passion and joy, but they started to feel scared as the surroundings gradually became spooky and eerie. George, who had been walking in the front, suddenly tripped and fell on the ground. As he stood up once again, he realized that bones were scattered all over the ground. All of his companions had already fled, leaving him behind. Just then, he heard a chilling cry of Vitus from somewhere near. Immediately he ran towards the sound and captured a scene just like a nightmare...

        A giant spider crawled to Vitus. She had an upper body of a gorgeous woman, as the legend was told. Grinning wickedly, she took one swift bite on his neck. Vitus soon shouted no more. Probably being paralysed by the venom, his eyes became remote and enigmatic while his body began to stiffen.

        Seeing all the happenings, George knew he was in trouble. But when he turned to run, he stepped on a branch carelessly. The sound caught the spider's attention and she flung herself towards George. George ran with no hesitation, then abruptly fell into an enormous net. The more he struggled, the more he was entangled in it... As he was thinking ways to escape, the spider has already wriggled above him.

        "Struggle gets you more entangled; resistance brings you more despair..." - Isabell the Black Widow
Monsters in Same Group
Community content is available under
CC-BY-SA
unless otherwise noted.