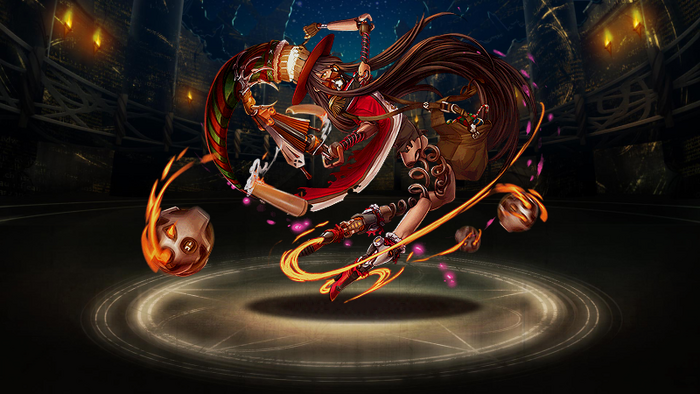 ---
Card Info
(click to show)

Name
Jackie the Holocaust Igniter
Attribute
Fire
Id
No. 712
Rarity
7★
Cost
20
Race
Demon
Series
Crimson Grace
Lv Max
99
Exp
Curve
6,500,000
Max
Exp
6,500,000
Card Information
Details
【Crimson Grace - Power Release】

If Monster(s) used as Level-up Material(s) shares Skill (as indicated by the Skill Name) with the target Monster, the Skill Level of the target Monster may increase:
- ID 466 Elizabeth the Noble
- ID 467 Elizabeth the Blood Countess
- ID 470 Engaged Belle
- ID 471 Belle the Poppy Bride
- ID 472 Jack the Gentleman
- ID 473 Jack the Ripper
- ID 568 Bull-horned Cleric Duckling
- ID 711 Gory Aristocrat Elizabeth
- ID 712 Jackie the Holocaust Igniter
- ID 713 Belle the Amorous Soulmate
- ID 714 Death Artist Jack
- ID 715 Spirit Gourmand Todd
- ID 971 Brian the Missionary
Basic Properties
HP
Attack
Recovery
Total

Sacrifice Exp

Sell Value
Lv 1
755
1259
70
2084
Lv 1
7000
1000
Lv 99
1531
2377
344
4252
Per Lv
+800
+100
Active Skill
Name
Truculence of Killer
Lv. 1
CD
23
Lv. 12
CD
12
Effect
Team Attack x 1.5. The no. of enemies defeated in the Round of activation becomes the number of Round the Skill stays in play (enemies defeated by Active Skills excluded).

Team Skill
Effect
Team Skill:
Change the Leader Skill of Jackie the Holocaust Igniter from "Truculence Inundation - Fire" to "Truculence Eruption - Fire". Basic multiplier set at 2. If Fire, Earth and Heart Runestones are dissolved in the same Round, Fire Attack x 3 additionally in the Round (no superimposing); the multiplier decreases by 1 next Round (bottom out at 2).
Condition:
Both the Leader and Ally are "Jackie the Holocaust Igniter".

Team Skill:
Change the Attribute of "Curse of Immortality - Robert" into Fire.

Active Skill CD of the first "Curse of Immortality - Robert" from the left -4.

Change the Leader Skill of "Jackie the Holocaust Igniter" to "Crimson Terror - Fire". Basic multiplier for Fire Attack set at 2.5, to the max x 4.5. (The effect "by dissolving 3 specific kinds of Runestones, Attack increases additionally and the multiplier decreases next Round" will be nullified.)
Condition:
Both the Leader and Ally are "Jackie the Holocaust Igniter", with "Curse of Immortality - Robert" as a Team Member.

Team Skill:
Demon HP & Attack x 1.5 additionally.
Condition:
Both the Leader and Ally are "Jackie the Holocaust Igniter", with "Umbrella of Bloody Tears" as a Team Member.

Combine Skill: Crimson Oath
If 3 types of Runestones are dissolved in the same Round, Team Attack x 3 for that Round. Also, the no. of enemies defeated in the Round of activation becomes the number of Rounds the following effect stays in play: Team Attack x 2. As long as you can defeat an enemy in the subsequent Rounds, the number of Rounds with "Team Attack x 2" will not reduce.
Condition:
There are "Curse of Immortality - Robert" and "Jackie the Holocaust Igniter" in the Team (the Monsters must reach Lv. 50 or above).
Leader Skill
Name
Truculence Inundation - Fire
Effect
Every time Fire Runestones are dissolved, Fire Attack increases. If no Fire Runestones are dissolved for 2 consecutive Rounds, Attack decreases. When Attack reaches the max x 3.5, Attack decreases if no Fire Runestones are dissolved for 1 Round. 
Amelioration
Skills

Amelioration Skill 1:
Monster's Attack +120
Monster's HP +170

50

Amelioration Skill 2:
If a group of 3 or more Runestones are dissolved in the column below the Monster, Team Attack +10% for that Round (Runestones dissolved when dropping would not trigger the effect).

150

Amelioration Skill 3:
Increase the drop rate of Fire Runestones in the column below the Monster to 25% (the effect will not override those of Active Skills).

300

Amelioration Skill 4:
Monster's Active Skill CD - 4

500

Battle
Leaping Through the Realm
Power Release
  
Virtual Rebirth
Evolution
       
   
   
   
   
Battle
Demi-devil and the Faith
Origin
Friend Point
Seal
Diamond
Seal
Others
Stages

Backstory:
        "Humans must learn of the calamity brought by Demons!"

        "Calamity? Humans themselves are a calamity!" Astaroth, Duke of Hell bellowed arrogantly as he swung his dragon-headed scythe at Jackie. She dodged the strike and retaliated with fiery strike from her hand. Yet, her opponent had vanished. She leaped, the spring in her legs launching her upwards in the nick of time; the bricks she had been standing upon just moments shattered. Astaroth, who had appeared from below, grunted. Drawing back her left spring arm, Jackie released her stored energy, tearing her sleeve. Her metallic claws nearly struck Astaroth's glasses. Yet, before her attack landed, he had already evaded by turning into smoke. Jackie immediately ignited her demonic blood, summoning fire from nothingness, trapping her Demon enemy with her. Flames lapped her body but Jackie had long grown accustomed to the pain.

        Jackie had burnt up much of her body, but she persisted by replacing parts of her body with machined parts. She journeyed through cities, blazing through contaminated homes and incinerating corrupted peoples. Yet, she could never find the Demons responsible and thus, could not stop the Demons' scheme of corruption.

        Hence, Jackie wandered the realm, scouring for traces of Demons, until she ran into the Duke of Hell.

        "Spawn of the Warlord, are you not treated as a pest by Humans as well?" The Duke of Hell snapped his fingers, summoning an encirclement of Demon soldiers outside the fiery trap. "They only treat you as an arsonist. No one understands your message."

        Jackie was filled with rage. She recalled her friend's poetry verses as a mean to suppress her urge to ignite herself. 'Stars join to form chains, as man walks to the predestined guillotine—'

        "Join us! And Demons shall reign over both heaven and the realm of Humans!"

        "Even if I am reduced to ashes, I shall remain resolute in following my initial goal!"
Monsters in Same Group
Community content is available under
CC-BY-SA
unless otherwise noted.