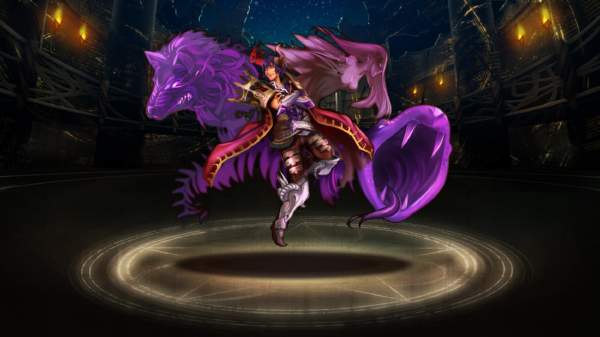 ---
Card Info
(click to show)

Name
Loki, God of Tricksters
Attribute
Dark
Id
No. 210
Rarity
6★
Cost
13
Race
God
Series
Norse Gods
Lv Max
99
Exp
Curve
4,000,000
Max
Exp
4,000,000
Card Information
Details
【Norse Gods】
Basic Properties
HP
Attack
Recovery
Total

Sacrifice Exp

Sell Value
Lv 1
1563
833
180
2576
Lv 1
900
800
Lv 99
3096
1540
409
5045
Per Lv
+1000
+100
Active Skill
Name
Rune Enchantment - Dark
Lv. 1
CD
19
Lv. 12
CD
8
Effect
Turn all Dark Runestones into Enchanted Dark Runestones.
Combine Skill

Name
Enchantment Legacy - Dark
   and more..
Effect
Turn Dark, Light and Heart Runestones into Enchanted Dark Runestones.
Team Skill
Effect

Team Skill:


◆ Drop rate of Dark Runestones increases to 20%.

◆ Effect of Enchanted Dark Runestones +10% additionally.



Condition:


Both the Leader and Ally are .

---

Team Skill:


◆ Change the Attribute of "Odin the Knight of Runes" into Dark.



Condition:


Both the Leader and Ally are , with in the Team.

---

Team Skill:


◆ Change the Attribute of "Odin" into Dark.



Condition:


The Leader is "Norse Gods" (series) ( 6* ), and the Ally is also "Norse Gods" (series) ( 6* ) or "Norse Gods" (series) ( 7* ) of the same Attribute, with in the Team.; or
The Leader is "Norse Gods" (series) ( 6* ), and the Ally is also "Norse Gods" (series) ( 6* ) or "Norse Gods" (series) ( 7* ) of the same Attribute, with in the Team.; or
The Leader is "Norse Gods" (series) ( 6* ), and the Ally is also "Norse Gods" (series) ( 6* ) or "Norse Gods Reborn - Refinement" (series) of the same Attribute, with in the Team.; or
The Leader is "Norse Gods" (series) ( 6* ), and the Ally is also "Norse Gods" (series) ( 6* ) or "Norse Gods Reborn - Refinement" (series) of the same Attribute, with in the Team.

---

Team Skill:


◆ Change the Attribute of "Gungnir - Odin the Allfather" into Dark.



Condition:


Both the Leader and Ally are , with in the Team.

---

Team Skill:


◆ Change the Attribute of "Gungnir of Runes - Odin the Allfather" into Dark.



Condition:


Both the Leader and Ally are , with in the Team.

---

Team Skill:


◆ Change the Attribute of "Odin the Fated Savior of All" into Dark.



Condition:


Both the Leader and Ally are , with in the Team.
Leader Skill
Name
Anger of the Darkness
Effect
Dark Attack x 2
Amelioration
Skills

Amelioration Skill 1:
Monster's Recovery +30

50

Amelioration Skill 2:
If a group of 4 or more Runestones are dissolved in the column below the Character, Team Attack +10% for that Round (Runestones dissolved when dropping would not trigger the effect).

150

Amelioration Skill 3:
Monster's Attack +180

300

Amelioration Skill 4:
If a group of 5 or more Runestones are dissolved in the column below the Character, Team Attack +12% for that Round (Runestones dissolved when dropping would not trigger the effect).

500

Battle
Horn of the Deities - Dark
Evolve
  
Power Release
Evolution
       
   
Battle
Dragonware
      
Origin
Friend Point
Seal
Diamond
Seal
Others
Stages

Backstory:
        "Promise me. Kill me when I could no longer bear the pain."

        "No, I can't." said Loki sternly.

        She said with disappointment, "It's alright, dear..."

        "I may love myself more than you." Loki could not tell her the idea inside his mind. He put his arms around his wife, so she could rest her head on his shoulder. She said as her tears dropped, "No matter what I become, I will sacrifice for you and love you always."

        Loki would like to say something grateful, but his wife suddenly grasped him around his neck, strangling him. He endured the pain, until overwhelmed by the fear of dying from suffocation. He pushed his wife away and, in agony, gasped for air.

        "No, Loki! I, I was just -" His wife cried as she clenched her arms. Her hands grew pale as she gripped her arms harder, as if she's trying to crush her scrawny body.

        "It's al - " Loki crawled on the ground, trying to get to his wife, but that short distance seemed to have taken him forever to reach. Yet still he crawled with all his might, only ended up blocking out in pain.

        Loki's wife had been living in despair, the curse she had been put under rendered her emotion drastic and unpredictable. Soon after their daughter Hel was born, she committed suicide in Loki's absence. Loki loved her. Even after she was no longer the same for being put under the curse, he had been trying his best to tolerate. After the death of his wife, their daughter Hel inherited the curse. If it hadn't been for Idun's timely rescue, Loki would have lost his mind long ago, long before her daughter was murdered by the Demons.

        Loki had been helping the army with his and his wife's vast knowledge. However, since his daughter's death on the battlefield, Loki resented Odin for failing to protect her. With the power of the Armor of Runes he retained his daughter's soul, and this narrowly prevented him from falling out with Odin. At first, Odin thought the power of the ancient savant would awake Loki's sense of responsibility, yet he never expected the power would nurture the chaos within Loki, bringing up all the pain and discontent in his heart to the surface. He rebelled against the Gods with the godly power he was bestowed, ending up with imprisonment in the cove. The sorrow and rage in his heart became tiresomeness towards the world as time passed. Loki's arrogance flourished with his power as nutrient. He despised communicating with anyone and often mocked the Gods by his fickle behaviors. He became the dictator of all the souls that resided in the Dark Cove.
Monsters in Same Group