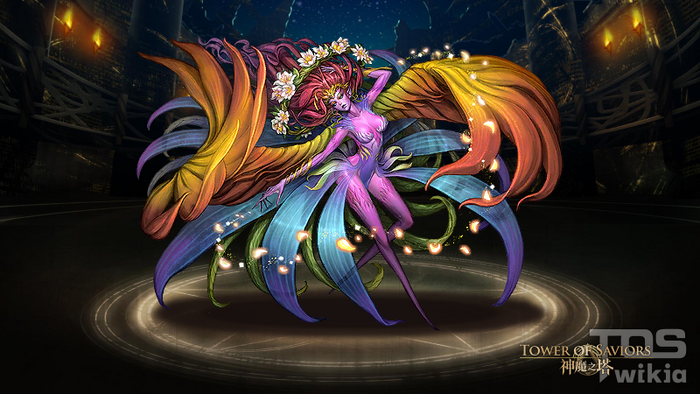 ---
Card Info
(click to show)

Name
Lost Dignity - Strelitzia
Attribute
Light
Id
No. 1608
Rarity
6★
Cost
14
Race
Elf
Series
Elfish Perennials
Lv Max
99
Exp
Curve
5,000,000
Max
Exp
5,000,000
Card Information
Details
【Elfish Perennials】
Basic Properties
HP
Attack
Recovery
Total

Sacrifice Exp

Sell Value
Lv 1
1090
625
396
2111
Lv 1
1200
6000
Lv 99
2078
1193
895
4166
Per Lv
+1000
+100
Active Skill
Name
Wings of Crane Flower
Lv. 1
CD
18
Lv. 12
CD
7
Effect
For 1 Round, launch an extra non-Attributive Attack as much as 3x the Monster's Attack for every 3 Heart Runestones dissolved, to the max 10 extra Attacks for 30 Runestones dissolved.

Team Skill
Effect
Team Skill:
Recovery surplus will become a Full Attack, the largest Damage that could be dealt is 10 times of the Recovery surplus.
Condition:
The Leader is "Diablo, Nightmare Guttler of Elements", with 3 or more 5* or 6* Monsters of "Sprites", 6* or 7* Monsters of "Toy Pixies", "Elf Summoner - Princess Woodbury" or 6* Monsters of "Elfish Perennials" as Team Members (identical Monsters will only be counted as one).

Team Skill:
When HP is full, the next damage received will not lead to your defeat (one activation each Round).
Condition:
Both the Leader and Ally are 6* Monsters of "Elfish Perennials", with only Elves and 3 or more 6* Monsters of "Elfish Perennials" in the Team.
Leader Skill
Name
Light Bewitchment
Effect
Light Attack x 3; Light Elf Attack x 4.
Evolve
  
Origin
Friend Point
Seal
Diamond
Seal
Others
Stages

Backstory:
        Strelitzia and Sakura hit it off at the moment they first met. As time went by, the two girls became closer and closer. Strelitzia had been treating Sakura like her dearest sister until she became the fiancee of Cornflower. She didn't realize her feelings for Sakura until then. When she was figuring a way to fix it, Sakura went into coma out of unknown reason.

        To save Sakura, Strelitzia put all her effort in finding the cure. One day, she heard from a servant that there was a super-antidote outside the enchantment. Then she secretly went out in disguise.

        "I feel ill the moment I left the enchantment. How can the outcasts live with it...No. The super-antidote is my top priority."

        Searching in the woods outside the enchantment, Strelitzia gradually entered the deepest part. All of a sudden, she stopped and shouted, "stop sneaking around. Show yourself."

        "Impressive. You do live up to the fame of Plantdom's princess, Strelitzia." A bunch of robust floral-elves came out of the bushes, cornering Strelitzia.

        "Looks like the odds are not in my favour…" Strelitzia evaluated the situation in her mind, and the difference in number put her at a disadvantage.

        "What's the ambush about? Don't you know who I am?" Strelitzia tried to sniff out their purpose before making the next move.

        "You have no say here...Why are you here outside the enchantment? Is the princess gonna tease us the outcasts?"

        "No! I'm here to find a cure."

        "You still wanna rip us off with the rich resources you elves have...We don't care who you are. We don't spare any intruders here! Take her down!"

        Commanded by the leading elf, all the elves came at Strelitzia at once. Meanwhile, she ripped her cloak off to toss at 2 incoming elves at the left. Then she took down the elf coming from the right with her weapon. In just a split second, she took down 3 rebels, intimidating the rest of the enemies.

        "Whoa——!" A huge axe bumped away her weapon. Strelitzia tried to get back on her feet, but the enemy was stronger than she thought. Encouraged, the rebels got themselves together and attacked Strelitzia again. She wanted to retreat, but she couldn't move her legs.

        "I can't move...I'm still adjusting to the environment…"

        All of a sudden, a round fruit was tossed into the battle. Hitting the ground, it burst and spread yellow dust to distract the rebels.

        "Run!" Someone grabbed the wrist of Strelitzia to flee. Although she couldn't tell if this was a friend or enemy, she could only follow and run in full speed. She didn't stop until she was out of breath. Bending to gasp, she scanned the elf who had saved her——Papaver a mesmerizing elf.

        "Why...did you save me?"

        "Despite my hatred towards the elves inside the enchantment, I know you're not like any of them," said Papaver, looking at Strelitzia in the eyes. Papaver's sparkling eyes reminded Strelitzia of Sakura, making her unable to look away. Papaver then continued, "because you fight for us the outcasts."

        "She knows what I've been doing. My effort didn't go to waste…" Strelitzia was deeply moved. All her policies had been rejected by Hyacinth and the majority of the country, while Welwitschia and Cornflower never shown their stance. Without her only supporter Sakura, what Papaver just said had given her courage to hold on.

        Since then, Strelitzia had been contacting Papaver frequently to know more about the outside, abusing her power to smuggle Papaver into the enchantment. Papaver's insight blew her mind, and many policies had excellent feedback because of Papaver.

        "The credits are all yours. Can I get you anything?" Strelitzia asked Papaver delightfully.

        "Your highness, It's impossible for you to give me what I want."

        "Nonsense. There's nothing I can't get you. Tell me!"

        "Then...please let me, let us the outcasts join the Century Feast."

        Strelitzia hesitated at the moment she heard Papaver's request; the disappointed Papaver looked away and said, "despite the fact that our parents were criminals, isn't the long exile enough to repent their sins? We just wanna try our best as their children, and send them back to the embrace of Mother Tree."

        "What a humble wish...If I can't even do this for her, I'll put the name of princess to shame!" Strelitzia came forward to hold the weeping Papaver into her arms.

        "I'll make your wish come true!"
Monsters in Same Group
Community content is available under
CC-BY-SA
unless otherwise noted.