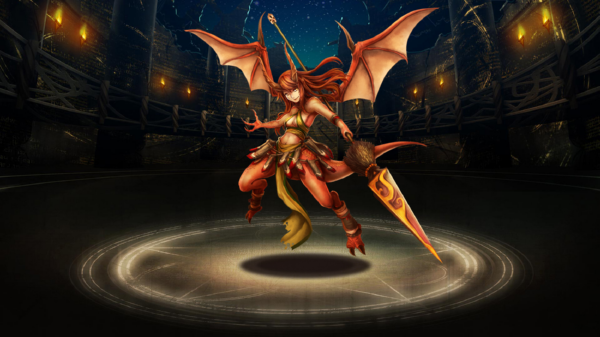 ---
Card Info
(click to show)

Name
Magrence the Dragonborn
Attribute
Fire
Id
No. 299
Rarity
5★
Cost
10
Race
Elf
Series
Sprites
Lv Max
99
Exp
Curve
3,000,000
Max
Exp
3,000,000
Card Information
Details
【Sprites】
Basic Properties
HP
Attack
Recovery
Total

Sacrifice Exp

Sell Value
Lv 1
691
788
166
1645
Lv 1
1900
900
Lv 99
1242
1133
480
2855
Per Lv
+2700
+100
Active Skill
Name
Ignition
Lv. 1
CD
17
Lv. 10
CD
8
Effect
For 3 Rounds, turn all enemies into Fire Attribute; deal Fire Damage as much as 30x the Monster's Attack to all enemies every Round.

Team Skill
Effect
Team Skill:
Recovery surplus will become a Full Attack, the largest Damage that could be dealt is 5 times of the Recovery surplus.
Condition:
The Leader is "Diablo, Manipulator of Elements", with 3 or more 5* Monsters of "Sprites", 6* or 7* Monsters of "Toy Pixies" or "Elf Summoner - Princess Woodbury" as Team Members (identical Monsters will only be counted as one).

Team Skill:
Recovery surplus will become a Full Attack, the largest Damage that could be dealt is 10 times of the Recovery surplus.
Condition:
The Leader is "Diablo, Nightmare Guttler of Elements", with 3 or more 5* or 6* Monsters of "Sprites", 6* or 7* Monsters of "Toy Pixies", "Elf Summoner - Princess Woodbury" or 6* Monsters of "Elfish Perennials" as Team Members (identical Monsters will only be counted as one).

Combine Skill: Curing Runestones - EX
All Attributive Runestones also possess 50% effect of Heart Runestones for 2 Rounds.
Condition:
There are "Diablo, Manipulator of Elements" and "Magrence the Dragonborn" in the Team (the Monsters must reach Lv. 50 or above).

Combine Skill: Source of Life
For 2 Rounds, drop rate of Heart Runestone increases; all Attributive Runestones also possess the effect of Heart Runestones.
Condition:
There are "Diablo, Nightmare Guttler of Elements" and "Magrence the Dragonborn" in the Team (the Monsters must reach Lv. 50 or above).
Leader Skill
Name
Anger of Elves
Effect
Elf Attack x 2
Amelioration
Skills

Amelioration Skill 1:
Monster's Recovery +50

50

Amelioration Skill 2:
If a group of 3 or more Runestones are dissolved in the column below the Monster, Team Recovery +10% for that Round (Runestones dissolved when dropping would not trigger the effect).

100

Amelioration Skill 3:
Monster's Recovery +100

200

Amelioration Skill 4:
Increase the drop rate of Heart Runestones in the column below the Monster to 25% (the effect will not override those of Active Skills).

400

Battle
Reincarnation of Sprite
Evolve
  
Power Release
Evolution
       
   
Battle
Origin
Friend Point
Seal
Diamond
Seal
Others
Stages

Backstory:
        Magrence dashed down and jabbed Govindasaur at the shell with her spear, but it was merely a small crack. Govindasaur went berserk. It abruptly turned upon Magrence and forced her to retreat into the air. Guards around her raised their shields high, forming an array to halt the advance of the monster.

        "Don't push yourself too far, Half Dragon! We just have to buy time!"

        The guard captain shouted at Mag, but his voice caught the attention of Govindasaur. The colossal monster thrust at the array of shields with such an enormous strength that soldiers in the front were hit and sent flying.
        "I said"-Magrence swooped down again, stabbing her spear deep into Govindasaur through the crack on its shell-"don't call me Half Dragon!"

        Govindasaur was blew off by the flare spouted out from the crack of the shell. It shrieked and struggled in pain, shaking the rocky ground violently. The strong wave sent the guards reeling to and fro. Magrence danced joyfully in the air while kept looking for the weakness on the shell of Govindasaur.

        "Let's quit this mess! Just wait till all villagers are evacuated..."

        "Don't worry," said Magrence as she was replenishing
the fire elements at the spear head. "I am not letting him go near the village!"

        Demons had been curious about human since they discovered the existence of the realm of men. Before the war between Gods and Demons, the savants of Demons had been performing all kinds of experiments in the realm of men. They studied the integrability of elemental power and human body. In order to investigate the power of dragons, Nightfall Savant forcibly injected dragon blood that was rich in elements into the body of a child, attempting to create a lifeform that master these powers. However, before the hatching of the 'dragon egg', the savant came upon Golems built by human in Enochian Tower, which fascinated him. He then delved into the structure of those golems and abandoned his original subject - the girl inside the egg shell.

        She was forgotten until the beginning of the battle between Gods and Demons. To drive the demons out of the realm of men, Court of Taurus invaded the base of Nightfall Savant and broke the 'dragon egg' in that battle. Magrence was awakened from her sleep...
Monsters in Same Group