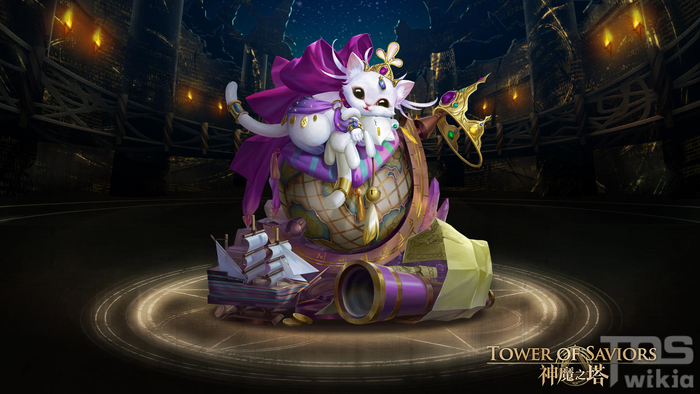 ---
Card Info
(click to show)

Name
Mellow
Attribute
Dark
Id
No. 1929
Rarity
5★
Cost
8
Race
Beast
Series
The Master Cathieves
Lv Max
50
Exp
Curve
4,000,000
Max
Exp
1,000,000
Card Information
Details
【The Master Cathieves】

If Monster(s) used as Level-up Material(s) shares Skill (as indicated by the Skill Name) with the target Monster, the Skill Level of the target Monster may increase:
- ID 33 Light Solitary
- ID 34 Prime Light Ascetic
- ID 35 Hermit of Luminous Virtue
- ID 107 Azure Werewolf
- ID 109 Crimson Werewolf
- ID 111 Emerald Werewolf
- ID 113 Ivory Werewolf
- ID 115 Shadow Werewolf
- ID 461 Werewolf Monk
- ID 462 Werewolf Commander
- ID 463 Werewolf Arbitrator
- ID 464 Werewolf Fighter
- ID 465 Werewolf Assassin
- ID 1031 Aloha
- ID 1033 Boyciana
- ID 1035 Yunyang
- ID 1037 Dodo
- ID 1039 Sumatra
- ID 1221 Pupuro
- ID 1223 Suzuko
- ID 1225 Haza
- ID 1227 Copper Bullet
- ID 1229 Sunnie
- ID 1921 Plumpy
- ID 1923 Copperfield
- ID 1925 Ghostie
- ID 1927 Zero
- ID 1929 Mellow
- ID 1931 Wimpy
- ID 1933 Choux
- ID 1935 Tim

* The skill of this Monster will be changed after Evolve or Power Release.
Basic Properties
HP
Attack
Recovery
Total

Sacrifice Exp

Sell Value
Lv 1
975
448
72
1495
Lv 1
600
3000
Lv 50
1832
785
159
2776
Per Lv
+600
+100
Active Skill
Name
Shield Destructor
Lv. 1
CD
19
Lv. 10
CD
10
Effect
Enemies' Defense -75% for 3 Rounds.
Leader Skill
Name
Reign of the Queen
Effect
When the Team consists of only Beasts, Team Attack x 4; Recovery +400. When there are no identical Monsters in the Team, the more the groups of Runestones dissolved in the Round, the higher the Team Attack increases additionally, to the max x 3 for 10 groups.
Evolve
       
Origin
Friend Point
Seal
Diamond
Seal
Others
Stages

Backstory:
        "Oh, a kitten. Look at her petite size, Fist. Isn't she cute?" Plumpy, a bootylicious cat, gently stroked Mellow's head. Fist, who had a muscular build, did not answer. But the blush on his cheeks could tell that he was very fond of this lovely Mellow.

        "Based on my judgement, her age is only around 200 days," Tim said confidently as he measured her height with the naked eye.

        "Little girl, stay with me in missions from now on. And don't get me wrong! This isn't a special care." Choux, full of the scent of food, turned away after the greeting with Mellow. But she seemed to care about her reaction as she kept glancing at her.

        Blinking her beady eyes, Mellow didn't care much about these strangers as they spoke. "We're all serving Ali Baba, and I don't need any special privilege." she replied indifferently.

        Everyone was amused by Mellow the little adult. They took turns to give Mellow a hug while Zero, a burly cat, just sat and watched at a distance with a smile.

        Then, smoke came out and walls started vanishing. Knowing that a mission would soon begin, the cats sharpened their claws energetically.

        Mellow followed them to a huge manor, the size of which stretched a few miles. The owner was infamoused for plundering civilians' properties and made profit by planting grapes. The cats crouched at a grove in front of the entrance to discuss their plan.

        "Hey, where is Ali Baba?" Choux asked, rolling her eyes.

        "He got diarrhea. No worries, Merbromin will take care him," answered Zero.

        "Humph, who said I was worried about that useless guy!" Choux turned away with sadness written on her face. "It doesn't matter if he's here or not. We can handle this. Let's go everyone!"

        "Wait——" Mellow tried to stop them, but the cats had already rushed into the manor, except Zero.

        "They stormed in without making plans… Whatever. This is a good chance to observe them."

        Mellow stood tiptoe, but she was too short to get a clear view of their whereabouts. As she was puzzled, someone lifted her up——it's Zero. He put her on his shoulders.

        The piggyback ride let her see everything clearly——

        Tim took the lead to pluck those grapes in the most valuable vineyard; Fist punched the trellis hard to drop them all to the ground instead; and then Plumpy immediately pounced on the grapes, gorging herself who got juice all over her body. Fist did not blame her for what she did, but rather gazed at her silently with love…

        Mellow squinted to capture everyone's action in her mind. "This is a mess. But everyone has an unique talent...It shouldn't go wasted like that," she heaved a deep sigh.

        Soon, the owner brought a bunch of guards to the vineyards after they heard the strange noises.

        "Meowww! I... I'm not afraid of you!" Choux took out a roast chicken mistaken as a dagger owing to nervousness.

        "Oh, are they coming to play with us?" Plumpy went to the enemies with a smile, but she almost got slashed by a blade. Luckily, Fist pulled her back in the nick of time.

        As the cats were panicked, a voice commanded them, " Fist and Plumpy, stall the mercenaries; Tim, go find another way out; and the rest of you, carry all the grapes away now."

        It was Mellow, riding on Zero's shoulders and guiding them like a light in the darkness. Everyone followed the orders and escaped safely with dozens boxes of expensive grapes.

        Back to the crown, all the cats were lying on the floor exhausted. Mellow, however, stood up glaring at them. "Look at you suckers! If it wasn't me, you all would have been turned into meatballs!"

        Ashamed of their poor performance, the cats sat straight to listen Mellow's lecture in low spirits. Mellow went next to Zero and he carried her on his shoulders again. The way she looked at the cats from above was like a revered queen.

        "If you still wanna live, follow my commands from now on. First, Tim!"

        "Yes!" He stood up straight to show respect.

        "You're meticulous. You gather intels before actions. From now on, you'll be in charge of the team's recon. We need to be clear about each enemy!"

        "Roger! I'll report their every single movement, even how many times they poop a day!"
        "I don't wanna know that!" Mellow yelled in disgust. Next, she pointed at Fist and Plumpy"Listen, both of you!" she said with her sweet voice.

        "Yes! Yes! We're here," Plumpy raised her paws excitedly.

        "Your fighting skills are the greatest weapon in our team. I'm counting on you to protect us...Fist, I know I'm cute but stop rubbbing me like a baby!"

        "...Copy that," Fist stopped approaching Mellow unwillingly.

        Mellow assigned a position to each cat one by one. Everyone was lectured by her like a humble students. They all truly admired her leadership.

        "As for you…" She looked at Zero, but still had no idea what his talent was. "I still haven't figured out your role yet…," she hesitated.

        "It's okay. I'll just follow you," Zero answered with a smile.
Monsters in Same Group
Community content is available under
CC-BY-SA
unless otherwise noted.