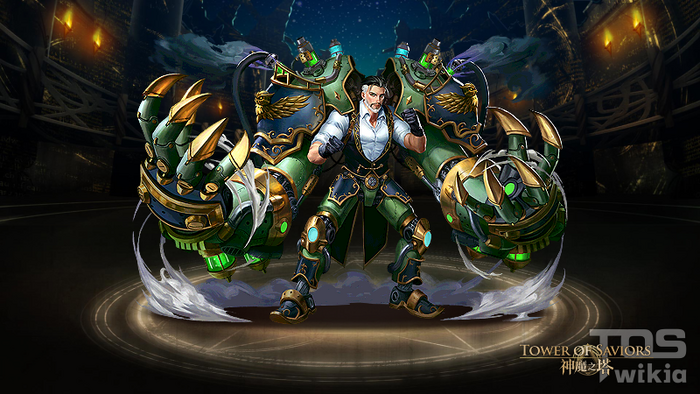 ---
Card Info
(click to show)

Name
Method of Elenchus - Socrates
Attribute
Earth
Id
No. 2019
Rarity
6★
Cost
14
Race
Machina
Series
Gifted Scientists
Lv Max
99
Exp
Curve
5,000,000
Max
Exp
5,000,000
Card Information
Details
【Gifted Scientists】
Basic Properties
HP
Attack
Recovery
Total

Sacrifice Exp

Sell Value
Lv 1
1949
628
117
2694
Lv 1
1200
6000
Lv 99
3752
1233
335
5320
Per Lv
+1000
+100
Active Skill
Name
The Robotic Arm
Lv. 1
CD
17
Lv. 12
CD
6
Effect
For 1 Round, Machina Attack & Recovery x 1.6; when "Republic Theory - Plato" and "Ether Fission - Aristotle" have 100% Fuel at the end of the Round, the Monster's current Skill CD -5.

Team Skill
Effect
Team Skill:
Fuel of the first "Method of Elenchus - Socrates", "Republic Theory - Plato" and "Ether Fission - Aristotle " from the left increases to 30% after entering a Stage.

Attack of the first "Method of Elenchus - Socrates", "Republic Theory - Plato" and "Ether Fission - Aristotle " from the left x 1.5 additionally.
Condition:
There are "Method of Elenchus - Socrates", "Republic Theory - Plato" and "Ether Fission - Aristotle " in the Team.

Machina Properties:
Monster's Fuel +2% for each Runestone of the Monster's Attribute dissolved; Monster's Fuel +1% for each Heart Runestone dissolved (only the first batch of Runestones dissolved will be counted). The higher the Monster's Fuel, the higher the Monster's Attack, to the max x 2 additionally.

When all Machinas in the Team have ≥ 50% Fuel, effects of Runestones of their Attributes increase, 10% for each Machina present in the Team, to the max 60%.

When all Machinas in the Team have 100% Fuel, all Machinas randomly launch 1 to 2 extra attack(s) of its own Attribute or its Counter Attribute as much as 25% of its Attack every Round.

Condition:
There are 2 or more Machinas in the Team.
Leader Skill
Name
Forces of Machines
Effect
When there are Machinas of 3 or more Attributes in the Team, Team Attack x 3.5; when all Machinas in the Team have 100% Fuel, Team Attack x 1.5 additionally.
Evolve
  
Origin
Friend Point
Seal
Diamond
Seal
Others
Stages

Backstory:
        In the center of a magnificent study room, two figures were fighting each other. The battle got fiercer sometimes; The blood of Socrates had gradually painted the floor red. The attacks of Edison were beyond his imagination. Each was hitting right into his dead corners and weaknesses.

        Although he barely avoided Edison's lethal strikes, different wounds were still left on the body of Socrates. Owing to blood loss, his movements became stiffer. Observing from the sidelines, Marie began to feel worried.

        "Socrates, stop it. You'll get yourself destroyed." Marie begged him to stop, but clearly he was not listening.

        "She has a point. This fight is meaningless. If you give me an apology, like Master Edison, I'm really sorry and stupid for causing this trouble, then I'll let you go." Edison was mean to Socrates, looking down on him while playing with his dagger.

        "No, I'll never apologize or surrender...because I saw it." This time, Edison's words failed to provoke him. Instead, he wore a smile, "I saw you cry begging me for mercy."

        Edison pulled a long face to answer. "You know, I hate people full of boasts. So don't blame me 'cause you had this coming."

        Countless glowing speckles were drawn to the surface of his dagger, soon turning into thick plasmas.

        "...Sure enough the elements are so rich here. Usually, it's impossible to release such a great amount of light elements…" Edison glanced at the plasmas with mixed feelings, then switched his focus back on Socrates.

        "Let's finish this!" Edison tossed the dagger into the mid air and cast it over the dead corner of Socrates with magnetic force. But this time was a miss as Socrates had predicted it.

        Redirecting the dagger, Edison struck again. Regrettably, it was another miss. Socrates took the initiative in fighting back. Edison did not see this coming, who could just barely dodge it.

        "Why…"

        "You look confused. The element told me." Socrates saw through his thought. "I foresee your future via elements."

        "Elements...So you've been collecting my element data all along!" Edison was suddenly intrigued as he realized what had happened. "You're much more fun than you look. Let's see who's better then."

        The battle resumed. Soon, the result was out——Edison's action was completely captured; He took Socrates's critical hit and fell down to the ground.

        "Alright, time to give this arrogant fool a good lesson——" Socrates concentrated element on his right fist. When he was about to punch, someone catched his arm——Marie!

        "Hold on!"

        "What's wrong, Marie?" Socrates looked at her in puzzlement. She avoided the eye contact, unable to hide her guilty conscience. "He was actually protecting me when he pinned me down. I accidentally triggered the trap when I stepped in…," she bit her lips.

        "You…" Socrates was speechless gazing at Edison, who showed a flippant attitude as if this was none of his business. Then, Socrates helplessly facepalmed himself.

        "Why didn't you stop me from the beginning?"

        "...Because he's too arrogant. I thought you can teach him some manner…"Marie felt sorry as she grabbed her hem. Socrates could not help but heaved a deep sigh. "And you. Why didn't you explain the whole situation instead of taunting me?"

        "Em...because it's fun I guess?" Edison smiled. "And I got punched, so an eye for an eye of course."

        "You two...have no clues what situation you're facing, don't you? We got attacked and were brought to here. And the nasty traps here will kill us if we don't stay alert. And you're still playing around here——" An explosion interrupted his words suddenly.

        "It came from...where the newcomers are at!" Socrates got a sinking feeling.
Monsters in Same Group
Community content is available under
CC-BY-SA
unless otherwise noted.