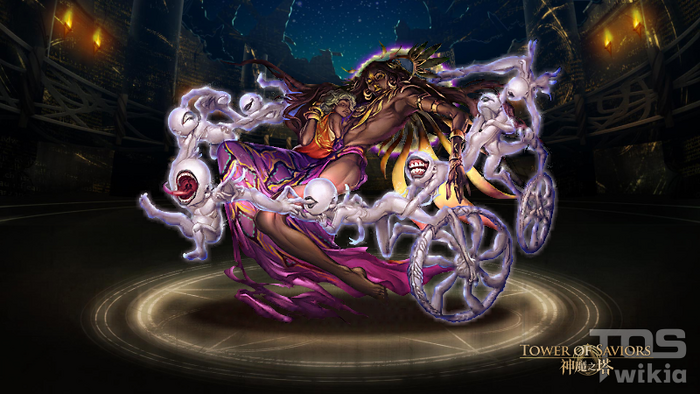 ---
Card Info
(click to show)

Name
Namtar the Fate Breaker
Attribute
Dark
Id
No. 1220
Rarity
7★
Cost
20
Race
God
Series
Major Gods of Babylon
Lv Max
99
Exp
Curve
6,000,000
Max
Exp
6,000,000
Card Information
Details
【Major Gods of Babylon - Power Release】
Basic Properties
HP
Attack
Recovery
Total

Sacrifice Exp

Sell Value
Lv 1
1619
922
177
2718
Lv 1
1000
1000
Lv 99
3207
1705
403
5315
Per Lv
+1200
+100
Active Skill
Name
Blades of Phantom - Time Wielding
Lv. 1
CD
21
Lv. 12
CD
10
Effect
For 1 Round, extend Runestone-moving time to 8 seconds; by dissolving a group of 6 or more Dark Runestones, Dark Attack x 1.5.

Team Skill
Effect
Team Skill:
Change the Attribute of "Erudite Edifier - Anu" into Dark.

Attack basic value of the Leader, the Ally, and the first "Erudite Edifier - Anu" from the left x 1.3 additionally.
Condition:
Both the Leader and Ally are "Namtar the Fate Breaker", with "Erudite Edifier - Anu" as a Team Member.

Team Skill:
If a group of 5 or more Runestones are dissolved in a column, 1 Dark Runestone will be generated in that column (only the first batch of Runestones dissolved will be counted).
(Active Skills "Magical Stage - Beam" and "Magical Stage - Gloom" cannot be activated).

If a group of 4 or more Runestones are dissolved in 2 or more columns, Team Attack increases additionally, to the max x 1.5 (only the first batch of Runestones dissolved will be counted).

Extend Runestone-moving time by 2 seconds.
Condition:
Both the Leader and Ally are "Namtar the Fate Breaker".

Combine Skill: Blade of Fatality - EX
For 1 Round, extend Runestone-moving time to 10 seconds; the more number and Attributes of Runestones dissolved, the higher the Team Attack, to the max x 5 for 30 Runestones of 5 different Attributes dissolved.
Condition:
There are "Namtar the Fate Breaker" and "Pristine Preceptor - Anu" in the Team (the Monsters must reach Lv. 50 or above).
Leader Skill
Name
Gift from Heaven - Gloom
Effect
Dark Attack x 3. If a group of 4 or more Runestones are dissolved in a column, 1 Dark Runestone will be generated in that column (only the first batch of Runestones dissolved will be counted).
Amelioration
Skills

Amelioration Skill 1:
Monster's Recovery +30

50

Amelioration Skill 2:
If a group of 4 or more Runestones are dissolved in the column below the Monster, Team Recovery +10% for that Round (Runestones dissolved when dropping would not trigger the effect).

150

Amelioration Skill 3:
Monster's Attack +180

300

Amelioration Skill 4:
If a group of 4 or more Runestones are dissolved in the column below the Monster, Team Attack +10% for that Round (Runestones dissolved when dropping would not trigger the effect).

500

Battle
Perception of Fate
Power Release
  
Virtual Rebirth
Evolution
       
   
   
   
   
Battle
Wits of Ancient Human - Dark
Origin
Friend Point
Seal
Diamond
Seal
Others
Stages

Backstory:
        Namtar returned to town with Dumuzi, but returned only to a distressing sight; to avoid catching the plague, every townsperson had to cover their face while walking outside their huts, if they went outside at all. Seeing Dumuzi's return, soldiers approached and reported: "Venerable Dumuzi, Lady Inanna is ill!" Upon hearing this, Dumuzi dashed to Inanna's side, Namtar following close behind him. When they saw Inanna lying unconscious in her bed, her breath was shallow. Namtar murmured: "It's all destiny...Everything is controlled by fate!" Dumuzi asked Namtar for a favor, but was rejected: "I only know how to create poison, not cures. Everything is predetermined." Dumuzi stood up in silence when suddenly, Atrahasis burst into the room and fed Inanna water-mixed herbs before she slowly woke.


        While Gilgamesh was invading their town, Dumuzi assigned Namtar with the mission of evacuating the townspeople, because he knew that despite Namtar's lack in fighting skills, he was immune to almost every disease. Dumuzi also told Namtar that they would talk about the Tome of Fate after the war. All the sick people were quarantined in a small hall. The less-severely infected ones had rashes all over their body, while the more serious ones had their skin and flesh consumed by the plague. They were surrounded by the stench of rotting flesh and lived a hopeless life where time seemed to stand still. Namtar guided them onto a mountain to avoid the disaster while observing their conditions. Although this was his first time encountering this kind of disease, he had no intention of helping.


        "Now that fate has led you to contract the disease, why don't you just follow fate?" Namtar said to himself, but an adolescent among the sick overheard him, so the adolescent angrily retorted: "Humans are born to shape their own fate and not let fate shape them!" The adolescent was completely wrapped in bandages. With only one glance, Namtar could tell that he was an acute patient and could pass away at anytime. However, his voice was deep and steady with no signs of short of breath, which dramatically contrasted with his appearance. Nonetheless, Namtar only sighed and said: "Living, getting old, getting sick, dying, these are inevitable stages of life and are fate's arrangement. Who can escape them?"


        The adolescent suddenly raised one of his arms and removed the bandage on it. Namtar was surprised by the adolescent's arm skin — it was smooth and youthful with no signs of infection. "When I was bitten by a snake, my wounds began to close and the dead skin peeled off as if it was moulting." He then reached out his other arm and revealed the skin inside the bandage. It was opposite to the other arm's condition; the wounds were inflamed and full of pus, and the blood seeping from them was dark: "I then searched around for that snake, only to be bitten by other venomous snakes and that's how I ended up in this terrible state." A smile spread across the adolescent's face: "Who knows what the next snake will turn me into?"


        'Fate has long written one's life. Everything can't be changed. We can't ask for more than we deserve.'


        Just then, Namtar recalled his father's words. "Asking for more"? Everything is indeed unpredictable. Then, is struggling for life and staying alive also "asking for more"? Namtar took out the crystal pendant which was still as glamorous as when his father had given it to him. His heart pounded — why not give it a try? He said to the adolescent: "This mystical pendant has a special guiding power. How about we use it to locate the snake and see if the snake's going to help us? Do you wish to challenge the disease and challenge your fate again?" The adolescent quickly nodded, so Namtar held the pendant in his fingers and swung it in circles above the adolescents' arms. The pendant reacted and rotated toward the cliff. They followed its direction and searched around the cliff when they smelled a pungent and bitter odor.


        'This smell seems familiar...it should be some kind of ore...' Namtar was thinking as they were surprised to hear slithering sounds. Proceeding toward the source of the sounds, they saw gold and a gigantic serpent which was savoring its prey on a sea of ores. Even before they walked closer, the adolescent yelled: "It was this snake that had bitten me!" Looking at the peculiar creature, Namtar could not help but think back to his animal experiments: 'This kind of ore will stay in their body and speed up their metabolism. This should be its turf...its body fluid might help!' It was as if the pendant was being attracted by the serpent and pointed toward it. Namtar took a large step and grabbed the serpent, not showing any fear of the creature and said: "This snake's venom is extremely poisonous. This might be your last chance. Do you still want to try?" The adolescent reached out his infected arm and yelled: "Do it!"


        Namtar stayed beside a straw mat for seven days before the adolescent finally woke up. When he wanted to move, he felt his body unusually stiff. It was not until he scanned across his body did he notice that his body was covered in a scab. Wounds and infected parts caused by the plague were almost completely healed.

        "You won. Your decision has lengthened your life." As if a heavy burden had been lifted, Namtar smiled. He then used the adolescent and the serpent's blood along with the yellow ore to create a concoction suitable for both internal and external application. When the war ended, most of the patients had been cured and the plague was under control. Since then, Namtar focused on cooking medicines and forgot about the Tome of Fate. After some time, Atrahasis came to tell him that the Tome of Fate was lost in the flood, but Namtar only replied with a wave of his hand. He then softly said: "Fate, huh...?" With a soft sigh, Namtar returned to his work.
Monsters in Same Group