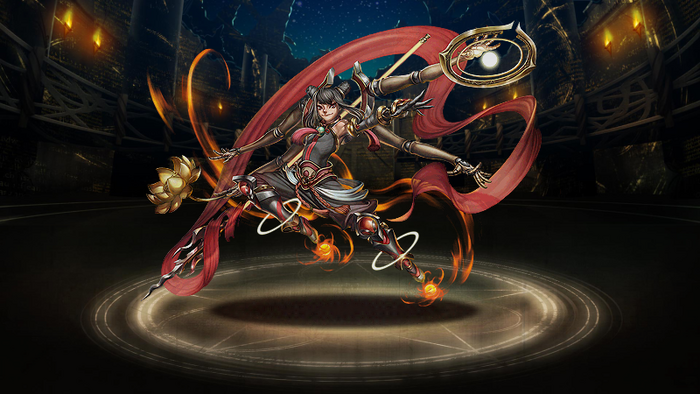 ---
Card Info
(click to show)

Name
Nezha the Guard of Vaiśravaṇa
Attribute
Fire
Id
No. 592
Rarity
7★
Cost
20
Race
Human
Series
Chinese Gods
Lv Max
99
Exp
Curve
6,500,000
Max
Exp
6,500,000
Card Information
Details
【Chinese Gods - Power Release】

If Monster(s) used as Level-up Material(s) shares Skill (as indicated by the Skill Name) with the target Monster, the Skill Level of the target Monster may increase:
- ID 592 Nezha the Guard of Vaiśravaṇa
- ID 1083 Nezha the Guard of All Xian
Basic Properties
HP
Attack
Recovery
Total

Sacrifice Exp

Sell Value
Lv 1
1368
764
192
2324
Lv 1
900
1000
Lv 99
2686
1501
431
4618
Per Lv
+1000
+100
Active Skill
Name
Edice of Flame
Lv. 1
CD
22
Lv. 15
CD
8
Effect
Turn Earth and Heart Runestones into Fire Runestones; Water Runestones into Heart Runestones.

Team Skill
Effect
Team Skill:
The first "Little Lotus", "Nezha" from the left also possesses the effect of his own Leader Skill.
Condition:
The Leader or Ally are 6* Monsters of "Heroes from Afar", 6* Monsters of "Komainus of the Temple", "Jing Tian the General Reincarnated", or "Tang Hsue-Jian, Flower of a Goddess", with "Little Lotus", "Nezha the Lotus Prince", "Nezha the Guard of Vaiśravaṇa", "Nezha the Guard of All Xian", or "Warrior of Aggression - Nezha" as a Team Member.
Leader Skill
Name
Inferno Field
Effect
Launch an extra Attack of as much as 15x the Monster's Attack each Round, regardless of Attribute (dissolving Runestones is necessary)
Amelioration
Skills

Amelioration Skill 1:
Monster's Recovery +50

100

Amelioration Skill 2:
When Active Skill is triggered, the Skill Rune Enchantment - Fire will also be triggered in the column below the Monster; for a Combined Monster, Rune Enchantment - Fire will be triggered in the left column below the Monster.

200

Amelioration Skill 3:
Monster's Attack +120

350

Amelioration Skill 4:
Monster's Active Skill CD - 2

600

Battle
The Illustrious Lotus Prince
Power Release
  
Virtual Rebirth
Evolution
       
   
   
   
   
Battle
Intersection of Bewilderment - Fire
Dragonware
Origin
Friend Point
Seal
Diamond
Seal
Others
Stages

Backstory:
        Stepping on his fire wheels, Nezha pierced his pike quickly at his opponent. Dipankara fended Nezha's attack off with two fingers of his right giant arm, while the other fingers struck back with a fireball, forcing Nezha to defend himself with his Red Armillary Sash. At the same time, Diapankara's left giant arm descended from mid-air, pinning the four celestial arms of Nezha against the ground to hinder him from waving his Lotus Hammer. Dipankara raised his staff and smacked at Nezha. Knowing that he could not dodge the attack, Nezha lifted his head and caught the staff between his teeth, trying to snatch it from Dipankara. However, Dipankara withdrew his staff, causing Nezha to lose his balance. He was then pressed onto the ground by Dipankara's big palms.

        "You bastard! Let go of me!"

        "Nezha, you have integrated with the ancient jade and you have become as powerful as I am. How come you attacked so recklessly without a proper fighting style?"

        Dipankara released Nezha from his palms. Nezha stood up with a sniff and left riding on his Wind Fire Wheels. Dipankara could not help shaking his head. Nezha was too stubborn to state himself clear. Just as Nezha returned to the abbey, he saw Taiyi Zhenren arriving on his divine crane.

        "Nezha, is your body working well?"

        "Thanks to your help, I have no difficulties using it." Nezha then made a seal with his four celestial arms and they were as nimble as if they were part of his body.

        "No, you should thank Dipankara instead. He is the one who has devoted all his efforts for you."

        Nezha nodded, and silently cleaned his arms with a piece of cloth. In the past, his arms were broken by a monkey he was ordered to capture. Later, with reference to his giant arms, Dipankara rebuilt four arms for Nezha. Of course Nezha was grateful to Dipankara, yet his mind would be occupied by annoyance and impatience whenever he saw Dipankara. He would be irritated easily by anything Dipankara said.

        "Don't be bothered by who you are." Taiyi Zhenren giggled. "You deserve to be praised. After all, you have upheld your kindness and innocence since your enlightenment thousands of years ago. Though Dipankara is always complaining, I bet he is quite happy in fact."

        "Is that true?" Nezha could not help but question the comment. He thought it through: 'Complaining? That Dipankara is complaining to Taiyi Zhenren?'

        Seeing Nezha's contemplation, Taiyi Zhenren immediately said, "Don't be bothered by nonsense of an old man! I should go now. Nezha, do me a favor by handing Dipankara these luminous pearls for me. Goodbye!"

        Nezha took the pearls, and before he could bow to Taiyi Zhenren, his mentor left. Just then, Dipankara arrived from the hall behind, and Nezha informed him about the luminous pearls. When Dipankara asked whether Nezha had thanked Taiyi Zhenren, Nezha thought that Dipankara was trying to blame him and yelled, "It was Taiyi Zhenren who rushed out of the abbey!" He threw the six pearls at Dipankara. Did not expect Nezha would be enraged, Dipankara could only caught four of the pearls; the other two smashed on his face. Nezha knew that he had just put himself into great trouble. Before Dipankara could open his eyes, Nezha fled from the scene on his Wind Fire Wheels —
Monsters in Same Group
Community content is available under
CC-BY-SA
unless otherwise noted.