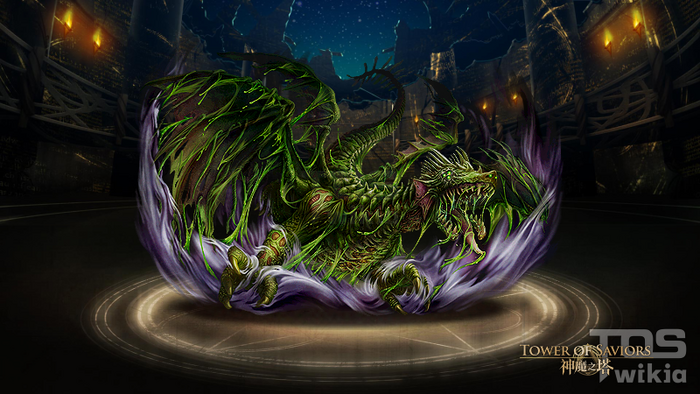 ---
Card Info
(click to show)

Name
Nidhogg the Corpse of Ragnarök
Attribute
Earth
Id
No. 850
Rarity
8★
Cost
45
Race
Dragon
Series
Sealed Lords
Lv Max
99
Exp
Curve
9,000,000
Max
Exp
9,000,000
Card Information
Details
【Sealed Lords】
Basic Properties
HP
Attack
Recovery
Total

Sacrifice Exp

Sell Value
Lv 1
3724
1130
0
4854
Lv 1
6000
10000
Lv 99
7503
1877
0
9380
Per Lv
+600
+0
Active Skill
Name
Courage of Sacrifice
Lv. 1
CD
24
Lv. 15
CD
10
Effect
Earth or Dragon Attack x 2.5 for 1 Round at the expense of 75% of current HP.
Name
Revival of Spirit - Dragon
Lv. 1
CD
24
Lv. 15
CD
10
Effect
Recover HP as much as 1.5x total HP of all Dragons.
Team Skill
Effect
Team Skill:
Change the Leader Skills of "Priestess of the Forests - Barbara" and "Nidhogg the Corpse of Ragnarök" to "Bloodthirsty Alternation" - Earth Dragon and Earth Beast Attack x 3.5, HP x 1.5; 5% of total HP will be deducted every Round. 10% of Damage dealt to enemies by Dragons and Beasts will be converted to HP Recovery. The max HP Recovery is 50% of Summoner's total HP (no superimposing; Damage dealt by Active Skills will not trigger the effect). If the HP converted is larger than Summoner's total HP, for every 12% exceeded, turn 1 random Runestone into Earth Runestone after the Round, to the max 4 Runestones (no superimposing).
Condition:
The Leader and Ally are "Priestess of the Forests - Barbara" and "Nidhogg the Corpse of Ragnarök" (interchangeable).
The Team consists of only Earth Dragons and Earth Beasts.

Team Skill:
Change the Active Skill of specific Monster(s) of "Defensive Dragons" and "Ancient Dragons" from "Attribute Explosion" to "Lust for Blood".
Condition:
The Leader is "Nidhogg, Undying Dragon of Poison" or "Nidhogg the Corpse of Ragnarök", with 5* Monsters of "Defensive Dragons" or 6* Monsters of "Ancient Dragons" as Team Members.

Team Skill:
Change the Active Skill of "Nidhogg the Corpse of Ragnarök" from "Courage of Sacrifice" to "Courage of Sacrifice - EX": Team Attack x 2.5 for 1 Round at the expense of 75% of current HP.
Condition:
Both the Leader and Ally are "Lord of All Gods - Khaos", with "Nidhogg the Corpse of Ragnarök" as a Team Member.
Leader Skill
Name
Oath of Blood
Effect
Dragon Attack x 3.5; HP x 2; 10% of total HP will be deducted every Round.
Power Release
  
Origin
Friend Point
Seal
Diamond
Seal
Others
Stages

Backstory:
        "Astaroth!" Disregarding the interception of the guards, Stolas hurriedly flew into the tent of the commander-in-chief. "You can't do this!"

        Astaroth, who was looking at the sand table, asked disdainfully, "Why?"

        "This can bring no victory, but unimaginable disasters!"

        "Of course I know. But I won't create any monster that I can't control." A haze of mist rose from his behind, and transformed into a blade that cut on the sand table. "As I have the ability to corrupt a Primordial Dragon's body, I must be able to do this with the Divine Tree as well, and use it to control..."

        "You're too arrogant! We have no right to dominate other living creatures!"

        "Why didn't you say so when we were manipulating King Solomon before?"

        Stolas could not continue his persuasion as he was surrounded by the soldiers in pursuit.

        "Prince Stolas, would you please return," said Astaroth coldly.

        "You think the Primordial Dragon is completely dead when you see its body?" Turning his back on Astaroth, Stolas left behind a sentence, "They'll be back someday."

        During the Era of Chaos, the Gods in ancient times used the Divine Tree to build a tombstone for the Primordial Dragon, so the power of the tree would grant it to rest in peace forever. When it came to the Age of Heroic Spirits, the Demons seized the chance to attack the land when the Gods were retreating, so as to take control of Enochian Tower. However, the war later spread to the cold North as the impetuous troops of the Demons did not follow the commands and the brigands were making troubles everywhere. The tribes there had to unite as a whole to combat. With the help of the exiled Savant of Spring, they defeated the Demons. To turn the tide, Astaroth found the dead body of the Primordial Dragon under the Divine Tree, and contaminated it into Nidhogg, the Undying Dragon of Poison. The immortal dragon attacked everything recklessly, but was later subdued by the power of the Golden Apple from the Divine Tree, and sealed inside Enochian Tower by the group of Odin.

        The Primordial Dragon knew all the happenings well. It was out of the world, but could still find someone it could entrust to punish the Demons for stealing its body through its consciousness. It cared nothing about the ruin or existence of the world, because after all, when there was no one to inherit Idun's ability of manipulating the Golden Apple, its putrefying body would doom the world to the end...
Monsters in Same Group