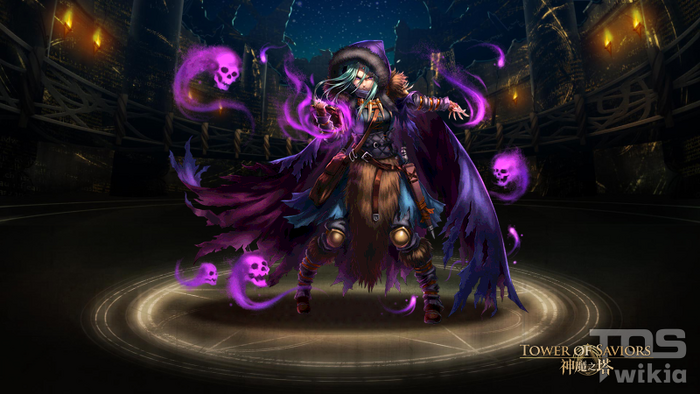 ---
Card Info
(click to show)

Name
Norvi
Attribute
Dark
Id
No. 1064
Rarity
5★
Cost
10
Race
God
Series
Descendants of the North
Lv Max
50
Exp
Curve
4,000,000
Max
Exp
1,000,000
Card Information
Details
【Descendants of the North】

If Monster(s) used as Level-up Material(s) shares Skill (as indicated by the Skill Name) with the target Monster, the Skill Level of the target Monster may increase:
- ID 37 Shadow Solitary
- ID 38 Prime Shadow Ascetic
- ID 39 Hermit of Noble Authority
- ID 40 Taotie the Sage of the Center
- ID 105 Ghost Slime
- ID 515 Taotie the Depraved Monarch
- ID 610 Virtual Fiddler
- ID 954 Keeper in the Dark
- ID 1064 Norvi
- ID 1119 Mini Dragon of Shadow
- ID 1154 Shadowy Nymph

* The skill of this Monster will be changed after Evolve or Power Release.
Basic Properties
HP
Attack
Recovery
Total

Sacrifice Exp

Sell Value
Lv 1
671
410
79
1160
Lv 1
600
3000
Lv 50
1305
746
177
2228
Per Lv
+600
+100
Active Skill
Name
Defensive Stance - Dark
Lv. 1
CD
14
Lv. 10
CD
5
Effect
Turn all Light Runestones into Heart Runestones.
Leader Skill
Name
Anger of the Darkness
Effect
Dark Attack x 2
Amelioration
Skills

Amelioration Skill 1:
Monster's Attack + 140

50

Amelioration Skill 2:
If 3 or more Runestones are dissolved in the column below the Monster, Recovery of Dark Monsters +15% for that Round (Runestones dissolved when dropping would not trigger the effect).

150

Amelioration Skill 3:
Monster's HP + 340

300

Amelioration Skill 4:
If 3 or more Runestones are dissolved in the column below the Monster, Attack of Dark Monsters +15% for that Round (Runestones dissolved when dropping would not trigger the effect).

500

Battle
Blessing for the North - Dark
Evolve
       
Origin
Friend Point
Seal
Diamond
Seal
Others
Stages

Backstory:
        Everyone said, if Norvi had shown even a bit of remorse, the magistrate would not have expelled her. Norvi's husband had fallen in love with another woman. To ensure he would stay with her forever, Norvi killed him to ensure he will never leave. The city was extremely crowded when her prisoner's cart was heading for the gates because everyone would like to see the woman who had killed her husband.

        "They are going to take her to the North like this, in her prisoner's outfit? They should have just sentenced her to death."

        "Isn't this be too cruel for a lady?"

        "She has killed her own husband! Why would you kill someone for love?"

        Norvi looked at the man who had asked the last question. The man noticed and quickly disappeared back into the crowd.

        'Is it worth it?' her classmates had also asked her before their marriage. Norvi was an outstanding student in the magic school and was a bright star among her peers. 'Are you sure you want to be with this guy, for the rest of your life? He is so average.'

        'Even if you are powerful in magic, spells cannot bless one with true love,' she answered while toying around with the copper-made crescent moon on the necklace crafted by her husband. Norvi cherished it, just like how she had loved her husband. She still wore the necklace on her neck, a piece of her husband's bone was even embedded in it. She had taken one of her husband's finger bones from her husband's burnt body. Having polished it for a night, she had placed it into the space inside the crescent moon. The necklace accompanied her throughout the journey to the North. Whenever she had it in her hand, she felt as if she was holding her husband's hand.

        The soldiers sent Norvi to a barren ancient battlefield with a tiny pack of wolf meat and left. This was not a kindness from the soldiers but rather, a tradition of expulsion. It had originated with the expulsion of the evil God Loki by other Gods in the legends. Norvi wandered across the barren land. Using magic once again after having stopped for some time, she cast a spell to locate where evil souls of the deceased abounded. She walked towards where evil souls of the deceased gathered. They swamped to her, wanting to possess her body. Wanting to kill herself, Norvi conjured dark elements with her spells, hoping to incite the evil souls into killing her. Instantly the spell created a sandstorm; dark elements spiraled out of control and it was as if they were ripping out her soul. The pain it caused sapped her consciousness... When she woke, she found herself lying inside a hole of the ground. She found a power attached to her, which was linked to an old diary at the bottom of the hole. Norvi immediately looked for another group of evil souls, but because of the power attached to her, the evil souls fled in fear.

        Pangs of starvation wracked Norvi by this time. Thus, she ignited the debris on the ground with magic, allowing her to roast the wolf meat for a quick meal. Norvi gripped her necklace tightly; yet, it had been cracked during the previous commotion, and the sharp edges left her a gaping wound on her hand. Standing on an ancient battlefield that abounded with the dead, she weeped, realizing that continued life was her greatest punishment.
Monsters in Same Group
Community content is available under
CC-BY-SA
unless otherwise noted.