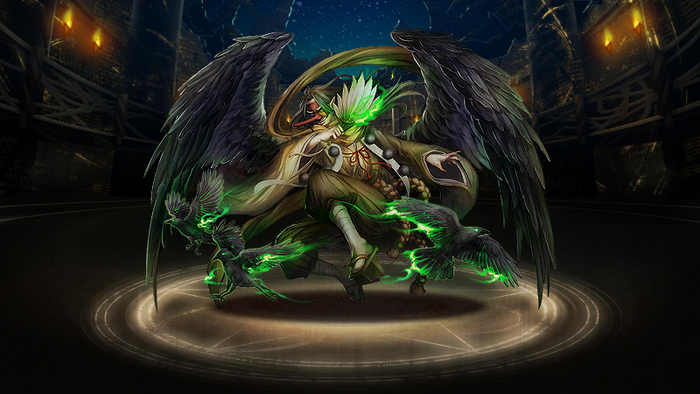 ---
Card Info
(click to show)

Name
Ootengu the Stiff Monk
Attribute
Earth
Id
No. 731
Rarity
6★
Cost
18
Race
Demon
Series
Hyakki Yagyō - Curse
Lv Max
99
Exp
Curve
4,000,000
Max
Exp
4,000,000
Card Information
Details
【Hyakki Yagyō - Curse】

If Monster(s) used as Level-up Material(s) shares Skill (as indicated by the Skill Name) with the target Monster, the Skill Level of the target Monster may increase:
- ID 730 Karasutengu
- ID 731 Ootengu the Stiff Monk
- ID 1128 Howl of Raging Storm - Ootengu
- ID 2119 Gemini
Basic Properties
HP
Attack
Recovery
Total

Sacrifice Exp

Sell Value
Lv 1
808
749
96
1653
Lv 1
1000
1000
Lv 99
1582
1672
422
3676
Per Lv
+1000
+100
Active Skill
Name
Delay
Lv. 1
CD
18
Lv. 12
CD
7
Effect
CDs of all enemies will be delayed for 1 Round
Leader Skill
Name
Revival of Allure - Wood
Effect
I. Earth Attack x 2.5
II. Demon Recovery x 2
Amelioration
Skills

Amelioration Skill 1:
Monster's HP +90

50

Amelioration Skill 2:
If a group of 3 or more Runestones are dissolved in the column below the Monster, Team Attack +10% for that Round (Runestones dissolved when dropping would not trigger the effect).

150

Amelioration Skill 3:
Monster's Attack +180

300

Amelioration Skill 4:
Change Monster's Active Skill to Earthy Delay

500

Battle
Heart that Never Yields
Evolve
  
Power Release
Evolution
       
   
Battle
Origin
Friend Point
Seal
Diamond
Seal
Others
Stages

Notes
50% Bonus Experience when used to level Youkai cards

Backstory:
        A figure slowly descended from the sky: he retracted his giant wings and walked into a cave. Once, he had been so short and his wingspan had been so small; now, he had to retract his wings and slightly lower his head just to move inside the cave. However, he was not the only one who had changed with time...

        Inside the cave were lifelike human-shaped ice sculptures. Their faces were twisted in pain, as if pleading for mercy. Every time Ootengu saw the sculptures, he could not help his sympathy pouring out for them. The sculptures had all been Humans at one time or another. They fell in love with Yuki-onna but they were deemed disloyal and hence frozen here. Walking to the depths of the cave, Ootengu saw Yuki-onna enchantedly caressing a sculpture's face. Though she did not turn, she knew who had come...

        "This, is the perfect existence...It does not betray me; it obeys me without question."

        "Does this truly make you happy? Truly happy from the depths of your heart?"

        "I do not know...I do not know!"

        Yuki-onna dashed to Ootengu, grabbing his collar and started crying.

        "I just wanted that 'feeling'. Why can I not seem to feel it?"

        Not only did Ootengu not know how to ease her angst, he also did not know what it was that she wanted. Just then, noises from outside the cave attracted their attention...

        "A lot of men went up the mountain and never returned..."

        "This time we'll definitely find that murderous monster! We'll kill it to ensure our safety and let out our hatred!"

        "Hey, look! There is a cave! Could that be the monster's lair?"

        Hearing them, Yuki-onna trembled. Panic stricken, she said worriedly, "What should I do...? They are coming to kill me...Did I do something wrong?"

        Ootengu held her hand and whispered tenderly, "No...It is the people's fault. You did not do anything wrong. Worry not. I will always stand by you and protect you. Just leave it to me." Upon finishing his words, Ootengu turned to the exit after signaling Yuki-onna to stay inside.

        Ootengu knew that it was a reprehensible path of no return, but he journeyed down it without regret. All he wanted to do was to protect her, the only one for him...

        Ootengu flew above the people and yelled at them, "Human imbeciles! You know there is a monster here and yet, you still dare come and boast of killing it? Here I am standing before eyes. Let's see what you can do!"
Monsters in Same Group
Community content is available under
CC-BY-SA
unless otherwise noted.