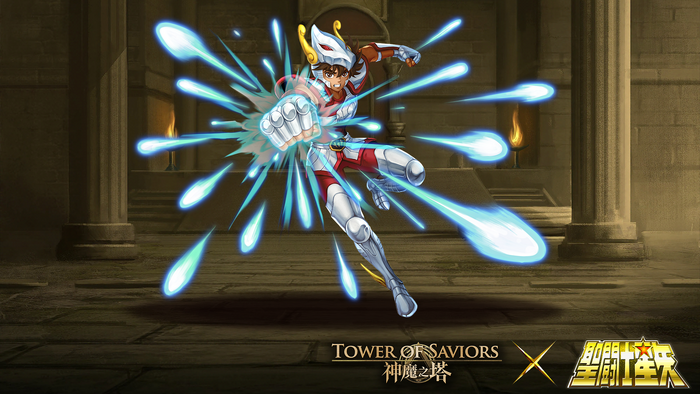 ---
Card details
(click to show)

Name
Pegasus Seiya
Attribute
Light
Id
No. 2107
Rarity
6★
Cost
14
Race
Human
Series
Saint Seiya
Lv Max
99
Exp
Curve
5,000,000
Max
Exp
5,000,000

Team Skill
Effect
CV:Masakazu Morita

Team Skill:
I. HP, Attack & Recovery of the first Seiya, Hyoga, Shiryu, Ikki and Shun from the left (whichever form) x 1.2 additionally.
II. Extend Runestone-moving time to 12 seconds.
Condition:
The Leader is either Seiya, Hyoga, Shiryu, Ikki or Shun, with the others as Team Members (whichever form).

Team Skill:
I. By dissolving a group of 6 or more Runestones:
(a) For every "Saint Seiya" Collaborative Monster (except "Saori Kido the Goddess Athena") in the Team, Combo count +1 for the Round, to the max +6.
(b) Arrange Light Runestones from bottom right to left at the beginning of next Round.

II. Light Runestones also possess the effects of other Attributive Runestones; Heart Runestones also possess the effects of all Attributive Runestones.
Condition:
Both the Leader and Ally are "Pegasus Seiya" or "Gold Saint of Sagittarius - Seiya".

Team Skill:
Acquire the 7th Sense: For 1 Round, Leader Attack & Recovery x 3; Combo count +10.
The Skill can be activated at the beginning of the Round by tapping the fully charged Craft Apparatus in the expense of 100% of the power gathered.
Condition:
The Leader is "Pegasus Seiya" or "Gold Saint of Sagittarius - Seiya".
Basic Properties
HP
Attack
Recovery
Total

Sacrifice Exp

Sell Value
Lv 1
1127
578
172
1877
Lv 1
1200
6000
Lv 99
2748
1410
490
4648
Per Lv
+1000
+100
Active Skill
Name
Pegasus Meteor Fist
Lv. 1
CD
18
Lv. 12
CD
7
Effect
I. Turn Runestones at 12 fixed positions into Enchanted Light Runestones.


II. For 1 Round, the Monster launches 12 extra Light attacks as much as 30% of its Attack.

Name
Sagittarius Gold Cloth
Lv. 1
CD
8
Lv. 1
CD
8
Effect
This Skill can be activated only when the Monster is equipped with the Dragonware "Sagittarius Gold Cloth".


I. Switch.
II. Explode the column(s) of Runestones below all "Saint Seiya" Collaborative Monster(s) (except "Saori Kido the Goddess Athena") to generate Runestones of the Attribute of the Monster in that column.

Leader Skill
Name
Union of Saints
Effect
When the Team consists of only Humans:
I. Extend Runestone-moving time by 2 seconds
II. The more the Runestones dissolved in a group, the higher the Team Attack, x 5.5 for 3 Runestones and to the max x 10 for 12 Runestones.
III. HP, Attack & Recovery of "Saint Seiya" Collaborative Monsters (except "Saori Kido the Goddess Athena") x 1.2 additionally.
Amelioration
Skills

Amelioration Skill 1:
Monster's Attack +105
Monster's HP +140
Monster's Recovery +35

50

Amelioration Skill 2:
If a group of 3 or more Runestones are dissolved in the column below the Monster, Recovery of "Saint Seiya" Collaborative Monsters (except "Saori Kido the Goddess Athena") +15% for that Round (Runestones dissolved when dropping would not trigger the effect).

150

Amelioration Skill 3:
Increase the drop rate of Light Runestones in the column below the Monster to 40% (the effect will not override those of Active Skills).

300

Amelioration Skill 4:
If a group of 3 or more Runestones are dissolved in the column below the Monster, Attack of "Saint Seiya" Collaborative Monsters (except "Saori Kido the Goddess Athena") +15% for that Round (Runestones dissolved when dropping would not trigger the effect).

500

Battle
Seiya's Adventure
Dragonware
Origin
Friend Point
Seal
Diamond
Seal
Others
Stages

Backstory:
In his childhood, Seiya is sent to Greece to be trained as a Saint. There he acquires the Pegasus Cloth after rigorous training.
He agrees to enter the Galaxian Wars in order to find his long-lost sister, Seika.
Monsters in Same Group
Community content is available under
CC-BY-SA
unless otherwise noted.