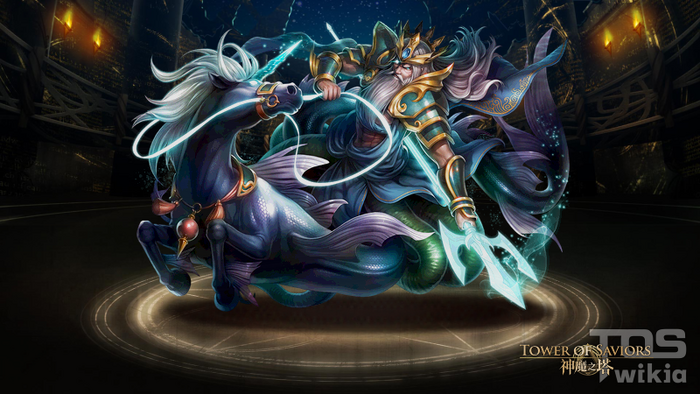 ---
Card Info
(click to show)

Name
Poseidon, God of Raging Oceans
Attribute
Water
Id
No. 941
Rarity
7★
Cost
20
Race
God
Series
Greek Gods
Lv Max
99
Exp
Curve
5,500,000
Max
Exp
5,500,000
Card Information
Details
【Greek Gods - Power Release】
Basic Properties
HP
Attack
Recovery
Total

Sacrifice Exp

Sell Value
Lv 1
1478
890
177
2545
Lv 1
900
1000
Lv 99
2927
1646
403
4976
Per Lv
+1000
+100
Active Skill
Name
Trace of Notion - Water
Lv. 1
CD
21
Lv. 12
CD
10
Effect
Water Attack continues to increase until no groups of 5 or more Water Runestones are dissolved (only the first batch of Runestones dissolved will be counted). For every 20 Water Runestones dissolved, increase of Water Attack speeds up. The Attack multiplier resets every Wave. 

Team Skill
Effect
Team Skill:
Change the Attribute of "Thunderous Supremacy - Zeus" and "Supreme Divine Overlord - Zeus" into Water.
Condition:
Both the Leader and Ally are "Poseidon, God of the Sea", with "Thunderous Supremacy - Zeus" or "Supreme Divine Overlord - Zeus" as a Team Member.

Team Skill:
There is a 70% chance to gain 1 Ex. Combo count for each Combo made.
Condition:
Both the Leader and Ally are "Poseidon, God of the Sea".
Both the Leader and Ally are "Poseidon, God of Raging Oceans".

Team Skill:
For every 5 groups of Runestones dissolved, 2 Water Runestones will be generated (Active Skill "Attribute Transference - Light" cannot be activated).
Condition:
Both the Leader and Ally are "Poseidon, God of Raging Oceans".

Team Skill:
Change the Attribute of "Sombre Void - Zeus" into Water.
Condition:
Both the Leader and Ally are "Poseidon, God of Raging Oceans", with "Sombre Void - Zeus" as a Team Member.

Combine Skill: Imprint of Water - EX
All dropping Water Runestones will be adjacent for 1 Round. If Water Trace is in play, the Attack multiplier will be at the maximum. Turn the column of Runestones below the Monster into Water Runestones at the end of the Round.
Condition:
There are "Supreme Divine Overlord - Zeus" and "Poseidon, God of Raging Oceans" in the Team (the Monsters must reach Lv. 50 or above).

Combine Skill: Imprint of Water
All dropping Water Runestones will be adjacent for 1 Round. If Water Trace is in play, the Attack multiplier will be at the maximum.
Condition:
There are "Thunderous Supremacy - Zeus" and "Poseidon, God of Raging Oceans" in the Team (the Monsters must reach Lv. 50 or above).
Leader Skill
Name
Motion of Water
Effect
For every 3 Water Runestones dissolved, 1 Enchanted Water Runestone will be generated
Amelioration
Skills

Amelioration Skill 1:
Monster's Attack +90

50

Amelioration Skill 2:
If a group of 4 or more Runestones are dissolved in the column below the Monster, Team Attack +10% for that Round (Runestones dissolved when dropping would not trigger the effect).

150

Amelioration Skill 3:
Monster's HP +340

300

Amelioration Skill 4:
Increase the drop rate of Water Runestones in the column below the Monster to 40% (the effect will not override those of Active Skills).

500

Battle
Unexpected Riots - Water
Power Release
  
Virtual Rebirth
Evolution
       
   
   
   
   
Battle
Destiny of God of Sea
Origin
Friend Point
Seal
Diamond
Seal
Others
Stages

Backstory:
        As the eldest brother, Poseidon would never obey Zeus' orders, and continued his war with Athena in the realm of Humans for Medusa. Later, when Zeus ordered his children to withdraw from the realm, Poseidon cheered, believing that he had won. It was only then that he realized in shock: the oceans where he resided had become contaminated by the spilt blood. This was the moment he had become fully aware of his status. "If I cannot govern this little puddle well, what right do I have to admonish Zeus?" From then on, he governed all in the seas, his trident scepter shifting between brutality and justice.

        The arrogant Poseidon exterminated Demons who dared intrude into the seas. Gradually, he began to prefer the blue oceans to heaven. He lived in the sea, deeming himself the master of the currents. Everytime he slept behind the curtains of the blue seas, Poseidon would dream of travels in the seas, like dolphins would across the surface of the ocean. His kingdom is borderless, and the creatures of the seas sing him thankful songs. After a millennium, Poseidon was finally free from hatred and a desire for vengeance.

        Yet, good times never. Land-dwelling Demons have gradually strengthened, and their evil has impacted the coastal regions. Poseidon was compelled to return to Heaven and gather information about the wars on the land. Yet, what awaited him was a schism between Humans and Gods. Poseidon watched from the sidelines; at least now, he finally understood why Demons rampaged across the realms. Having lost the Humans' faith, all Zeus and his children could was to to maintain their line of defense in the realm of man. However, Poseidon believed that Humans would eventually reach Heaven, and they would be able to tear off Zeus' hypocritical facade.

        'Thankfully, I have never been on the same path as Zeus...' Poseidon thought to himself smugly. Yet, he never realized that since the seeds of the power has been sown, Cthulhu had always resided within his consciousness. It had manipulated Poseidon into protecting its own bed... 'The oceans in the realm of Humans are my new home!'
Monsters in Same Group
Community content is available under
CC-BY-SA
unless otherwise noted.