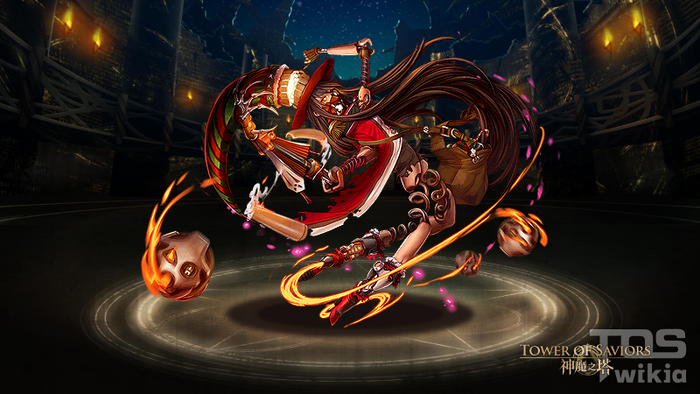 ---
Card Info
(click to show)

Name
Scorched Holocaust - Jackie
Attribute
Fire
Id
No. 1328
Rarity
7★
Cost
22
Race
Demon
Series
Crimson Grace
Lv Max
99
Exp
Curve
7,500,000
Max
Exp
7,500,000
Card Information
Details
【Crimson Grace Reborn - Refinement】

If Monster(s) used as Level-up Material(s) shares Skill (as indicated by the Skill Name) with the target Monster, the Skill Level of the target Monster may increase:
- ID 1326 Gory Eternity - Elizabeth
- ID 1328 Scorched Holocaust - Jackie
- ID 1330 Macabre Poison - Belle
- ID 1332 Death Aestheticist Jack
- ID 1334 Soul Eater of Misery - Todd
Basic Properties
HP
Attack
Recovery
Total

Sacrifice Exp

Sell Value
Lv 1
972
1434
85
2491
Lv 1
1000
1000
Lv 99
1809
2570
376
4755
Per Lv
+1200
+100
Active Skill
Name
Truculence of Killer - Blood Oath
Lv. 1
CD
21
Lv. 12
CD
10
Effect
Team Attack x 1.5. The no. of enemies defeated in the Round of activation becomes the number of Round the Skill stays in play (enemies defeated by Active Skills excluded). As long as you can defeat an enemy in the subsequent Rounds, the number of Rounds with the Skill staying in play will not reduce.

Team Skill
Effect
Team Skill:
Demon HP & Attack x 1.5 additionally.
Condition:
Both the Leader and Ally are "Scorched Holocaust - Jackie", with "Umbrella of Bloody Tears" as a Team Member.

Team Skill:
Change the Attribute of "Trap of Immortality - Robert" into Fire.

If a Demon's attack is over 8 million Damage (as shown on the icon), stun all enemies to inactivate them for 1 Round (once only within the Wave).

Demon Attack +500 additionally.
Condition:
Both the Leader and Ally are "Scorched Holocaust - Jackie", with "Trap of Immortality - Robert" as a Team Member.

Combine Skill: Crimson Oath - EX
If 3 types of Runestones are dissolved in the same Round, Team Attack x 3 for that Round; turn the columns of Runestones below 3 Demons into Enchanted Demon Runestones at the beginning of next Round. Also, the no. of enemies defeated in the Round of activation (enemies defeated by Active Skills excluded) becomes the number of Rounds the Skill stays in play. As long as you can defeat an enemy in the subsequent Rounds, the number of Rounds with the Skill staying in play will not reduce.
Condition:
There are "Scorched Holocaust - Jackie" and "Trap of Immortality - Robert" in the Team (the Monsters must reach Lv. 50 or above).
Leader Skill
Name
Reign of Crimson Terror - Fire
Effect
Fire Attack x 3. For each group of Fire Runestones dissolved, Fire Attack increases, to the max x 6 for 3 groups. If no Fire Runestones are dissolved for 2 consecutive Rounds, Attack decreases.
Amelioration
Skills

Amelioration Skill 1:
Monster's Attack +120
Monster's HP +170

50

Amelioration Skill 2:
If a group of 3 or more Runestones are dissolved in the column below the Monster, Team Attack +10% for that Round (Runestones dissolved when dropping would not trigger the effect).

150

Amelioration Skill 3:
Increase the drop rate of Fire Runestones in the column below the Monster to 25% (the effect will not override those of Active Skills).

300

Amelioration Skill 4:
Monster's Active Skill CD - 4

500

Battle
Leaping Through the Realm
Virtual Rebirth
  
Dragonware
Origin
Friend Point
Seal
Diamond
Seal
Others
Stages

Backstory:
        Jackie barely survived the fight against the Duke of Hell. The fierce battle had stimulated her mana circulation. Now, Jackie hobbled through the forest. She felt painful, pressing her chest. Sparks manifested and filled her golden eyes. She struggled to control the mana rampaging inside her, but she knew she was about to go berserk…
        Jackie wanted to reach a cave but slumped down midway. Her bellow resounded through the woods as mana gushed out of her, igniting her surroundings. In a blink, the entire forest was burning to ashes. Standing in the middle of it, Jackie began hallucinating…
        'I...I love you! Will you be my other half?' yelled Stephen sincerely as he bent before Jackie. He lowered his head to avoid eye contact out of distress, fearing she would not give him the answer he wanted to hear.
        Jackie looked at him in astonishment.
        'I-I-I love you! I do!' Stephen thought Jackie could not hear him, so he raised his volume.
        Other postmen gathered and clamored, 'Say yes! Say yes!' Jackie smiled bitterly and stepped up to Stephen. She leaned over and looked into his eyes. 'Alright! I accept your love. Please lift your head.' 'Really?' not if you keep asking.' 'Okay, okay! I won't!' Stephen hugged Jackie and cheered, 'You're mine now!' They smiled into each other's eyes. Since they had become a couple, they lived together peacefully, but this blissful time did not last long. One day, Jackie lost control of her mana in an accident, which almost sent their house up in flames. Stephen finally figured out Jackie's identity: a demon....
        '...In other words, your father is a demon, and you are a demon's descendant?'
        Jackie nodded silently.
        'Why didn't you tell me earlier?'
        'I was afraid you would drift apart. I knew Humans hated Demons' guts…'
        Stephen smiled and wrapped Jackie in his arms. He said gently, 'I love you, Jackie. I don't care if you're a demon or a human. You're Jackie, my precious. Don't worry. I'll keep your identity secret.'
        Jackie cried tears of joy. She had accepted Stephen not because of the love for him, but his decency. It didn't hurt to have someone at her disposal anyway. But now Stephen had moved her heart. She leaned on his shoulder, hoping they would spend their whole lives together.
        Jackie and Stephen's simple and ordinary days ended very soon. Many citizens were murdered brutally. The public thought it was the work of a psycho killer. Jackie did not think so. She sensed an immense demonic power flowing through the city. A demon was lurking in the corners hunting. Jackie decided to root out this demon to prevent the tragedies. Every night, Jackie passed through the city like a shadow while Stephen was asleep. Tonight, she idled on the roof of the highest structure, waiting for the demon to emerge. A gust of thick mana gushed out of the alley. She tracked it down and saw Stephen was killing the innocent!
        'Stephen? How's that possible…'
        Stephen raised his weapon and slashed at Jackie, who hopped backward to dodge his attack. At that moment, she caught a glance of several elemental strings that wrapped around Stephen's limbs. She promptly launched a couple of fireballs at the strings. A shadow jumped down the wall. The shadow wore a cloak that hid his face in darkness, but Jackie could sense his odoriferous demonic power.
        'You're the culprit responsible for the recent series of murders, right?'
        'Hehe, who knows? Shouldn't you be worrying about something more imminent?'
        The shadow leaped into the sky. Jackie was intent on chasing after him, but the battle had gathered a crowd. The corpse, the unconscious Stephen, and the sparks floating around Jackie led the citizens to a conclusion that Jackie was the murderer the entire time.
        'Demon, you've finally revealed yourself!'
        'Burn her to death!'
        'I…'
        'Stephen awakened amid the chattering crowd. He glanced at the corpse and stared at Jackie. 'Jackie...Why did you…' exclaimed Stephen. 'Stephen…' Jackie thought he would have trusted her. She realized the demonic blood flowing through her veins was an insuperable obstacle to immersing herself into the human community.
        Jackie lowered her head as tears brimmed in her eyes. She knew nothing could clear her name now; she would rather sacrifice herself to protect Stephen from the cruel truth — countless innocent lives had died under his hands. '...I did this.' She did not resist when the furious citizens tied her up and put her behind bars.
        In a unclouded day, Jackie was forcefully carried to the center of the square. She was tied to a wooden frame in a pile of hay. The executioner ignited the hay with a torch. The tiny bit of sparks turned into a fierce fire that swallowed Jackie in an instant. In the last moments of her life, she saw Stephen staring at her with his compassionate yet fearful eyes. Knowing that Stephen was safe and sound, Jackie was relieved to become a scapegoat for his deed and left this world…
"It is now clear as a bell that I had made the right decision. Love wasn't enough to outdo the violent feud between the two races. I'll protect all of the Humans and fight alongside them until my last breath!"
Monsters in Same Group
Community content is available under
CC-BY-SA
unless otherwise noted.