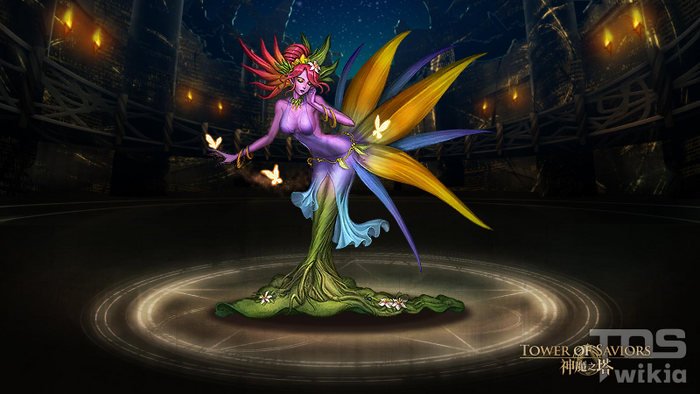 ---
Card Info
(click to show)

Name
Strelitzia
Attribute
Light
Id
No. 1607
Rarity
5★
Cost
8
Race
Elf
Series
Elfish Perennials
Lv Max
50
Exp
Curve
4,000,000
Max
Exp
1,000,000

Card Information
Details
【Elfish Perennials】

If Monster(s) used as Level-up Material(s) shares Skill (as indicated by the Skill Name) with the target Monster, the Skill Level of the target Monster may increase:
- ID 67 Raging Sea Elf
- ID 69 Blazing Fire Elf
- ID 71 Crowned Flower Elf
- ID 73 Silvery Lunar Elf
- ID 75 Mystic Night Elf
- ID 429 The Memory Traveler
- ID 430 Giallar the Hornist
- ID 502 The Craving Cryptid
- ID 503 Mosasaur
- ID 504 Bewitching Fairy
- ID 505 The Heartless Umpire
- ID 675 Stardust Spirit
- ID 701 Spirit of the Splendid Sun
- ID 702 Soul of the Ivory Moon
- ID 736 Aoandon
- ID 738 Draupnir the Intellect
- ID 741 Infernal Phantom
- ID 783 Creature of Charms
- ID 849 Ancient Wood of Resentment
- ID 936 Softstar Bun
- ID 1076 Mystical Stele of Inheritance
- ID 1078 Helmet of the Underworld Lord
- ID 1187 Scales of Order
- ID 1494 Egg Watchman
- ID 1601 Cornflower
- ID 1603 Sakura
- ID 1605 Paperwhite
- ID 1607 Strelitzia
- ID 1609 Rose
- ID 1611 May Lily
- ID 1613 Rosemellow
- ID 1615 Hyacinth
- ID 1660 Power Core
- ID 1715 Key of Void
- ID 1950 Neon Crow
- ID 1951 Fluorescent Python
- ID 1999 Shedu
- ID 2093 Harp of Feather

* The skill of this Monster will be changed after Evolve or Power Release.
Basic Properties
HP
Attack
Recovery
Total

Sacrifice Exp

Sell Value
Lv 1
571
328
207
1106
Lv 1
600
3000
Lv 50
1070
615
459
2144
Per Lv
+600
+100
Active Skill
Name
Super Healing Potion
Lv. 1
CD
19
Lv. 10
CD
10
Effect
Recover HP by 10x Monster's Recovery
Leader Skill
Name
Ire of Light
Effect
Light Attack x 3
Evolve
       
Origin
Friend Point
Seal
Diamond
Seal
Others
Garden of Thorns (Special Seal)
Stages

Backstory:
        The enraged Strelitzia stormed her way through the corridor of Evergreen Palace. Barging into the room at the end, she saw a male elf Hyacinth standing inside.

        "Brother, what's this crap supposed to mean?" Strelitzia threw a pile of papers to Hyacinth, spreading them all over the floor. Provoked, Hyacinth scowled at her.

        "You're embarrassing the name of Plantdom with that attitude towards your own brother, princess."

        "Name? If you do care about the reputation, then why did you exploit the wages of the outcasts? This is so unfair to them!"

        "It was already a mercy when I decided to do business with them. They're all criminals. They disgusted me whenever I look at the stuff they made!"

        Moving to the doorstep, Hyacinth pointed at the enormous tree ahead, which had a soothing halo and bore countless fruits.

        "If we're not that kind to share Mother Tree's power with them, they would've been long dead … Humph. If I get crowned, I'll forfeit all those rules and close the country completely, keeping all the elements just for us!"

        "YOU——! Sharing everything with everyone is the tradition of Plantdom! Don't you insult it!"

        The furious Strelitzia pointed her weapon at Hyacinth, declaring battle with him.

        "Fight me. If I win, you apologize to our ancestors and raise their wages!"

        "Hahaha! Great. I want to teach you some manner too, my arrogant sister."

        The quarrel between the royal siblings escalated into a fight at the palace square, drawing the attention of all servants in there. Strelitzia took the initiative and launched multiple strikes at Hyacinth, but all of them were parried. Meanwhile, Hyacinth taunted, "are you tickling me? You can't even kill a fly with this."

        "Shut up and take this!"

        Strelitzia focused on attacking without being taunted. Later on, Hyacinth started losing his defense. As his arm and cheek were scratched to bleed, he stopped smiling to concentrate on the battle. Yet he was still at the lower hand because of her fierce attack, making him anxious.

        "I can't lose!" Gritting his teeth, Hyacinth fused his power with the weapon to grow thorns on it. Then he wielded as if he wanted to kill Strelitzia.

        "He's trying to kill me...Then I ain't holding back anymore!" Sterlitzia summoned her power, wrapping her weapon up with stems. The enhanced weapon flew towards Hyacinth like a lively beast.

        When the two forces were about to collide, a male elf slipped in between, ending this battle with flower walls summoned on both sides.

        "Brother, sister, what's wrong with you two? Do you want to be the laughstock to all the elves in the country?" Cornflower, the third prince of Plantdom, lectured them.

        As Cornflower's words brought their rationality back, Hyacinth retreated his weapon and left the scene girmly. Meanwhile, Strelitzia crossed her arms and said, "I'm not apologizing for what I believe in."

        "But violence isn't the solution. Just calm down first, sister. I'll handle the rest."

        Talked down by Cornflower, Strelitzia came to the lakeside. Despite the cooling breeze, it couldn't soothe her frustration within.

        "Am I really wrong about this?"

        "Are you okay?" A soft voice sounded from behind. Turning around, Strelitzia looked a refined female elf in the eyes. She was exceptionally gorgeous with her pink dress.

        "She is...I know her. She's the playdate of Cornflower...I think her name is Sakura." Strelitzia tried to recall her memory.

        "Oh, you're hurt, and it's bleeding!"

        Sakura pressed on Strelitzia's wound with her handkerchief. The two elves were so close that Strelitzia could smell the slight aroma on Sakura, which unleashed something she had been hiding for long.

        "It's just a minor scratch compared to the suffering of the outcasts." Unable to hold her emotions back, Strelitzia started whining, "why can't they understand? We must follow the tradition and pass on our ancestors' will——"

        "I get you. I've been watching you and I know what you're rooting for. There's nothing wrong about it," said Sakura, holding Strelitzia's hand. When their heads were touched each other, Strelitzia was totally carried away by Sakura's smiling eyes.

        "Changes only bring chaos. We should protect the happiness of the present," Sakura whispered.

        "She understands me...I wanna be closer with her."

        Ever since then, Strelitzia would visit Sakura no matter how busy she was. Not only hanging out, but she would collect all kinds of funny stuff to amuse her. Sakura's smile could brighten up her day like a sweet chocolate, until this sweetness changed one day.

        This night when Strelitzia returned to her palace after work, Sakura, who had been waiting outside her room, rushed over to hug her. Smiling with love, Strelitzia stroked her hair and asked, "any happy thing you'd like to share?"

        "I said yes to Cory's proposal. I'm gonna be your sister very soon. You're the first one I wanna share this news with!"

        "Proposal?"

        "My heart hurts...What happened to me? Everytime I think about them getting married, I feel like suffocating...Am I jealous?" Strelitzia's heart raced when she looked at the shy smile of Sakura.

        "I don't want her to be my sister at all...I don't wanna let her go!"
Monsters in Same Group
Community content is available under
CC-BY-SA
unless otherwise noted.