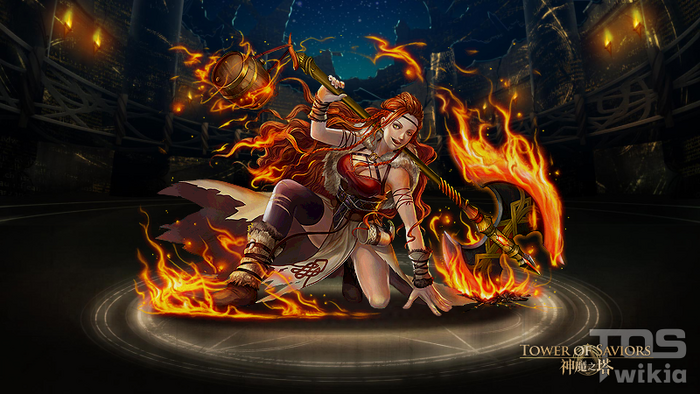 ---
Card Info
(click to show)

Name
Unshakable Morale - Skeggjald
Attribute
Fire
Id
No. 989
Rarity
6★
Cost
14
Race
God
Series
Valkyries of Divine Wine
Lv Max
99
Exp
Curve
5,000,000
Max
Exp
5,000,000
Card Information
Details
【Valkyries of Divine Wine】

If Monster(s) used as Level-up Material(s) shares Skill (as indicated by the Skill Name) with the target Monster, the Skill Level of the target Monster may increase:
- ID 989 Unshakable Morale - Skeggjald
- ID 993 Joy behind Victory - Thrud

* The skill of this Monster will be changed after Evolve or Power Release.
Basic Properties
HP
Attack
Recovery
Total

Sacrifice Exp

Sell Value
Lv 1
942
815
340
2097
Lv 1
1200
6000
Lv 99
2331
1507
523
4361
Per Lv
+1000
+100
Active Skill
Name
Oppressive Savagery
Lv. 1
CD
21
Lv. 12
CD
10
Effect
For 2 Rounds, Team Attack x 1.5; weaken the Attack of all enemies by 80%; nullify all Damage-reducing Skills.

Team Skill
Effect
Team Skill:
Active Skill CDs of the Leader, the first "Unshakable Morale - Skeggjald" from the left and the first specific Monster of "Sealed Lords" from the left -1.
Condition:
The Leader is "Tyr of Conflagration" or "Tyr of Incinerating Conflagration", with "Unshakable Morale - Skeggjald", and "Gungnir - Odin the Allfather", "Gungnir of Runes - Odin the Allfather" or "Odin the Fated Savior of All" as Team Members (Ally excluded).

Team Skill:
Change the Attribute of "Sword of Dragonblood - Sigurd" into Fire.
Active Skill CD of the first specific Monster of "Valkyries of Divine Wine" from the left -1.
Condition:
Both the Leader and Ally are "Sword of Dragonblood - Sigurd", with "Unshakable Morale - Skeggjald" as a Team Member.
Leader Skill
Name
Authority of Inferno
Effect
Fire Attack x 2.5; Recovery x 1.5.
Amelioration
Skills

Amelioration Skill 1:
Monster's HP +170

50

Amelioration Skill 2:
Monster's Active Skill CD - 4 after entering a Stage

150

Amelioration Skill 3:
Monster's HP +340

300

Amelioration Skill 4:
If a group of 3 or more Runestones are dissolved in the column below the Monster, Team Attack +10% for that Round (Runestones dissolved when dropping would not trigger the effect).

500

Battle
Determination in the Wine
Evolve
  
Power Release
Evolution
       
   
Battle
Origin
Friend Point
Seal
Diamond
Seal
Others
Stages

Backstory:
        After her nomination by the old soldier, Skeggjald arrived at the bootcamp. Working in the pub in which there was a mingling of good and evil, Skeggjald had grown accustomed to the fighting among the soldiers, and thus, had obtained certain knowledge on the art of fighting. Furthermore, she had acquired brute force from prolonged work that required her to carry barrels around; she also had a talent in learning martial arts. Therefore, Skeggjald was soon appreciated by Tyr and chosen to be a valkyrie candidate. Finally, as Tyr had spoken highly of her, Odin chose Skeggjald among all and granted her divine wine, making her a valkyrie.

        Skeggjald followed Tyr on a expedition. She witnessed wave after wave of heroes and soldiers go to the front and fight the enemy, and at last take their perpetual sleep on the battlefield. They had each sacrificed themselves in the fight against Demons, showing her that contributing to the Alliance was not an empty promise. It's price was one's own life. Therefore, she also charged to the front line and fought. Still, it was only with the arrival of Thor and reinforcements that the Demons could be somewhat held back.

        In the camp, Skeggjald saw that the soldier's exhaustion abounded. She thought for a moment, then walked into the warehouse and carried out the barrels. She took out the glasses, and yelled at the soldiers.

        "My fellow brothers! Lord Tyr and Lord Thor have led us to victory. Shouldn't we celebrate?"

        Though the soldiers understood that the situation on battlefield remained unfavorable, what the beautiful maiden said did sound reasonable. Therefore, their energy and liveliness gradually returned. One of the captains saw Skeggjald pouring wine for the soldiers, and asked:

        "Why are you filling the glasses for them? For crying out loud, you are a valkyrie,."

        "That's what I'm used to do. And you forgot, I'm also a soldier." Skeggjald smiled and replied.

        "Right! Lads, let us drink a toast to our valkyrie — Skeggjald!" The captain raised his glass to her, while the soldiers, who heard what they said just now, raised their glasses before drinking. Skeggjald also boldly finished a full glass of wine.

    utside the camp, Tyr and Thor were looking at the soldiers joyfully celebrating. They were gulping down their wine as well.

        "I suddenly understand why you nominated her to Odin," said Thor.

        "Because she's unique. Her background as a commoner allows her to inspire and encourage the soldiers more than the others can." Tyr replied.

        "This is the first time I have agreed with what you had to say." Thor chuckled.

        "Haha, cut the crap. Let's see if you can out-drink me!" Tyr bursted into laughter.

        The duo picked up the barrels, and kept pouring wine into their own mouths. While inside the camp, Skeggjald, with a hearty grin on her face, was also celebrating joyously with the soldiers. This was the time to rest and relax, before they would have to ready themselves for battles ahead.
Monsters in Same Group
Community content is available under
CC-BY-SA
unless otherwise noted.