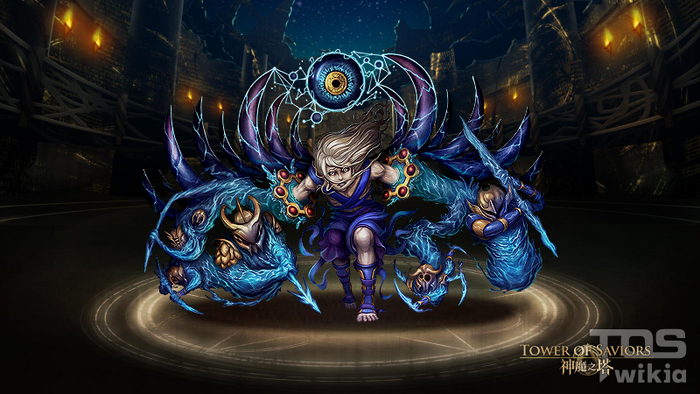 ---
Card Info
(click to show)

Name
Vanquisher of Fearfulness - Metatron
Attribute
Water
Id
No. 961
Rarity
7★
Cost
30
Race
God
Series
Wings of Convenant
Lv Max
99
Exp
Curve
9,000,000
Max
Exp
9,000,000
Card Information
Details
【Wings of Convenant】
Basic Properties


HP
Attack
Recovery
Total

Sacrifice Exp

Sell Value
Lv 1
3401
2124
454
5979
Lv 1
2200
8000
Lv 99


6735


+200

3926


+115

1033


+35

11694


+350

Per Lv
+1500
+200
Active Skill
Name
Array of Pentacles
Lv. 1
CD
34
Lv. 27
CD
8
Effect
For 1 Round, extend Runestone-moving time by 4 seconds; if 2 rows of Runestones are dissolved, Team Attack x 2.5; if 3 or more rows of Runestones are dissolved, Team Attack x 3 (only the first batch of Runestones dissolved will be counted).
Name
Extension of Elements - Waves
Lv. 1
CD
16
Lv. 12
CD
5
Effect
Tap and turn a row of Runestones into Enchanted Water Runestones.
Team Skill
Effect
Team Skill:
Attribute of "Wings of Galaxies - Metatron" will synchronize with that of the first specific Monster from the left.
Condition:
"Wings of Galaxies - Metatron" is present in the Team, with "Fallen Feather - Fearful" or "Vanquisher of Fearfulness - Metatron" as Team Member.
Leader Skill
Name
Alliance of Gods - Water
Effect
God and Water Attack x 2.5; if the Ally is a God, Attack multiplier increases to x 3.5.
Combination
   
Origin
Friend Point
Seal
Diamond
Seal
Others
Stages

Backstory:
        A blue light sphere floated out of a screaming soldier in distress. To escape its pursuers, it transformed back into its Fearful Angeloid form, and hurried into hiding in the dark corner behind a building. Metatron pursued furiously, but still, he lost sight of the Angeloid. Just as he was troubling over how to pick up its trail again, he found some palm-sized minions spiraling around his feet in panic. A glance was enough to tell Metatron that they were sent by the Angeloid to hinder his pursuit. But as the minions were also a part of the Angeloid, they fully embodied her fearfulness and timidity. Metatron seized one of the minions, and instantly his mind was taken into a bizarre space...


        Metatron saw another "him" sleeping on the bed. It was the "him" from the past, who had just experienced his first battle. Suddenly, the younger Metatron woke in fright and was covered in sweat. He had looked around, not calming down until he had confirmed he was in his own room. Metatron remembered that this was the time when he suffered the torment of nightmares.

        In his nightmares, he had been haunted by ghosts of the enemies he had killed; they would climb up his back as he carried out his duties, grab his limbs when he was in a battle, stab a knife into his chest while he rested... Even when he returned to reality, the effects of the nightmares still abounded: he could not stop picturing those ghosts hiding behind the window and peeping at his every move; he would see a pair of ferocious eyes staring at him in the dark corridor when he opened his bedroom; when he was in the bathroom looking into the mirror, Metatron would see his reflection controlled by ghosts. In the reflected image, his own hands reached out and seized his own neck...

        "Go! Get away!" Metatron watched the other "him" yell at the empty corridor.

        By now, Metatron had already encountered many battles in which the enemies he had killed certainly deserved to die. None were wrongly convicted. Believing in his righteousness, he now understood that he needs not fear.

        Metatron advanced forward to embrace the blubbering "him", and gently comforted "him"; "I didn't learn to be tough until I overcame all my weaknesses." The virtuality before him started to break down, while "Metatron" transformed into light which slowly melted into his chest as if "he" felt his determination. Metatron returned to reality, and had been reborn — as a stronger version of himself.
Monsters in Same Group