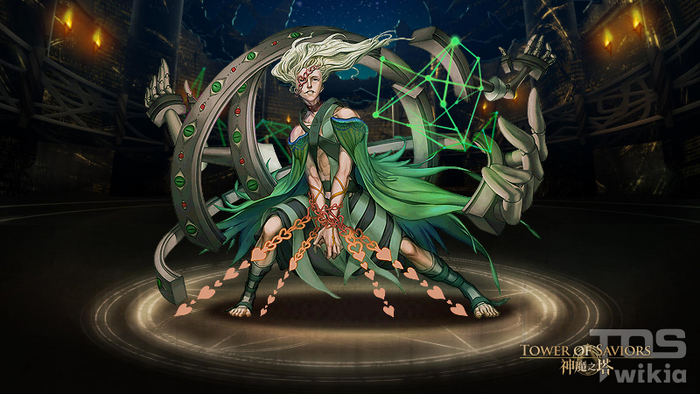 ---
Card Info
(click to show)

Name
Vanquisher of Indulgence - Metatron
Attribute
Earth
Id
No. 963
Rarity
7★
Cost
30
Race
God
Series
Wings of Convenant
Lv Max
99
Exp
Curve
9,000,000
Max
Exp
9,000,000
Card Information
Details
【Wings of Convenant】
Basic Properties


HP
Attack
Recovery
Total

Sacrifice Exp

Sell Value
Lv 1
3849
1942
426
6217
Lv 1
2200
8000
Lv 99


7624


+230

3589


+105

970


+30

12183


+365

Per Lv
+1500
+200
Active Skill
Name
Array of Pentacles
Lv. 1
CD
34
Lv. 27
CD
8
Effect
For 1 Round, extend Runestone-moving time by 4 seconds; if 2 rows of Runestones are dissolved, Team Attack x 2.5; if 3 or more rows of Runestones are dissolved, Team Attack x 3 (only the first batch of Runestones dissolved will be counted).
Name
Extension of Elements - Vines
Lv. 1
CD
16
Lv. 12
CD
5
Effect
Tap and turn a row of Runestones into Enchanted Earth Runestones.
Team Skill
Effect
Team Skill:
Attribute of "Wings of Galaxies - Metatron" will synchronize with that of the first specific Monster from the left.
Condition:
"Wings of Galaxies - Metatron" is present in the Team, with "Fallen Feather - Indulgent" or "Vanquisher of Indulgence - Metatron" as Team Member.
Leader Skill
Name
Alliance of Gods - Earth
Effect
God and Earth Attack x 2.5; if the Ally is a God, Attack multiplier increases to x 3.5.
Combination
   
Origin
Friend Point
Seal
Diamond
Seal
Others
Stages

Backstory:
        It had taken Metatron much effort simply to drive Indulgent Angeloid out of a mortal; but unexpectedly, he had not been able to seize the moment and catch her. All he could do was watch on as she fled into the forest. Threading his way through the forest, he carefully observed his surroundings. Just then, a green light sphere flashed across his face; he agilely grabbed Indulgent Angeloid, who was inside the sphere. At the moment when their hands touched, everything in the surroundings faded into darkness. He calmly walked towards the sole light in the darkness...

        Metatron saw the young "him" from his childhood and a lively little bird. At that time, he saved an injured bird and looked after it with tender care. To prevent its injury from getting worse, he directly fed it from his hands so that the bird did not have to move around to eat; he wrapped its wings with bandages so that it would not hurt itself again by flying. Yet, the small bird suddenly died! At that time, depression had consumed him; he had sat alone under a tree, crying in silence. He also piled soils up to make a small dune.

        "Why? Everything I did was for the good of the bird!" The young him had tears running down his cheeks. He could not figure out why the little bird had seemed dispirited, and why it had suddenly died.

        At that moment, Metatron abruptly realized that after the bird had recovered, he had indulged his overbearing love; this had caused the bird to lose all its foraging instincts. Even when it spread its wings, it did not know how to fly. His controlling nature had cost the little bird of its freedom. It died from deep sorrow for it had lost its purpose to live! Metatron felt guilt for the little bird's death, for his way of "loving" the bird had been wrong. Metatron approached the trembling younger "him," crouched down and gently put the arm on his shoulder, said...

        "In fact, overbearing attention does not signify love. You cannot win the hearts with force. This can only be achieved by your own virtue."

        The virtuality dispersed as he spoke. At that moment, the younger "him" who Metatron put his arm around transformed into Indulgent Angeloid before fading into glittering lights which melted into Metatron's chest. He felt calm and warm from a gentleness spreading out from his heart. Metatron smiled from the bottom of his heart as if his mind and soul was healed...
Monsters in Same Group