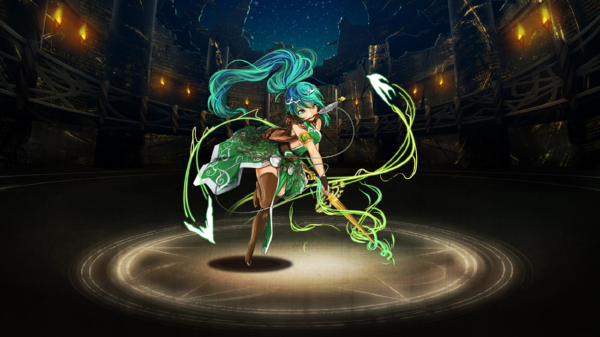 ---
Card Info
(click to show)

Name
Verthandi, Goddess of Fate
Attribute
Earth
Id
No. 124
Rarity
5★
Cost
10
Race
God
Series
The Norns
Lv Max
99
Exp
Curve
3,000,000
Max
Exp
3,000,000
Card Information
Details
【The Norns】

* The skill of this Monster will be changed after Evolve or Power Release.

If Monster(s) used as Level-up Material(s) shares Skill (as indicated by the Skill Name) with the target Monster, the Skill Level of the target Monster may increase:
- ID 122 Verthandi
- ID 123 Verthandi, Weaver of the Present
- ID 124 Verthandi, Goddess of Fate
- ID 267 Baby Honeymon
- ID 268 Honeymon
- ID 269 Prime Honeymon
Basic Properties
HP
Attack
Recovery
Total

Sacrifice Exp

Sell Value
Lv 1
1046
594
305
1945
Lv 1
1900
600
Lv 99
1869
1073
535
3477
Per Lv
+2700
+100
Active Skill
Name
Parasitism
Lv. 1
CD
19
Lv. 10
CD
10
Effect
Absorb enemies' HP every Round in an amount equal to Monster's Recovery, regardless of Defense and Attribute until defeated.

Team Skill
Effect
Team Skill:
Attack of specific Monsters of "The Norns" increases additionally, to the max x 1.5.
Condition:
There are 3 or more Monsters of "the Norns" of the same Rarity but different Attributes in the Team.

Team Skill:
Heart Runestones also possess some effects of all Attributive Runestones. The effect bonus is calculated based on the Attributes of specific Monsters of "The Norns", 10% for each Attribute present in the Team, to the max 50%.
Condition:
The Leader is "Moonlight Immortal Changxi", with 2 or more 5* Monsters of "The Norns" of different Attributes as Team Members.

Team Skill:
Heart Runestones also possess some effects of all Attributive Runestones. The effect bonus is calculated based on the Attributes of specific Monsters of "The Norns", 25% for each Attribute present in the Team, to the max 100%.
Condition:
The Leader is "Immortal Lady of Moon Palace - Chang'e", with "Moonlight Immortal Changxi" and 5* or 6* Monsters of "The Norns" of different Attributes as Team Members.
Leader Skill
Name
Active Defense - Earth
Effect
Earth Runestones also possess 50% effect of Heart Runestones
Amelioration
Skills

Amelioration Skill 1:
Monster's Attack +90

50

Amelioration Skill 2:
If a group of 3 or more Runestones are dissolved in the column below the Monster, Team Recovery +10% for that Round (Runestones dissolved when dropping would not trigger the effect).

100

Amelioration Skill 3:
Monster's Recovery +60

200

Amelioration Skill 4:
If a group of 4 or more Runestones are dissolved in the column below the Monster, Team Attack +10% for that Round (Runestones dissolved when dropping would not trigger the effect).

400

Battle
Script of Fate
Evolve
  
Power Release
Evolution
       
   
Battle
Origin
Friend Point
Seal
Diamond
Seal
Others
Stages

Backstory:
        Verthandi stopped spinning yarn and looked at the approaching warrior. He was in his armor, and had his equipment ready for an expedition.

        "No words could express my gratitude to you, daughter of Mimir." The warrior inspected the yarn closely. He even started to pull and strain at them.

        "Odin, what are you expecting? What do you think they are made of? Gold? Or silver?" Just then, the string snapped.

        "Sorry, I was just — "

        "Remember not to treat the spun yarn in such manner ever again, silly."

        The warrior was about to apologize further, but then he saw Verthandi's bewildering grin, and so he asked solemnly, "Is this Mimir's guidance?"

        "No, this is your fate," Verthandi said lightly.

        The warrior clenched the snapped strand in his hand: "Still, strands are woven by men."

        "But our hands are merely guided by the strand itself. As I pull it, it pulls back," Verthandi said as she weaved, "My father used to say, everything starts from strands that are pulled by the hands of men, and they become fate and change..."

        The soldier, however, emphasized resolutely: "We will open up our paths."

        "You know, among the three of us, I am the only prophet." Verthandi grinned from ear to ear, "You can't escape from it."

        As one of Mimir's daughters, Verthandi inherited his affability. She never spared any effort helping others, yet people always wanted to change everything; they released the strands in their grasp, and tried to break the wall in their way, believing that they could change their sealed fate. Verthandi once asked her father, why people always regarded themselves omnipotent. "The blunt scythe must tell itself that it is always sharp, so it can cut its way out." Verthandi was energetic; she had always been wandering across the realm of men. Under the accompany of swallows formed by elements of Earth, she surveyed the fate of the world. Verthandi told people to pick up the needles and strands they had abandoned, not to be deceived by what they see, and to distinguish the fate that the strands would guide them to.

        "The feet in the present set out on their journey..." With her sharp sewing needle, Verthandi had always been mending the world's fate.
Monsters in Same Group