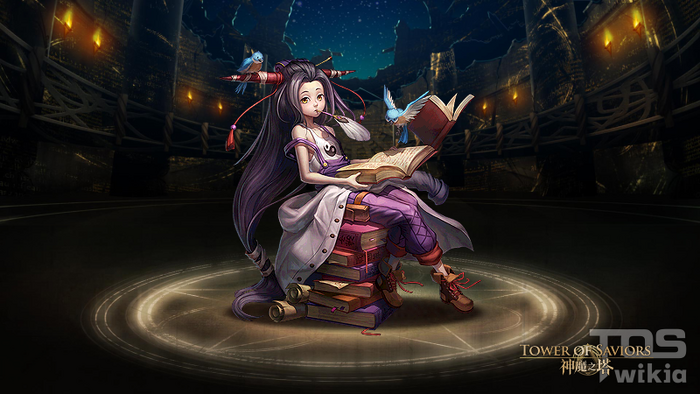 ---
Card Info
(click to show)

Name
Zhuge Liang
Attribute
Dark
Id
No. 1284
Rarity
5★
Cost
8
Race
Demon
Series
Imperial Warlords
Lv Max
50
Exp
Curve
4,000,000
Max
Exp
1,000,000
Card Information
Details
【Imperial Warlords】

If Monster(s) used as Level-up Material(s) shares Skill (as indicated by the Skill Name) with the target Monster, the Skill Level of the target Monster may increase:
- ID 1275 Sorcerer
- ID 1284 Zhuge Liang
- ID 1290 Lü Bu
- ID 1479 Komatsuhime
- ID 1679 Xiahou Dun

* The skill of this Monster will be changed after Evolve or Power Release.
Basic Properties
HP
Attack
Recovery
Total

Sacrifice Exp

Sell Value
Lv 1
419
571
29
1019
Lv 1
600
3000
Lv 50
762
1000
124
1886
Per Lv
+600
+100
Active Skill
Name
Triple Attacks - Dark
Lv. 1
CD
19
Lv. 10
CD
10
Effect
The Monster launches 3 extra Dark Attacks for 1 Round.
Leader Skill
Name
Demons' Nature - Assault
Effect
Demon Attack x 3; HP and Recovery x 1.5.
Amelioration
Skills

Amelioration Skill 1:
Monster's Attack +100

50

Amelioration Skill 2:
If a group of 3 or more Runestones are dissolved in the column below the Monster, Team Recovery +10% for that Round (Runestones dissolved when dropping would not trigger the effect).

150

Amelioration Skill 3:
Monster's HP +100

300

Amelioration Skill 4:
If a group of 3 or more Runestones are dissolved in the column below the Monster, Team Attack +10% for that Round (Runestones dissolved when dropping would not trigger the effect).

500

Battle
Zhuge Liang's Amelioration
Evolve
       
Origin
Friend Point
Seal
Diamond
Seal
Others
Heroes of the Empires (Special Seal)
Stages

Backstory:
        Deep in the forest, Zhuge Liang hummed to herself as she walked through the woods. She saw an unconscious boy on the ground. She fretted, 'Oh, no!' Suddenly her eye color changed. She flicked her hair and giggled, 'What trouble.'
 
        She took the boy's pulse and checked his pupil reaction. Then she collected a bucket of water from the river, poured the water into his mouth, and pressed down on his stomach.! A poisonous mushroom popped out of his mouth along with some water. As the boy's eyelids twitched, Zhuge Liang nervously hid behind the bush and peeped through the leaves. After the boy regained consciousness and left the woods, she went back to her secret library in relief.
 
        Zhuge Liang lived in her secret library. She never talked to anyone. All she did was read from dusk to dawn. She did not know where the books came from, but she knew that new books would arrived at the library everyday. Whenever she wanted to read a certain book. It would magically appear on the shelf in a few days.
 
        One day, the growling in her stomach forced her to put her book down and go out to search for food. She came to a tree full of fruits. She threw a lasso at a branch and pulled. Fruit fell the ground as the whole tree shook. 'Thanks.' she whispered to the heavens, for that she believed an entity from the heavens had always looked after her. When she collected enough fruit to eat, she saw flames and heard clanks of weapons in the forest!
 
        She hid behind a tree and peeked her head out. A bunch of people were hunting down a man followed by a girl and a boy. Things weren't looking up for them. They went deep into the forest but they could not lose the people chasing behind. Zhuge Liang felt something weird, then she noticed they were headed in the direction of her secret library!
 
        'Oh, no!' The exclamation switched her consciousness. She raised her head. Her eyes became full of confidence instead of cowardice. She flicked her hair and looked around. She found a line of ants on a tree and looked around to find a nest hanging on a branch. She smiled and crafted some tools. Using branches and grass, she crafted a web and carefully put the nest inside. She calculated the angle and threw the nest over the man! The ants gushed out of the nest and attacked the chasers, who got distracted by the ants' bites. The three finally escaped.
 
         'Piece of cake.' Once Zhuge Liang closed her eyes, she turned back into a naive girl, who had no idea what had just happened. She only saw a bunch of people dancing around, and the three being chased had disappeared. She believed things were fine now. As she turned back to the library, she found a man standing behind her staring. 'You…' As the man opened his mouth, Zhuge Liang screamed and sprinted all the way back to the library.
 
        Footsteps followed Zhuge Liang like a haunting. Finally, she reached her secret library. She slammed and locked the door, hoping that would block them.
 
        Zhuge Liang kept her eyes on the door. Suddenly someone slapped the door! A voice came from outside, 'You don't have to be afraid! We aren't soldiers. Let us in, please?' 'Rude!' said the boy angrily. Their voices only frightened her more. Tears gushed out of her eyes.
 
        The man did not give up pounding at the door. Finally, the door cracked open! The boy yelled, 'I, need to, teach you, a lesson!' 'Zhang Fei!' The boy shut his mouth instantly. Zhuge Liang hid behind a shelf. She peeped at them anxiously…
Monsters in Same Group
Community content is available under
CC-BY-SA
unless otherwise noted.